Frolic-is-5 weekly giveaway: $100 to Shokudo Japanese Restaurant & Bar
Enter to win a $100 gift card — and use it to try this Game of Thrones-inspired dessert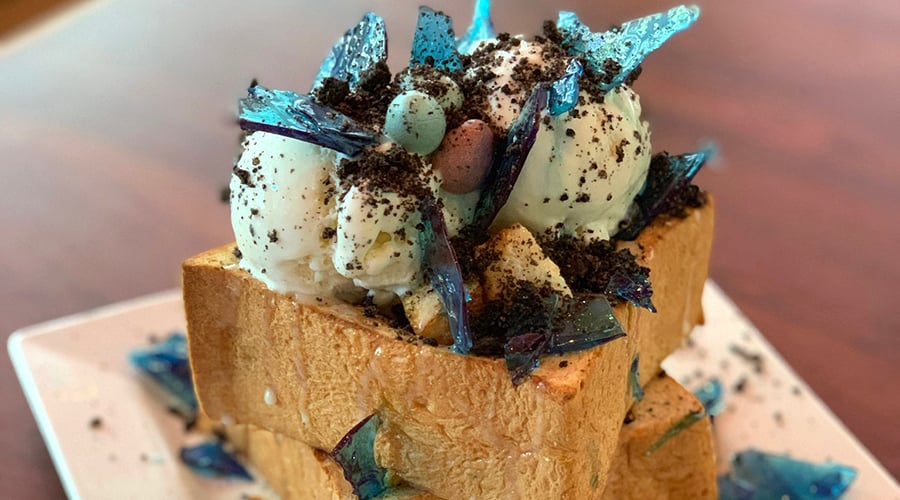 This contest has ended. Check back for a new restaurant giveaway every Thursday!
Sushi, sashimi, noodles and Japanese-style pupus and entrees: Shokudo Japanese Restaurant & Bar excels at all. The popular hotspot next to Ala Moana Center has two happy hours daily, from 4 to 6 p.m. and an 'After Dark' happy hour from 10 p.m. to closing. For $24, you can feast on a variety of happy hour specials like a donburi and temaki bar and discounts on signature dishes.
Think appetizers like mochi cheese gratin, pork gyoza and housemade tofu salad, hot stone bowl entrees, ramen and udon and more. And then there's Shokudo's signature honey toast dessert. This house specialty is made from thick Japanese white toast that's cut, cubed and topped with honey and vanilla ice cream. Order it plain or add more toppings and change the ice cream flavor for an additional charge.
Speaking of honey toast, summer might be just around the corner, but at Shokudo, winter is here. For a limited time, the restaurant is featuring a Game of Thrones-inspired Dragon Glass Honey Toast with housemade blue 'dragon glass' crystallized sugar shards and three chocolate eggs representing the three dragon eggs in the series. The $15 special is topped with Oreo cookie crumbs, a sweet milk glaze and Roselani vanilla ice cream.
The dessert is only available while supplies last.
Enter to win a $100 gift card to Shokudo
To enter the giveaway, simply complete the entry form below. By entering the giveaway, you agree to receive emails from Frolic Hawaii. Valid entries require first and last name, email and phone number. Giveaway ends TONIGHT, Thursday, May 9, 2019 at 11:59 p.m. and we'll be picking a winner TOMORROW, Friday, May 10 at 9 a.m. Good luck!
Shokudo Japanese Restaurant & Bar
1585 Kapiolani Blvd.
Ala Moana
941-3701
http://shokudojapanese.com/