Frolic-is-5 weekly giveaway: $100 gift card to Brick Fire Tavern
Award-winning pies from a custom wood-fire oven in the heart of Chinatown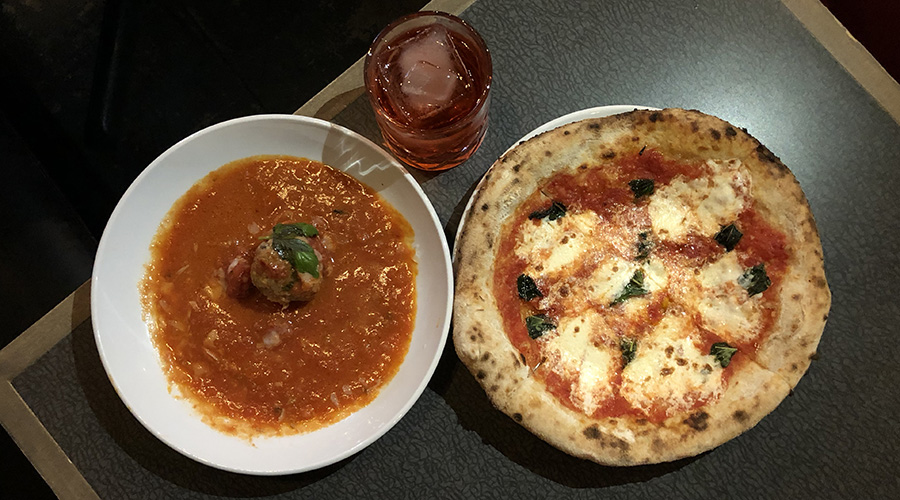 This giveaway has ended. Check back next Thursday for another Frolic-is-5 giveaway!
One bite of the award-winning pizzas at Brick Fire Tavern and you're transported to Naples. Pizzas here are hand-crafted from scratch and flash-baked in a custom-made, 900-degree wood-fire oven in 90 seconds or less, producing pies with the perfect chew and a slightly crispy crust. Brick Fire uses local products as well as traditional Italian imports; they even pull their own mozzarella.
Pizza pies range from traditional margherita or funghi to Da Shrimp Truck, made with béchamel and white shrimp, and the Real Hawaiian with kalua pork, luau leaf, watercress lomi tomato salad and papaya pureed kalo. The drink selection includes beers, wines, spritzers and creative cocktails like the Brick Fire Mule, made with tequila and ginger beer, and the Fid & Hotel Martini with vermouth and local Hawaiian gin.
Enter to win a $100 gift card to Brick Fire Tavern
To enter the giveaway, simply complete the entry form below. By entering the giveaway, you agree to receive emails from Frolic Hawaii. Valid entries require first and last name, email and phone number. Giveaway ends TONIGHT, Thursday, May 23, 2019 at 11:59 p.m. and we'll be picking a winner TOMORROW, Friday, May 24 at 9 a.m. Good luck!
Brick Fire Tavern
16 N. Hotel St.
Chinatown
369-2444
https://www.brickfiretavern.com/