Free on the 30th? Open call for eaters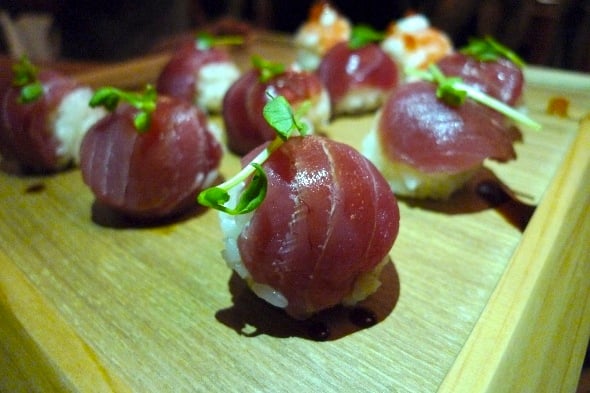 New izakaya, people! I'm excited about this one — when am I not? — but especially this one because its previous incarnations in this town have been solid and interesting.
Yuzu opened in the bowels of the Ala Moana Hotel lobby early this month, a cozy space whose preview party stuffed in more people than rice grains in a nigiri. You get an idea from Melissa Chang's party pics. The heat! The crowd! The noise! (Come to think of it, the heat may have been related to a very oishii yuzu mojito.)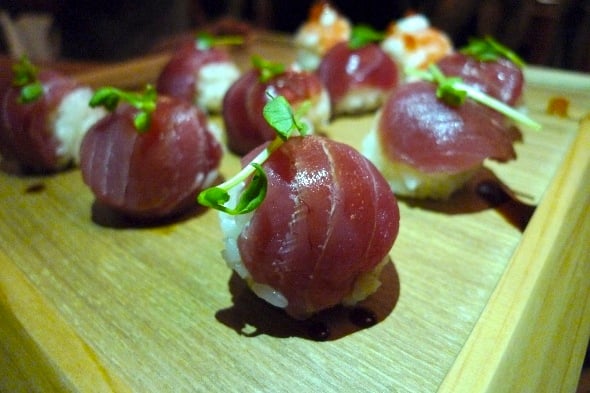 You know why? Yuzu is the latest restaurant from Isamu and Moko Kubota, who own Kaiwa, the artful eatery at Waikiki Beach Walk. They also own restaurants in Tokyo and on Maui, and if you recall Okonomiyaki Kai and Hale Macrobiotic, which used to be where Yakitori Yoshi is now on Makaloa, they owned those too.
Yuzu seems to combine elements of these places and spin them off in a slightly new direction. There are bite-size sushi balls topped with uni that's actually carrot, and ahi that's actually tomato. There's a gluten-free option for shoyu and a vegetarian option for dashi broth.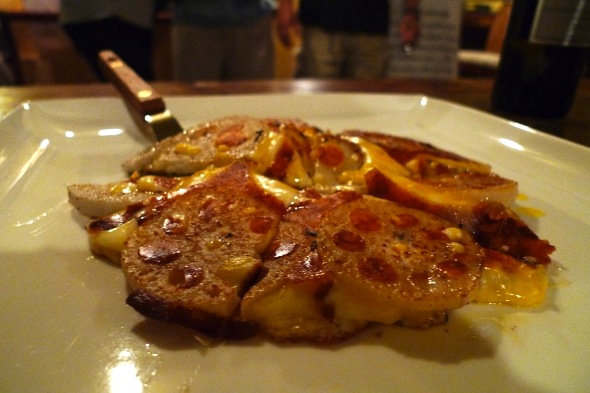 And thank goodness, there's also sushi topped with fish, grilled yakitori skewers, housemade udon noodles in three shapes and a full bar. The renkon cheese pizza that was one of the highlights of Kai's menu is here. In fact, Yuzu promises a menu of mostly izakaya dishes that come in under $10.
Anyway, I got shut out of previewing any food at the party that night, except for two bites of sushi that sailed by on platters that were picked clean before they could get to the tables.
So I tried again this past Sunday, when I was assured they would be open at 8:30 — only they weren't.
Third time's the charm, right? This one's for a Nonstop review. It'll be the fourth time we throw open an izakaya review to any and all interested (here's our first at Naru, our second at Shinn, and our third at Yakitori Yoshi). The only requirements are that you show up and eat. As with all reviews, we'll share the food and split the cost, and everyone runs their own tab for drinks.
I'm thinking Wednesday, Nov. 30, for dinner.
So can you make it? Are you in? Post a comment here or tweet me @NonstopMari and let's go eat!