Forgotten Films: 'American Anthem'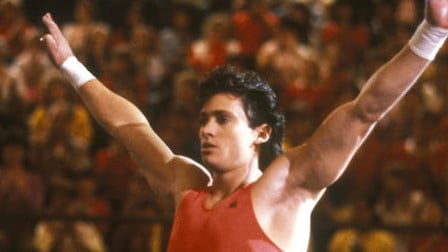 I love the Olympics. My first Olympic memory is McDonald's giving away scratch-and-win cards in 1984, where you could win food prizes for every medal the United States won in the event on your card. Of course, the boycott of those Olympics by previously powerful sporting countries such as the then Soviet Union, East Germany and Cuba meant I was at the golden arches pretty often. But every four years since then, the magic comes back, and I get swept by the drama, competition and national pride. Watching the U.S. women's team win the team gold in gymnastics was indeed a high for the London games this year, and it inspired me to finally start a new column I've been thinking about called Forgotten Films.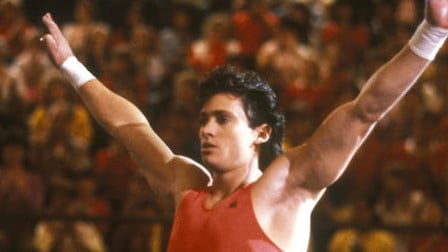 I've been a movie fan for as long as I can remember, and my taste can certainly be described as diverse. I talk about movies with my friends, colleagues and even strangers, and there's often a point in these conversations when I mention a film that the other person has never heard of, which always amazes me since my memory of the film is so vivid. So I've decided to start a column about these little known gems. In the spirit of the Olympics, I present my first Forgotten Film, "American Anthem."
"American Anthem" is the first film that came to mind while watching the Olympics gymnastics competition. Released in 1986 to capitalize on the success of the U.S. men's team gold medal in the 1984 games, it starred real gymnast Mitch Gaylord, a member of that team and the first American male to ever score a perfect 10. Gaylord plays retired gymnast (what else?) Steve Tevere, who yearns to return to his former gym when he spots blonde hottie Julie Lloyd (Janet Jones) training with the team. Of course they fall in love as they train together for the U.S. Olympic Trials, but the joy of this film doesn't come from the simple story. It's how it's put together. Being made in the '80s, it's got tons of flash, cool music and cheese, and it all works.
It's one of those films full of cliches, yet you still get caught up in it, and the next thing you know, you're rooting for these simple, earnest characters. There's the brooding leading man with daddy issues; the beautiful and misunderstood blonde; the precocious child; the fierce, determined leader of the gym; and even the demanding European coach. We've all seen these characters before, but somehow "American Anthem" makes you like and care about them.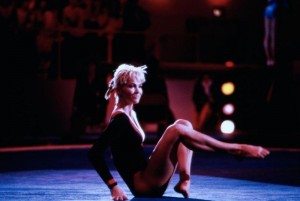 There are so many other things that add to the film's charm. The '80s synthesized music is great, and I can still remember bobbing my head to Julie's upbeat music in her final floor exercise routine. I loved how she stood up for herself against her coach, who wanted her to use a traditional, boring classical song. There's also the weird friend in a wheelchair who composed the song and seems to have a crush on her, but knows he doesn't have a shot so is content to be her friend. He should come off as pathetic, but he's able to make you sympathize. The gymnastics routines are also superbly choreographed and fun to watch. Every scene is like a '80s music video, and even the gymnastic competitions are absurdly lit as if in a night club. It's a big credit to the film that even though the movie is so predictable, you still watch intensely as it plays itself out.
While I'm making it sound like one of the greatest sports movies ever, I admit it's far from it. Anyone watching this film would tell you that "American Anthem" is excessively cheesy. The movie flopped terribly, and Gaylord was never heard from again, while Jones gave up her acting career after marrying hockey great Wayne Gretzky. But sometimes a film you're supposed to hate has a way of working its charms, and that's what "American Anthem" did for me.