Food RevHeu – Sweets Raku in Las Vegas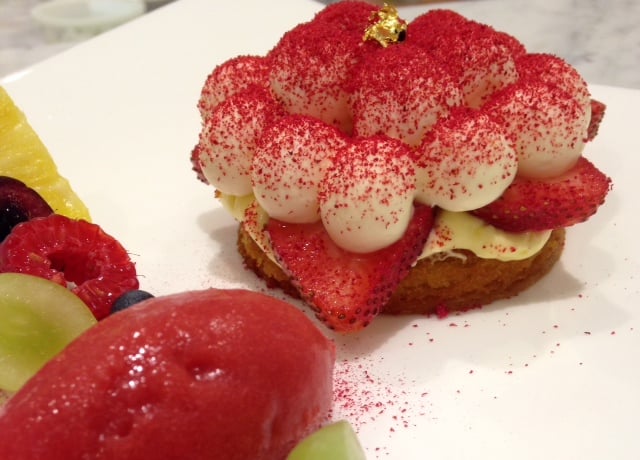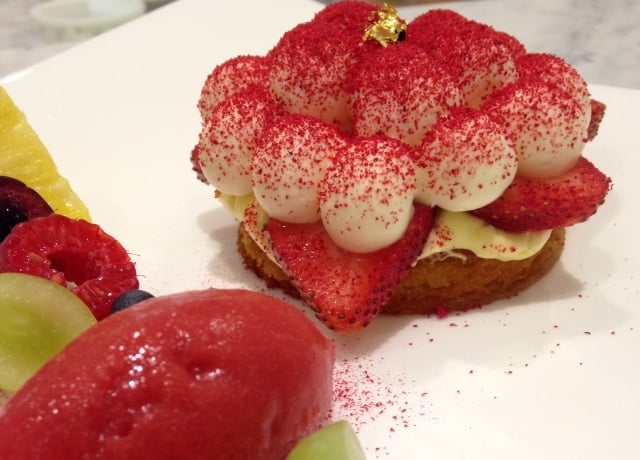 I have died and gone to heaven. If you are a dessert freak like me, you know what I mean. Since I can remember, I have always had a hankering and a bit of an addiction to sweets, anytime, any day, anywhere. I need to have something at the end of every meal to tell my brain I am done eating.
You know how your mom always said to eat your dinner first, or you can't have dessert? Well you can take everything you know about going out to eat for dinner and just have a prix fixe dessert sampling for dinner. Hey, I am sure it includes all the basic food groups, right?
While on my recent adventure in Sin City for 48 hours, with the lovely Emi Hart, a couple of her friends took us to a place that literally became my heaven on earth. A restaurant that only serves desserts; what more could a girl ask for? Even the menu was edible and came with a raspberry dipping sauce. On Saturday and Sunday they offer some savory lunch dishes like quiche and salad, but they primarily are a dessert-only establishment.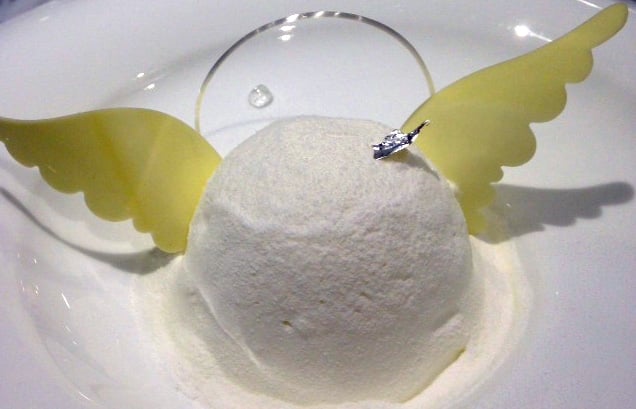 The restaurant is located next door to its famed parent restaurant, Raku, a premier and traditional Japanese restaurant located on the outskirts of Las Vegas' Chinatown. Sweets Raku is where the dessert lovers flock to enjoy detail-oriented service, creative dishes and pastries created right before your eyes.
First up, they offer a menu that allows you to order three courses ($19) or one main dessert a la carte ($12). The course menu also includes a starter, a dessert entree, a creme puff and petit fours. If you go with friends, order different things so you can sample everything. And if you really wanna indulge they also offer wine and wine pairings.
Watching the pastry chefs work their magic from the chef's counter is like seeing a chemist in the lab. The scientists are busy with their creations, but if you ask a few questions, they are happy to fill you in on the details of what is taking place before your eyes. A place that serves fancy desserts along with wine and breathtaking presentation — I can die a happy woman!
Here's a look at what Sweets Raku has to offer to offer and why I would go back in a heartbeat.
Orange Sorbet
Picture 1 of 6
The set menu comes with an amuse bouche choice of orange or tomato sorbet to cleanse the palate. I have had bad experiences with tomato sorbet, so I opted to only try the orange. It was light, refreshing and had delicate hints of orange peel to give it a burst of flavor.

Sweets Raku
5040 W. Spring Mountain Rd, Suite 3
702-290-7181
Hours: 6 p.m.-midnight Monday, Tuesday, Thursday and Friday; noon-midnight Saturday; noon-9 p.m. Sunday