All the Food at This Weekend's Chinese New Year Festivals in Chinatown
Two big festivals on Jan. 13 and 14 celebrate the coming Year of the Rabbit.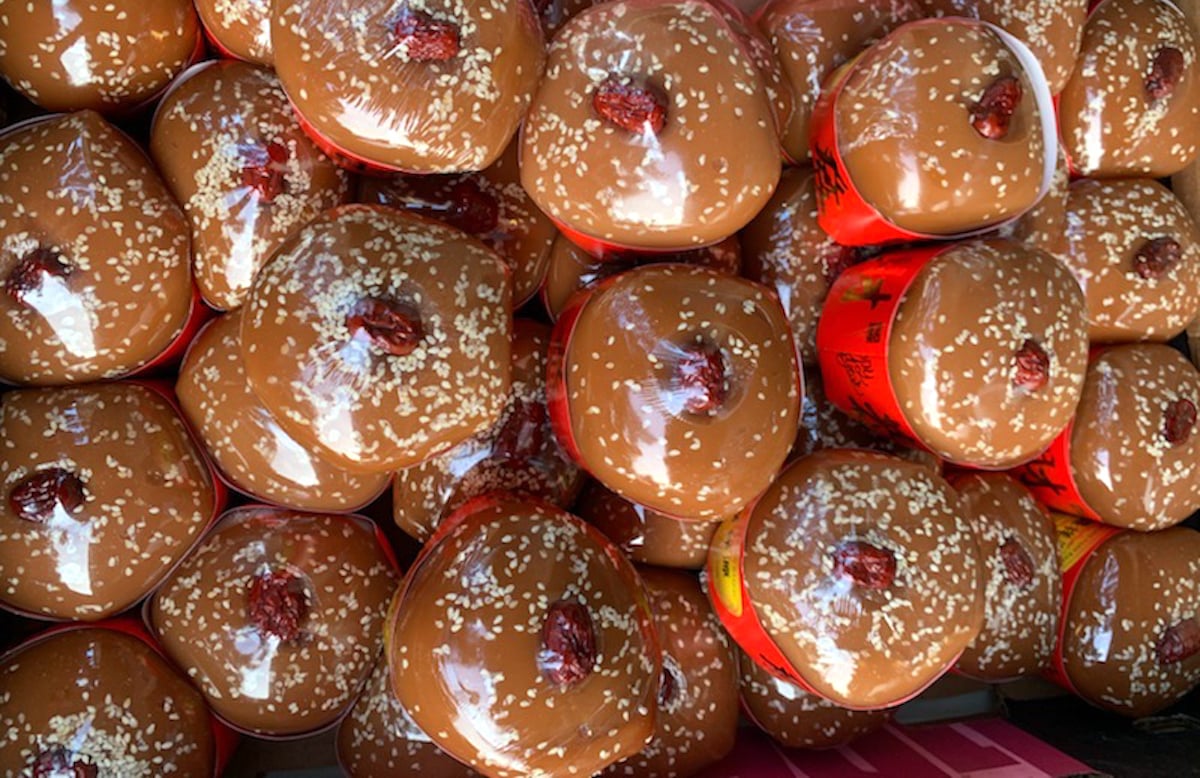 Two celebrations are taking over Chinatown this weekend to welcome the new Year of the Rabbit, a joyous return after two years of pandemic restrictions. There'll be lion dances, firecracker blessings, a parade and entertainment—details at the Night in Chinatown and Chinese New Year's Celebration websites—but this post is all about the food.
Jai, gau and jin dui will be on offer at both festivities, along with plenty of other Chinese dishes and local favorites from a host of food trucks. The best part is that on Saturday, both festivals will be happening right next to each other—one inside Chinese Cultural Plaza and the other along Beretania Street and into A'ala Park. And don't forget, the lunar new year is the biggest season for Chinese eateries and bakeries throughout Chinatown, so look out for traditional good luck foods everywhere.
---
SEE ALSO: Where To Celebrate Chinese New Year in 2023
---
Chinese New Year's Celebration
When: Friday, Jan. 13 from 5 to 10 p.m. and Saturday, Jan. 14 from 10 a.m. to 10 p.m.
Where: Chinese Cultural Plaza, 100 N. Beretania St.
Info: chinesechamber.com/events
For two days, the courtyard at Chinese Cultural Plaza fills with stalls selling a wide array of traditional Chinese New Year dishes, pan-Asian street foods and other snacks. With restaurants surrounding the plaza doing brisk business as well, it's a festive and delicious atmosphere. Bring cash and especially on Saturday, comfortable walking shoes so you can also check out Night in Chinatown on Beretania Street fronting Cultural Plaza. All kinds of booths will be selling Chinese New Year charms and other goods. Here's the food lineup:
Blue Truck Teppanyaki—Authentic Japanese teppanyaki and barbecue plates
Bing Bros. Authentic Chinese Street Food—Jian bing Chinese street crepes
Hott Potstickers—Potstickers
Legend Seafood Restaurant—Jin dui, gau, jai and other Chinese foods
Mochi Aulelei—Deep-fried poi, coconut and ube mochi
Olay's Thai Food Express—Authentic Thai dishes
Sama Sama—Filipino-inspired boba drinks
Tiger Sugar—Milk tea and boba drinksYoupo Noodles HI—Hand-pulled noodles
Night in Chinatown
When: Saturday, Jan. 14 from 9 a.m. to 10 p.m.
Where: Beretania Street and A'ala Park
Info: chinatown808.com/nightinchinatown
Follow: @chinatown808hi

Formerly a multi-block affair that closed off Maunakea, Pauahi and other streets to accommodate booth after booth selling Chinese New Year charms, calligraphy, narcissus plants and freshly made food, Night in Chinatown moves this year to Beretania Street from Maunakea to A'ala streets and spills into A'ala Park. Inside the park will be keiki and family activities, games, bouncy houses, assorted booths and live entertainment—and a tent with tables where people can sit and eat. Food vendors will be along Beretania Street:
Aloha Scoops—Roselani ice cream
Beta Beta Gamma sorority—Jin dui (black bean and coconut) and gau, both prepared by Regal Bakery; plus Chinese candies and waffle hot dogs
Belly Rub Kitchen—doggie treats
Blue Truck Teppanyaki—Japanese barbecue
Da Hub—local grill
Diamond Head Foundation—local plates
Happy Belly Eatery—Asian fusion
Honolulu Chinese Jaycees—drinks
Honolulu Juice Factory—bubble tea, snacks
Jenny's Birria—birria tacos
Kapa Moi Lions Club—shave ice
Local Poke Bowl—poke
Miss Chinatown booth—Jai, prepared fresh and hot on site
Olay's Thai Lao Express—Thai food
Palaman Purveyors—jams, drinks
Shaka Shaka Tea—drinks, snacks
Sugah Daddeh's Kane Juice—sugar cane juice acai bowls
Waialua BBQ—local plates
Wingman Wings & Fries—wings
Wrap & Roll Lunchwagon—food wraps and rolls