'Five-O' preview: 'Nā Me'e Lāua Nā Paio'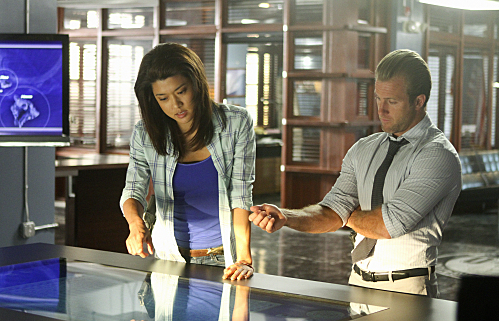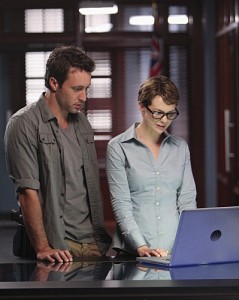 It isn't quite Comic-Con (nor Kawaii-Kon), but "Five-0″descends into the costume-filled corridors of a sci-fi convention tonight to investigate the murder of mid-mannered cape-wearing Alex Baker (a.k.a. "Superdork").
Meanwhile, Larisa Oleynik guest stars as Jenna Kaye, a CIA agent who is investigating the Yakuza, and may have information on the murder of McGarrett's parents.
Oleynik, the object of many a teen crush as the star of Nickelodeon's "Secret World of Alex Mack" and the movie "10 Things I Hate About You," is now all grown up.
Since we're probing the tragic backstory of Steve McGarrett (Alex O'Loughlin), his arch nemesis Wo Fat (Mark Dacascos) is also back on the menu.
Now, as someone who may or may not have once owned a Star Trek uniform, I've been looking forward to this episode since January, when a casting call went out for "extras with 'Comic-Con' style costumes to portray attendees in a 'Comic-Con' like convention scene."
Don't expect to see any trademarked superheroes like Spiderman or Catwoman, however. The cast list mentions only a "Psycho Kitty" and a generic "Trekkie." (More on him below.) But geeks can take some solace in the fact that we will see Masi Oka again, as the overly quirky Dr. Max Bergman.
Despite all the comedic potential offered by masks and tights, "Five-0" executive producer Peter Lenkov says of tonight's nineteenth episode: "Chin & Kono will make you well up… At least I did… watched it 10+ times so far and I still get emo."
The episode is titled "Nā Meʻe Lāua Nā Paio," which CBS says translates to "Heroes and Villains."
Familiar Faces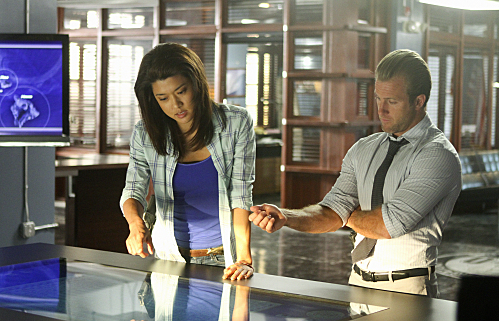 Fans of "The Wire" will be glad to see James Ransone appear tonight as Perry Hutchinson, a.k.a. Johnny D. Also on tap, Perrey Reeves from "Entourage" and D.B. Sweeney of "The Event" as Anne and Richard Davis.
This week there are two connections to "LOST." Keep an eye out for local actor and singer Don Nahaku, who questioned John Locke as Detective Reed in Season 3. Secondly, we'll see Kasim Saul, playing the aforementioned "Trekkie." Saul appeared in the final season of "LOST" as the security guard at "Constellation Tower."
Closing out the roster, surfing champion turned photojournalist Matty Liu as "Lucky," local actor Nicholas Masciangelo as Trevor Wright, and local model and trainer Kristina Waiau.
In Other News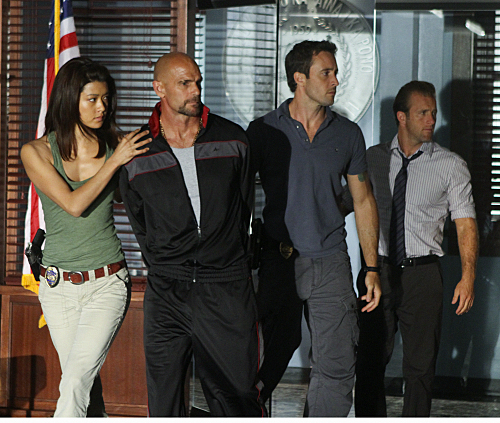 On Saturday, "Five-0" executive producer Peter Lenkov posted to Twitter: "Just typed: FADE OUT. Season Finale is done. I should be resting, but I wanna keep going…"
Intrepid local photographer and "Five-0" stalker Stephen C. (a.k.a. "PhotoLULU") continues to capture behind-the-scenes video of location shoots, including clips of Scott Caan chasing down a bad guy at Ala Moana Beach Park last Thursday.
It was a long three weeks of re-runs to get to tonight's new episode, but alas, next week brings another repeat. CBS will air "Hana ʻaʻa Makahewa," the Christmas episode, on March 28.
The April 4 episode, "Ma Ke Kahakai," returns to the jungle when McGarrett and Danno decide to check out some ancient petroglyphs, and find a murder instead. We'll also learn that Chin Ho Kelly (Daniel Dae Kim) isn't the only member of his family to be ousted from the Honolulu Police Department.
CBS Preview