'Five-0' Preview: 'Pōwā Maka Moana'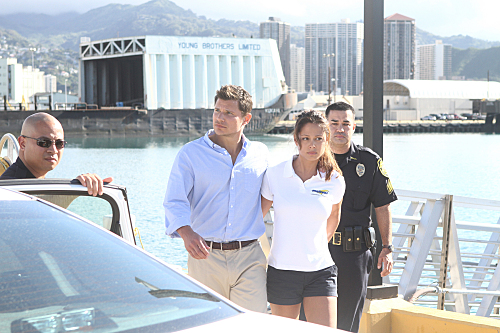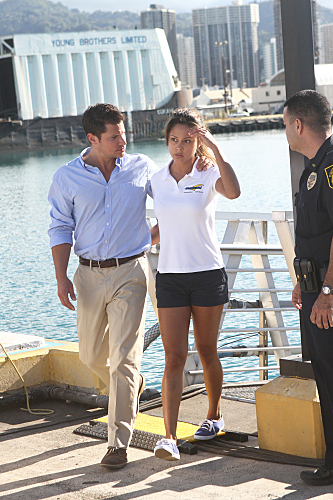 "Hawaii Five-0" has done well in the ratings, but tonight's toughest competition for attention will be the Valentine's Day holiday. Perhaps in a bid to attract the romantically inclined, the top-billed guest stars are "real-life engaged couple" Nick Lachey and Vanessa Minnillo.
Minnillo is a former Miss Teen USA, hosted "Total Request Live" on MTV, and was a correspondent for Entertainment Tonight. Lachey was a member of boy band "98 Degrees," and starred in the TV series "One Tree Hill."
He also starred in his own MTV reality show, "Newlyweds," albeit with then-wife Jessica Simpson, who's also a celebrity of some kind, and not Minnillo, who starred in one of his music videos and to whom he proposed in November, apparently to much ado.
Which all probably explains why I had no idea who they were. Hopefully, it doesn't really matter.
This week the action moves offshore, when a bunch of rich kids on a spring break pleasure cruise find themselves targeted by pirates. As luck would have it, "Five-0" is the first on the scene of the kidnap-and-ransom scheme.
The episode title, "Pōwā Maka Moana," is the Hawaiian phrase for "pirate."
Familiar Faces
In addition to Minnillo (who plays a deckhand) and Lachey (who plays "Tyler"), the cast includes noted Native actor Branscombe Richmond as "Saloni." Omnipresent TV character actors Ray Wise ("Psych," "24") and Stacy Edwards ("The Unit," "Chicago Hope") also appear as Morris and Rebecca Brown.
We'll also meet "Pirate #1," a Mexican drug dealer played by Christian George. Tonight's episode is George's "first big thing," after smaller stints (including lead dancer in a Britney Spears commercial and a few soap operas), and was noteworthy enough to earn him and his parents an interview with the Valley News Dispatch in Pittsburgh.
"It was a really great experience," he said. "Everyone on the set was fantastic."
Also appearing after working in the soap opera biz is Marc Raducci, playing "Captain Chris."
Shave ice kingpin Kamekona (Taylor Wily) returns, as does "Five-0" alum Dennis Chun as Sgt. Duke Lukela.
There is at least one faint "LOST" connection in this week's cast. "Moku the Bartender" is played by St. Louis grad Cody Gomes, who played a "Worker" buiding the Swan station in 1977. His only line? "What's the serial number that goes on the hatch lid?"
Local dance instructor Mimi E. Wisnosky and local actor J. Philip Koontz play Mrs. and Mr. Layton. Try to catch local musician Kale Chang as "Big Lono." Finally, "Island Hottie" is played by Nicole Fox. I'm going to presume it's 2008 Miss Hawaii Nicole Fox, and not "America's Next Top Model" Nicole Fox.
In Other News
Preview
Here's the promo for tonight's episode courtesy CBS: