'Five-0' Preview: 'Loa Aloha'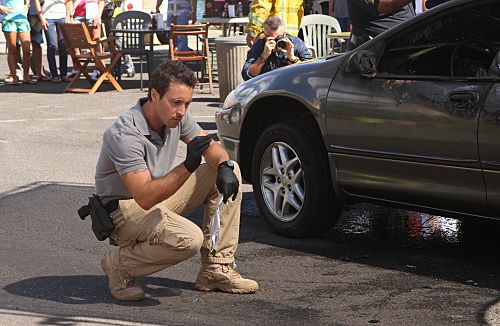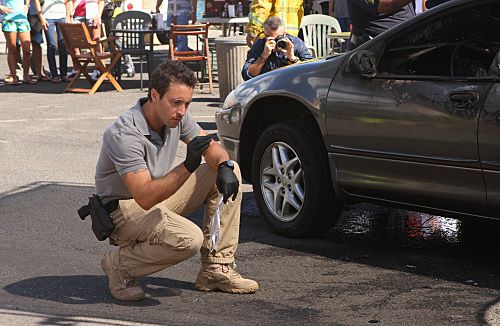 If you think Danno (Scott Caan) is funny, his little brother Matt should be a real hoot. Renown stand-up comedian and actor Dane Cook guest stars as the younger Williams, a fun-loving Wall Street broker who visits on Monday's "Hawaii Five-0."
Of course, nothing is as it seems, and Matt's business in Honolulu isn't all fun and games. Meanwhile, the "Five-0" crew is on the trail of a crazy killer who does more than phone it in.
Another guest star to keep an eye out for? The Gogi Korean BBQ Taco Truck. The popular Honolulu food truck anchors a key scene, and its official website tells the story:
"We were so excited when we got the call asking, 'Um, we need your truck for a scene… and oh yeah, we're gonna blow up a car right in front of it.' We could not give them a 'Hell Yeah!' fast enough! It was fun, fast paced… Director and cast and crew, amazing energy — no wonder the show rocks!"
If you want an autograph from this rising "Five-0" star, be sure to come down to "Eat the Street Kakaako" on Friday.
The episode is titled, "Loa Aloha," which CBS says is Hawaiian for "The Long Goodbye." I'm pretty sure that's not quite right, but after introducing us all to "Powa Maka Moana" last week, I'll give them a pass.
Familiar Faces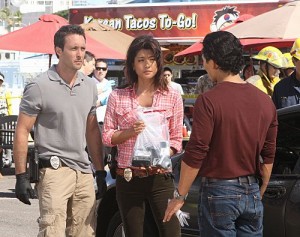 It wouldn't be a Williams family reunion without Rachel (Claire van der Boom) and Grace (Teilor Grubbs).
But this week's episode brings a parade of local actors, some with established careers and others just getting started in the business. For one, we'll meet Judge Kamalei, played by Iolani School school Clyde Kusatsu. Kusatsu has a long acting resume, stretching back to playing Reverend Chong in "All In The Family," and Dr. Dennis Okamura on "The Young and the Restless."
The characters of Diana and Brian Meachum, meanwhile, are played by Kailua girl Brooke Alexander, wo played a con artist on "As the World Turns," and Brian Meachum, a member of The Actors Group.
Finally, look for Kaiser High School graduate and college journalist Remington Taum as Lani and local actor Eric Nemoto as Deputy Public Attorney James Chen.
Hardworking stuntwoman Boni Yanagisawa plays Judge Kamalei's wife Katie. She's worked in over 50 productions, including "Iron Man 2," and "The Green Hornet."
Monday's episode of "Five-0" will be among Yanagisawa's few acting roles, with her past credits limited to characters like "Thai Delivery Girl," "Okinawan Mother," and "Samurai Biker Chick." Alas, the CBS preview clip below suggests she won't hang around for long.
And Debrah Farentino, who had regular stints on "Eureka," "Eli Stone," and "NYPD Blue," will appear as Elizabeth Roan.
Finally, two "LOST" connections on the guest star list.
Theo Coumbis plays Travis Roan, but you may recognize him as Jimmy Bane, the scary looking dude who turned up after Anthony Cooper conned him out of $700,000.
And local actor Dezmond Gilla, playing Pedro Fuentes, will hopefully get more screen time as he did on "LOST." Back then, he was credited simply as "Baseball Hat," one of the thugs who conspired with beautiful fugitive Kate in a bank robbery.
In Other News
Preview