'Five-0' Preview: 'Kai e'e'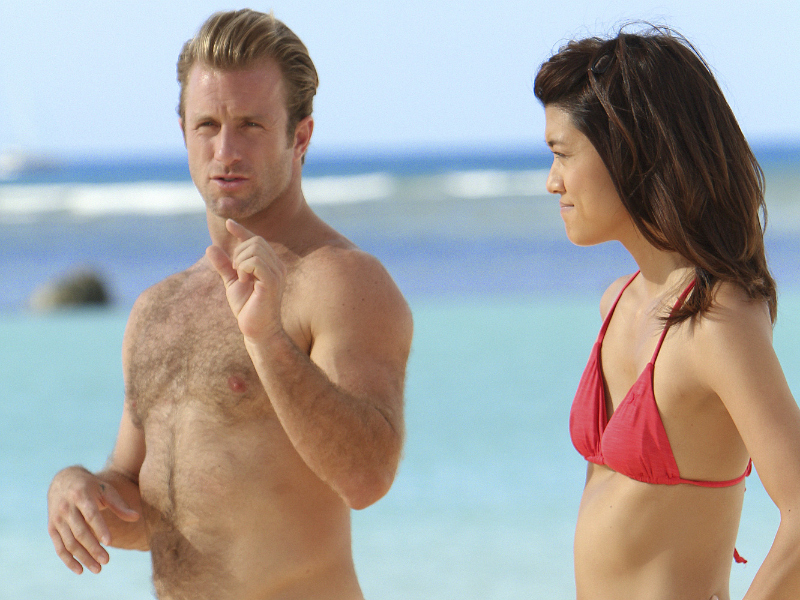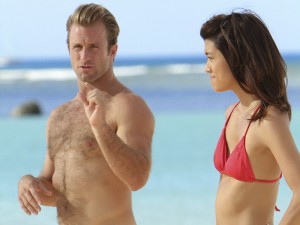 Sunday brings the NFL semi-finals, and CBS hopes "Hawaii Five-0" can ride the wave of the AFC Championship game into huge viewership numbers.
Yes, once again, "Five-0" airs at a special night and time, so if you want to catch the next new episode, you'll probaby want to watch the Steelers play the Jets first. Whenever the game ends, "Five-0" will follow with Episode 15, titled "Kai e'e" (tidal wave).
It's not exactly "ripped from the headlines," but the episode will invoke the looming threat of a tsunami to ramp up the tension. As the killer wave bears down on Honolulu, the head of the Tsunami Warning Center goes missing. Danno, Steve, Chin Ho and Kono are tasked with finding him.
It's not all work and no play, however. Even though "Danno don't surf," it looks like he's willing to give it a shot to spend some time with Kono (and her bikini). And while McGarrett is the one who seems to have a weekly shirtless scene in his contract, Danno gets to show off his stuff.
Hopefully, the episode will handle the tsunami threat with a little more grace than depicted in the brief promo that aired last week, in which people on a beach scattered in panic to the sound of a cheesy submarine klaxon. (You know, the "red alert" horn that comes preinstalled as an alarm on every iPhone.) And hopefully, the Tsunami Warning Center can get the job done even without its boss. After all, if there's any state that's prepared for a tsunami, it's Hawaii.
I suspect, however, that it'll again take the crack "Five-0 team" to show Honolulu how it's really done.
Familiar Faces
With the ocean front and center, it figures that McGarrett's seafaring sweetheart Catherine Rollins (Michelle Borth) returns. Fans of the original "Hawaii Five-0" will cheer the return of all-knowing beachboy Mamo Kahike (Al Harrington) as well as Sgt. Duke Lukela (Dennis Chun, son of Kam Fong Chun). Danno's daughter, Grace Williams (Teilor Grubbs) will undoubtedly need to be kept out of harms way.
Since you can't hang out on a beach without shave ice, Kamekona (Taylor Willy) appears as well. And watch for local surfer Tamayo Perry.
Rounding out the guest cast are Agnes Bruckner (last seen in "Private Practice"), Oregon actor and go-to commercial guy Joel David Moore (playing Sheldon, the deputy director of the tsunami center), and kid singer turned actress Joanna "Jojo" Levesque.
In Other News
CBS has announced that Larisa Oleynik will be appearing in a recurring role beginning in March. Oleynik is perhaps best known as "Alex Mack," the title character of the 1990s TV series, and was also once named one of "People" magazine's most beautiful people in the world.
The Monday following "Kai e'e" will bring a rerun of "Mana'o" (i.e. the "kalua cop" episode) but the next new episode (airing Feb. 7) will no doubt spark flashbacks among "LOST" fans as the action moves deep into the jungle. But if you can't get enough "Five-0," there are more special nights and times for more reruns: Friday, Jan. 28, and Sunday, Feb. 6.

The Big Picture

"Kaie'e"