'Five-0' Preview: "Ho'apono"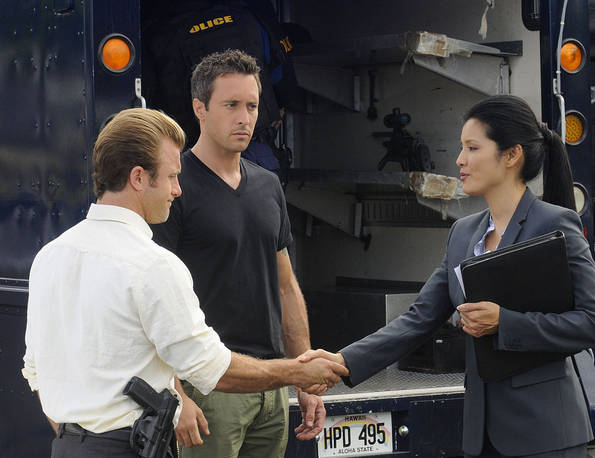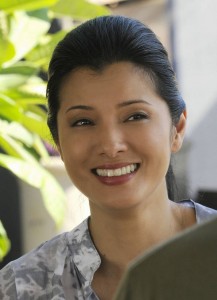 "Hawaii Five-0" has demonstrated itself to be a great showcase of both striking Hawaii locations and colorful guest stars, and tonight's episode does not disappoint in either department.
"Ho'apono," Episode 7, finds a Navy SEAL on the run, testing the loyalty of Det. Steve McGarrett (Alex O'Loughlin), a former SEAL himself. And Honolulu-born actress and former Miss Hawaii Kelly Hu will make her debut as Laura Hills, public safety liaison to the governor.
Much of the action takes place aboard the U.S.S. Missouri, a World War II memorial docked at Ford Island in Pearl Harbor. The battleship's Twitter account was reporting on the filming back in September, the same week the series premiered on CBS.
(At around the same time, the "Mighty Mo" also hosted film crews from "Battleship," a big-budget sci-fi movie scheduled for a May 2012 release.)
The fugitive SEAL is played by Adam Beach, a familiar Native American face who has had roles in several television shows, including "Law & Order: Special Victims Unit" and "Big Love."
And appearing as one of his Navy colleagues will be the esteemed Robert Loggia, a film and TV character actor with an Academy Award nomination and a resume stretching back half a century… but who is perhaps best known for a 1998 orange juice commercial for Minute Maid.
Child actress Mackenzie Foy, last seen in the one-season wonder "FlashForward," guest stars tonight as Lily, and Louis Lombardi (from "24" and "The Sopranos") plays Buddy. But sharp-eyed fans should also keep an eye out for former Hawaii newscaster Eric Elizaga, former "LOST" stunt coordinator Michael Trisler, fitness trainer and model Massimo Galluzo, and Hawaii actor Taylor Wily.
Here's a sneak peek at "Ho'apono":
Want more? Catch a behind-the-scenes video from CBS, featuring a shoot at Ala Moana Beach Park and a preview of an ambitious airplane stunt. And check out some set photos from Waikiki, posted to Flickr by "Hawaii Five-0" spotter Stephen C. (a.k.a. @PHOTOluluTV).
When you tune in tonight, be sure to also plug into the "#h50" hashtag on Twitter for some great, live commentary from fellow "Hawaii Five-0" watchers. To me, it's the best way to enjoy the show.
Photo courtesy CBS.