First Look: Puerto Rican Menu Twists Pop Up in Windward O'ahu
Guajillo shrimp tacos, pastele nachos, pastele quesatacos: Happy Rico food truck dishes up a mix of traditional and mashup cuisine.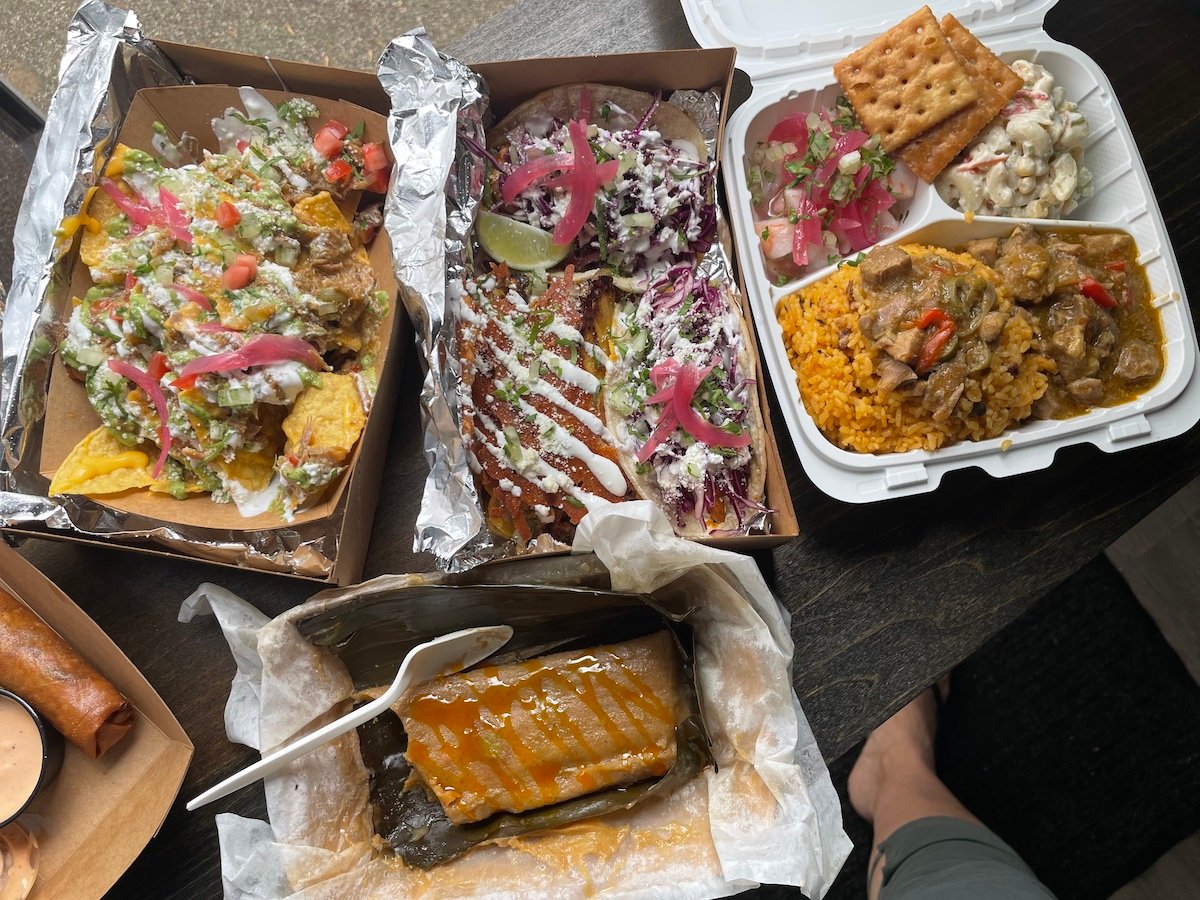 The first time we try Happy Rico, we're excited to find Puerto Rican food in Windward O'ahu. But what we can't stop talking about is the contemporary riff of pork pastele quesatacos.
Here, the savory pastele stew is folded into generous corn tortillas, followed by mozzarella, onions, cilantro, achiote, sour cream and cotija, heated on the griddle until the taco has a cheesy, crunchy exterior (3 tacos for $10). The result: an intersection of comforting home-cooked Puerto Rican food like your friend's grandma would make turned into savory street tacos, the kind we happily devour late at night.
The pastele stew mini plate ($10) delivers a traditional Hawai'i-style plate of Puerto Rican food: chunks of pork and tamale-like filling next to gandule (pigeon pea) rice with a side of potato-mac salad that mixes purple and white potatoes with elbow macaroni.
But it's those quesatacos that send us hunting for Happy Rico a second and third time. We show up earlier in the day to ensure more choices and find another favorite: guajillo shrimp tacos (3 for $13) filled with plump, tender shrimp seasoned with yet not overwhelmed by the namesake pepper, served with a jalapeño-avocado crema, purple cabbage and the street taco trinity of cilantro, onions and cotija.
We also enjoy the surf n turf plate ($16) that adds pickled shrimp ceviche to the pastele stew, gandule rice and potato-mac salad of the mini version. We share the generous plate, nudging the shrimp and sweet pickled onions onto fried saltines, a simple yet brilliant alternative to tortillas. And the shrimp and saltines can be added to other dishes.
---
SEE ALSO: Roll With It: This Mexican Food Truck Serves Up Tacos, Carnitas, Chimichangas and Pastrami Melts
---
The folks cooking up these mashups are Richard Figueroa and Loretta Tsang, partners in food and life, who met working in restaurant kitchens in New York City. They first worked together at Buddakan, which had a moment in pop culture for hosting the Sex and the City movie wedding reception of Carrie and Big.
"We both have culinary degrees," Tsang says. "Once COVID hit over there, we both lost our jobs. So we were both thinking, you know what, I think now's the chance to do something of our own."
Tsang explains that the quesatacos are their twist on a birria taco, without the cups of consommé. "I love salt and I love oil," she says with a grin. Figueroa was born in the Bronx but after his parents separated, moved to Puerto Rico with his mom to stay with family. He returned to New York as a teen, looking to play college baseball while working as a cook, then spending years cooking and studying culinary arts at Monroe College. An injury ended his baseball career, but he graduated from culinary school.
Now, Figueroa and Tsang are cooking a mix of what they know, what they like and what they've learned about the O'ahu palate. "Trying to mix it with the local style, and our touch, just good food. We don't try to go crazy," Figueroa says.
Tsang defers to Figueroa's Puerto Rican cultural background and his execution of multiple dishes after years of cooking experience. And Figueroa credits Tsang with coming up with most of their fusion ideas. She's from California but they moved to Kāne'ohe to be close to her sister, who works in marine biology.
Tsang says they researched O'ahu's Puerto Rican food scene. They learned the Borinki or Puerto Rican plantation history in the Islands and got excited by the mix of cultures intrinsic to Hawai'i's food scene. Then they started working on their menu. They quickly noticed some differences from the Puerto Rican dishes Figueroa grew up with: Pastele turned into stew. Black olives are preferred over green. Hawai'i usually favors ground green bananas as pastele filling, while Figueroa uses more of a tamale-style mix of yucca, kabocha, kalo as well as green banana rolled in paper, then in banana leaves. The mix gives the filling a more mochi-like texture.
---
SEE ALSO: Taste Test: I Tried Every Dish on the Menu at Taqueria El Gallo Rosa in Kailua
---
They first cooked in a tent near Kāne'ohe's Hygienic Store alongside other food vendors, Tsang says, then saved their money, bought a camper and converted it to a food truck in October with the help of one of the vendors. Now they pop up behind Windward Mall on Thursdays and Fridays and weekends on the edge of Waimānalo.
Beyond the popular pastele and taco mainstays, rotating specials include lumpia stuffed with pastele stew and rice (3 for $7), a shakshuka/huevos rancheros mashup, vegan pasteles and loaded pastele nachos ($10).
The couple's varied cooking experiences show in the seasoning and creativity of the food. Before the pandemic, Tsang worked as sous chef at Michelin-starred La Vara in Brooklyn where she was inspired by couple chefs Alex Raij and Eder Montero, who create Spanish tapas cuisine with Jewish and Moorish influences. "I've got to give her [Raij] credit because she's the one that taught me how to do the pickled shrimp," Tsang says. She describes the dish as a riff on ceviche using lime juice, cilantro and onions but pickled to avoid serving raw seafood from a food truck.
The bright Happy Rico logo features a face framed by a pair of shrimp with an empanada grin. Judging from the enthusiasm of these two, we can expect more riffs on dishes that blend their styles with new discoveries.
Open Wednesday to Sunday from noon to 4 p.m. or sold out. Find Happy Rico on Wednesday to Friday on Mehana Street in Kāne'ohe, Saturday and Sunday on the mauka side of old Kalanianaole Road at Kalanianaole Highway in Waimānalo. @happy_rrrico