First Look: Nami Kaze, Okazuya-style Now, Izakaya Later
Jason Peel, who's opened restaurants for other chefs, opens the first one of his own, what will become a seafood and vegetable focused izakaya.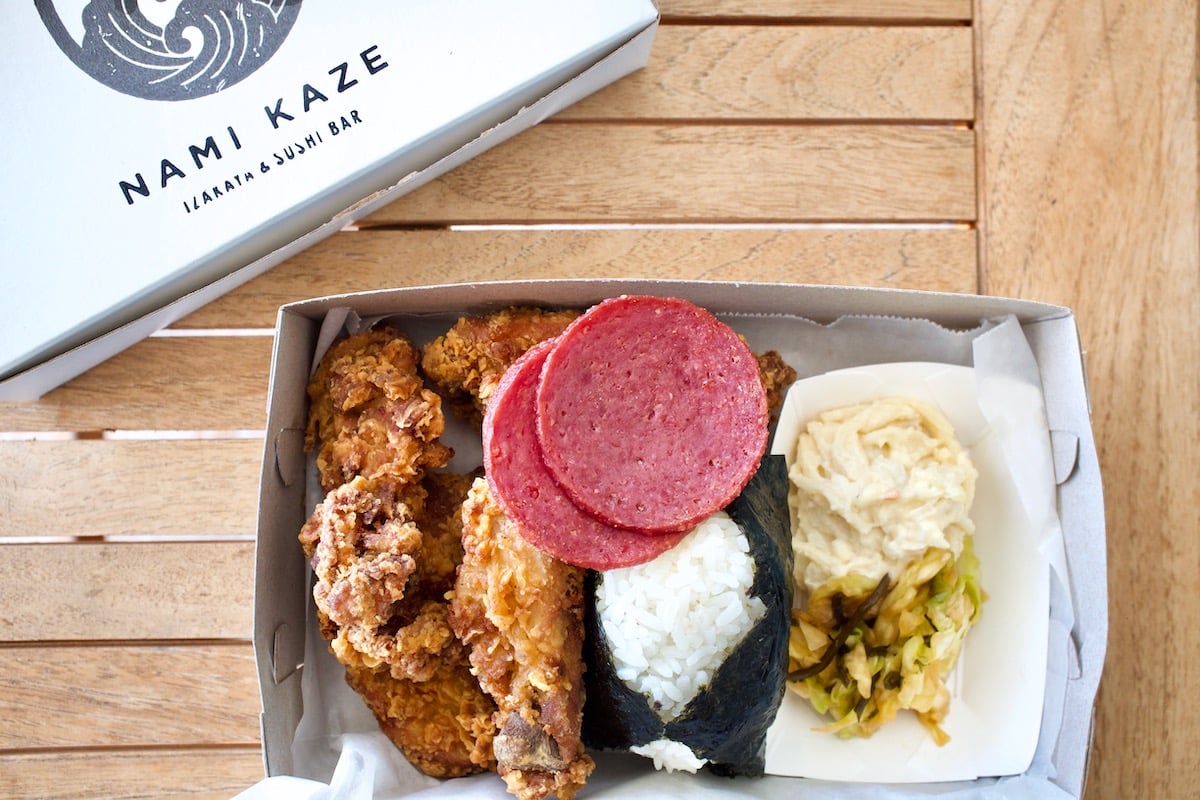 Jason Peel spent more than a decade opening restaurants for other chefs, including Roy Yamaguchi and Chris Kajioka. In between, he also herded 120 international chefs and 30 mixologists for the Hawai'i Food and Wine Festival and spent six years as a culinary instructor at KCC.
So opening his own restaurant: easy, right? Not really, he laughs. Ownership is its own "crazy" thing, with so many details to consider.
But if it's crazy behind the scenes, it doesn't show: the first week at Nami Kaze, the first venture of his own, is already revealing hits, like a fried ginger chicken, wasabi okra and Hapa Boy poke, Peel's take on Hawaiian-style poke. At the moment, Peel is only offering pre-order okazuya-style bentos as he readies the interior (and waits for the COVID surge to lessen) to reveal an izakaya with a menu of only seafood and vegetables.
More on that later.
Go to Nami Kaze now for the okazuya menu. Because when Nami Kaze opens for dinner, in about a month, there's no guarantee the okazuya will stick around. Then you'd miss out on bentos like the Kaua'i Boy ($12.95), Peel's homage to his childhood in Kaua'i, which includes ginger fried chicken inspired by the erstwhile Hanamaulu Café, and slices of fried Goteburg sausage, that summer sausage in the German and Scandinavian tradition, by way of the Garden Isle.
There are also the Nami (wave) and Kaze (wind) bentos. The Nami ($18.95) features seafood like fried garlic shrimp (also inspired by Hanamaulu Café), assorted sashimi, and spicy 'ahi made with meat scraped from the bone. The Kaze ($12.95) is a vegetarian bento with tofu poke, wasabi okra and carrot tegu—this was my favorite, along with the simple kamameshi rice musubi, seasoned with strips of kombu. You can also make your own bento or add on extras, everything from a char siu pork belly to futomaki (with 'ahi!) and vegetable kakiage.
So think okazuya, down to the white cardboard takeout boxes, but made to order. "It's nostalgic, it's fun," Peel says. "It's a lot more simple. You gotta reach back to every form."
But when Nami Kaze opens for dine-in, Peel plans on izakaya dishes crowned with luxury, perhaps a cauliflower porridge with chili crisp and option to add uni, or butter-braised 'ulu topped with an 'ulu crumble and caviar.
So back to the seafood and vegetable focus of Nami Kaze. "I love the people trying to raise meat on the Islands," Peel says, "but I feel like there's never enough to go around, for one. And I would like to cut back on meat," for health and sustainability reasons. Plus, Nami Kaze's location on Pier 38 (and literally under Fresh Island Fish) provides lots of inspiration. "Everybody loves steak, everybody loves meat," he says, himself included. He's up for the challenge of making vegetables craveable. Not that that means banishing meat from the kitchen—he's considering a secret meat menu at Nami Kaze.
He has lots of other ideas, like "chef battle" nights, which is why he made Nami Kaze's space, formerly Uncle's Fish Market, with an open kitchen and floor plan (which even includes a pool table). And starting next week, he plans on making teishoku takeout dinners.
"I'm kind of all over the place," Peel says. I'm not sure if he means with his ideas or right now, as he's running around shopping for Nami Kaze. Maybe both. Which makes sense, for the once itinerant chef. But this time, it's for his own restaurant.
Open Mon. to Fri., 10 to 2 p.m. (or sold out), 1135 North Nimitz Highway, toasttab.com/namikaze.hi, @namikaze.hi