First Look: Bethel Street Tap Room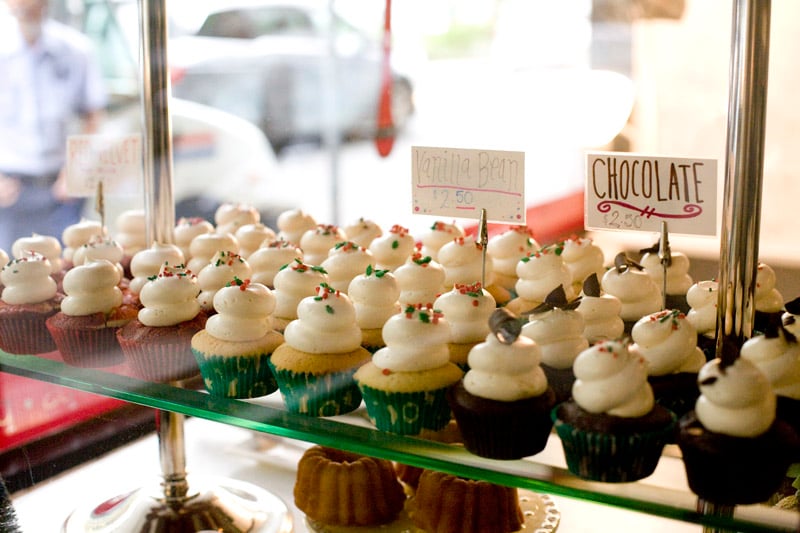 Welcome to Bethel Street Tap Room, the only bar around to serve both beer and cupcakes. Which means you'll be finding us there, especially around happy hour, when there's free bacon.
Beer, cupcakes and bacon? The Tap Room has tapped into our greatest weaknesses.

Italian Stallion (left) and the Tap Room salad of the day.
Let Them Eat Cupcakes owners Kawehi Haug (who also contributes to this blog) and Kim Potter recently replaced the Rakuen space with a bar and sweets shop. For lunch, there are hoagies—soft rolls stuffed with lots of meat, shredded lettuce, tomato and a tangy vinaigrette. Options include the Italian Stallion ($10)—a trio of salami, prosciutto and ham—and a Spam version of a BLT ($9). Offset all that meat with the Tap Room salad of the day ($10). When we went, we found lettuce layered with cubes of mozzarella, corn, cauliflower, broccoli and lightly pickled cucumbers in a mason jar.
The food and space are simple and comforting, just like the cupcakes from Let Them Eat Cupcakes. Which you can get all day now (provided they're not sold out), along with marshmallows, cookies and cupcakes. Here, you can pretend you're a kid again while—with a cocktail or beer in hand—not forgetting the perks of being a grownup.
Lunch Monday through Friday 11 a.m. to 2 p.m., bar open Monday through Saturday 11 a.m. to closing.
1153 Bethel St., 531-2253, facebook.com/bethelstreettaproom