Fat Kid Friday: The mega sushi-rito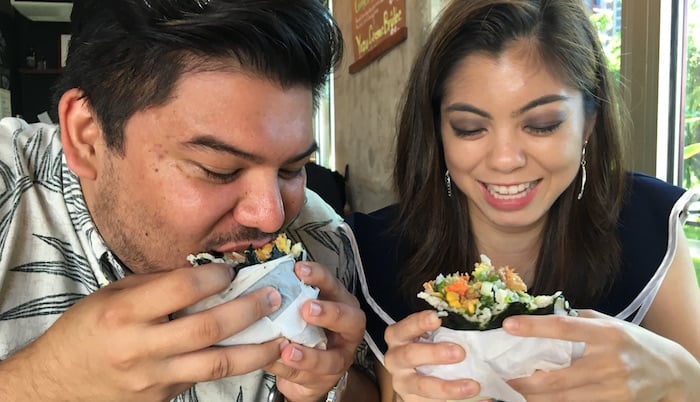 – Concept and title by Brandon Lee
– Video by Sho Niimura
Fat Kid Friday is a video series spotlighting exuberant dishes across Oahu. Crazy, ginormous or over-the-top luxe, these are the broke-the-mouth dishes we push across the table and tell our friends, "Try this. TRY IT."
You know sushi rolls. There's the dainty cucumber roll, a skinny thing you pick up with two fingers. There's the fat, colorful rainbow roll, with layers of fish and avocado on the outside. There's even dragon rolls, dynamite rolls and all-kine rolls with crunches and crazy sauces drizzled all over.
None of them hold a candle to Up Roll Cafe's up roll ultra. And here's the thing: You choose your own ingredients. Whatever fillings you choose from the list, the sushi rollers will do their best to fit it into a sushi-rito that can get humongous, as Kelli and Thomas found out with their order:
Miso pork, avocado, takuwan, cucumber, kimchee, inari, sprouts, corn, white rice, nori, lettuce, green onions, fried garlic, ginger and lettuce.
Here's the result.
Up Roll Cafe
665 Halekauwila St.
475-0099
Missed our last Fat Kid Friday video? Watch the series:
Pocho wraps and Emochi balls
The $65 Ultimate Loco Moco