Fat Kid Friday: The $65 Ultimate Loco Moco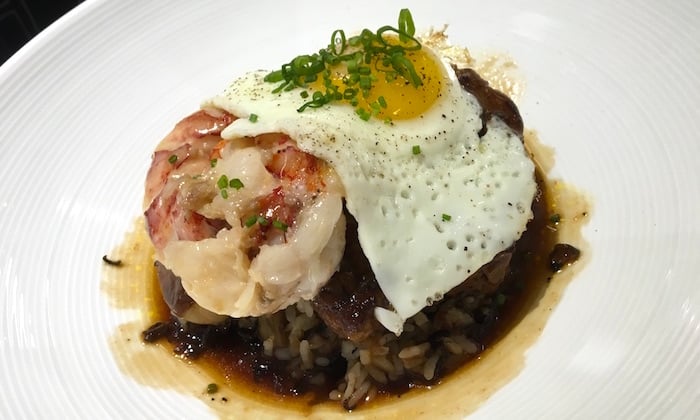 – Concept and title by Brandon Lee
– Video by Sho Niimura
Fat Kid Friday is a video series spotlighting exuberant dishes across Oahu. Crazy, ginormous or over-the-top luxe, these are the broke-the-mouth finds we push across the table and tell our friends, "Try this. TRY IT."
Loco moco conjures up images of two scoops rice, hamburger patty, over-easy eggs and gravy all ovah. Not at Forty Carrots, the restaurant inside Bloomingdale's, where a regular loco moco comes with lobster tail and foie gras and costs $45.
And then there's the Ultimate Loco Moco:
• Butter-poached beef tenderloin
• Lobster tail
• Foie gras
• Kalei egg
• Hamakua mushroom rice with toasted bonito
• Italian black truffle and madeira sauce
It's $65 and off-menu, but anyone can ask for it. Best to call ahead. Because Fat Kid Friday says it's worth it.
Forty Carrots at Bloomingdale's
Ala Moana Center
1450 Ala Moana Blvd.
Mon-Sat 11 a.m.-8 p.m.
Sundays 11 a.m.-6 p.m.
Missed our last Fat Kid Friday video? Here's Pocho wraps and Emochi balls.