Enter to win dinner for two at Evening Extraordinaire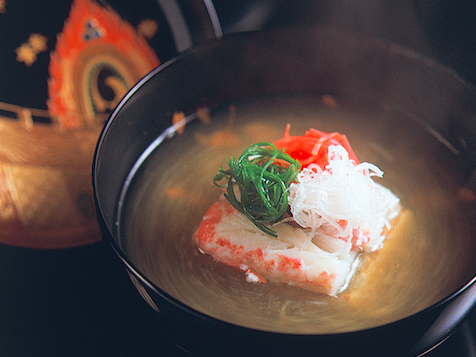 Sponsored
For the first time ever, Kunio Tokuoka, executive chef of Japan's highly esteemed Kitcho restaurants, with a total of six Michelin stars, and Hawaii's iconic Alan Wong will team up to create an Evening Extraordinaire. Hosted by 53 By The Sea, this once-in-a-lifetime dining experience will take place on Feb 9 and 10 at 6:30 p.m.
Diners will experience a seven-course dinner that showcases the talents of both chefs as they create a harmonious combination of Japanese and Hawaii Regional cuisine.
Third-generation Executive Chef and owner of Kyoto Kitcho, Kunio Tokuoka is best known for carefully curating both modern and traditional dinnerware and utilizing seasonal ingredients to emphasize the aesthetics and flavors of each dish, enhancing the beauty and history of classic Japanese kaiseki through intricate use of contrasting colors and locally grown ingredients. Kyoto Kitcho is Japan's most revered traditional kaiseki restaurant. Rated with a total of six Michelin Stars, including three stars at the flagship Kyoto Kitcho Arashiyama, two stars at Toyako, and one star at Hana. Kyoto Kitcho Arashiyama, is also one of the world's most expensive Michelin-rated restaurants with an average cost of $600 per guest.
Evening Extraordinaire's ticket is set at $350 per person (not including tax & gratuity), making this one of the priciest meals to be had in Hawaii. This covers cocktails, the seven-course dinner, and a post-dinner meet and greet with the chefs. Full payment is required at the time of booking. Contact 53 By The Sea at 536-5353 or email Tony@53bythesea.com. Seating is limited to 100 guests per dinner service.
ENTER TO WIN DINNER FOR TWO AT EVENING EXTRAORDINAIRE
One very lucky reader will win a pair of tickets to the event (valued at $700). Just fill out the form below to enter the contest. We'll randomly select one winner on Friday, Jan. 27 at 4 p.m. HST to receive two (2) tickets to the dinner on Thursday, Feb 9 at 6:30 p.m. The winner will be notified by email.
By entering this contest you agree to be added to the Frolic Hawaii and 53 By The Sea newsletters.