Enjoy Fun Friday Evenings This April at the Hawai'i State Art Museum
Dance the night away at HiSAM's First Friday and The Vibe events.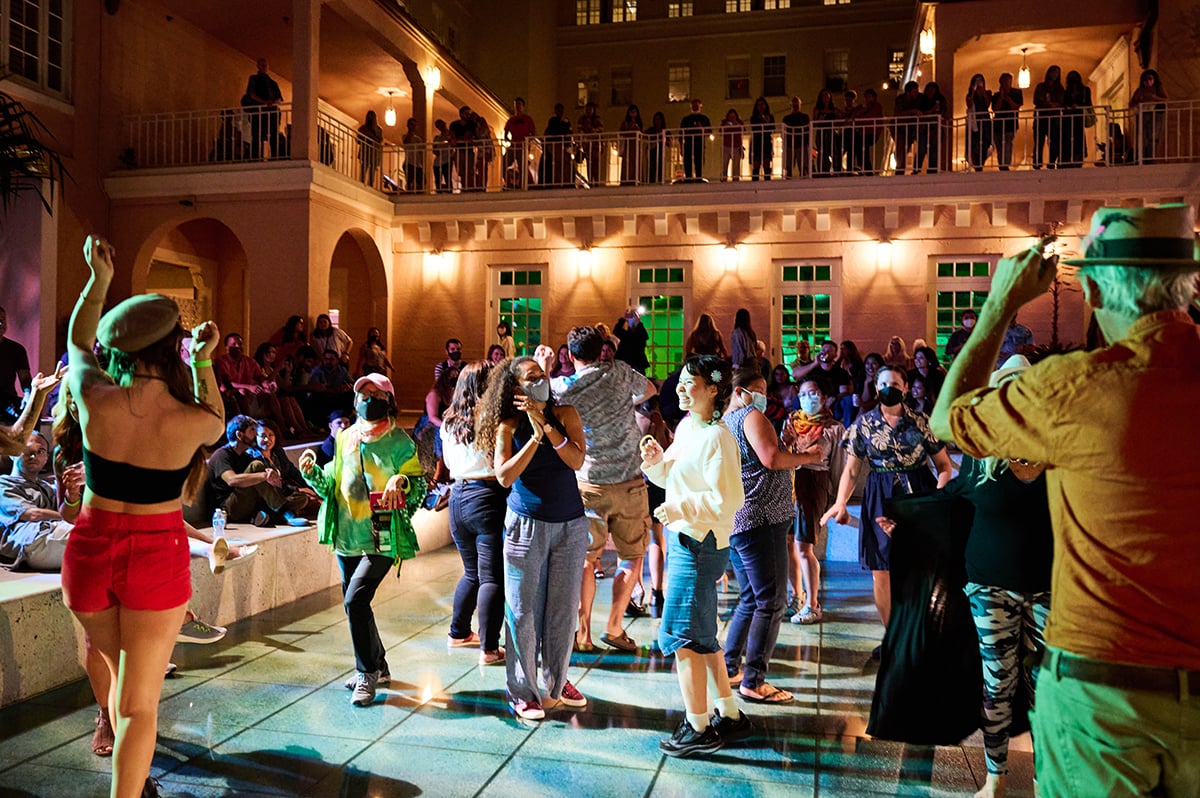 First Friday is back at HiSAM with a refreshing new transformation. Gone is the circuslike atmosphere that sometimes felt a little bit too crowded. Instead you can expect a pared down, chill evening where you can get up close and personal with some amazing performing artists.
First Friday in February featured live performances by local dance collectives in the outdoor Sculpture Garden, including Piko Dance, which filled HiSAM's pool with giant beach balls for its creative moves. At March's event, multitalented musician Jabari Prevost and the Honolulu Art Ensemble shared the spotlight. And at The Vibe, a jazz night happening every second Friday of the month, a variety of musicians take to the stage and people of all ages let loose on the dance floor. First Friday and The Vibe also feature yummy food pop-ups by popular vendors and a bar provided by Friends of HiSAM, the nonprofit organization that helps support the museum.
View this post on Instagram
First Friday on April 1 is no joke as Dayton Watanabe brings his smooth voice and slack key guitar to the stage. A veteran live performer and regular at weddings and other special occasions, Watanabe's love for music shines through as he plays and sings favorites from Bob Marley to Jack Johnson and more.
SEE ALSO: The Hawai'i Triennial 2022 Takes Over HiSAM's Exhibition Spaces
Musical group Tiki Taboo promises to take you on a magical journey with its infectious exotica a go-go groove. Enjoy sounds of surf, Latin, jazz, funk, world music—anything goes as long as tiki vibes are involved.
Get jazzy with The Vibe on April 8 when HiSAM's house band, the Dae Han Ensemble, will feature two guest musicians who have performed nationally and internationally: renowned jazz trumpet player DeShannon Higa and award-winning singer-songwriter Maryanne Ito.
SEE ALSO: Hawai'i Triennial 2022 Kicks Off Feb. 18 with Works from 45 Artists and Collectives
Higa has performed on the stages of Carnegie Hall, Radio City Music Hall and Lincoln Center and has accompanied a long list of accomplished musicians from many musical genres. Fun fact: Higa currently serves as the official musical composer and arranger for the world-famous Royal Hawaiian Band, which was established in 1836.
And Ito is sure to wow the audience with her sultry vocals and onstage charisma. She's toured with local group The Astatine Collective in the Pacific Northwest and with Dutch acid-jazz band Tristan across cities in Europe. Special guest musicians have been known to drop by The Vibe for exciting surprise appearances. Keep your fingers crossed for an extra star.
First Friday, April 1, 6–9 p.m., free admission. The Vibe, April 8, 6–9 p.m., free admission. 250 S. Hotel St. For more info, follow @hawaiistateartmuseum
---
Lisa Shiroma is a correspondent for HiSAM and is an artist and art educator. Lisa is the former owner of the HiSAM Museum Gallery Shop, which she ran with partners Aly Ishikuni-Sasaki and Travis Sasaki from Mori by Art + Flea from 2017 to June 2020.