Emotions: A story about lunch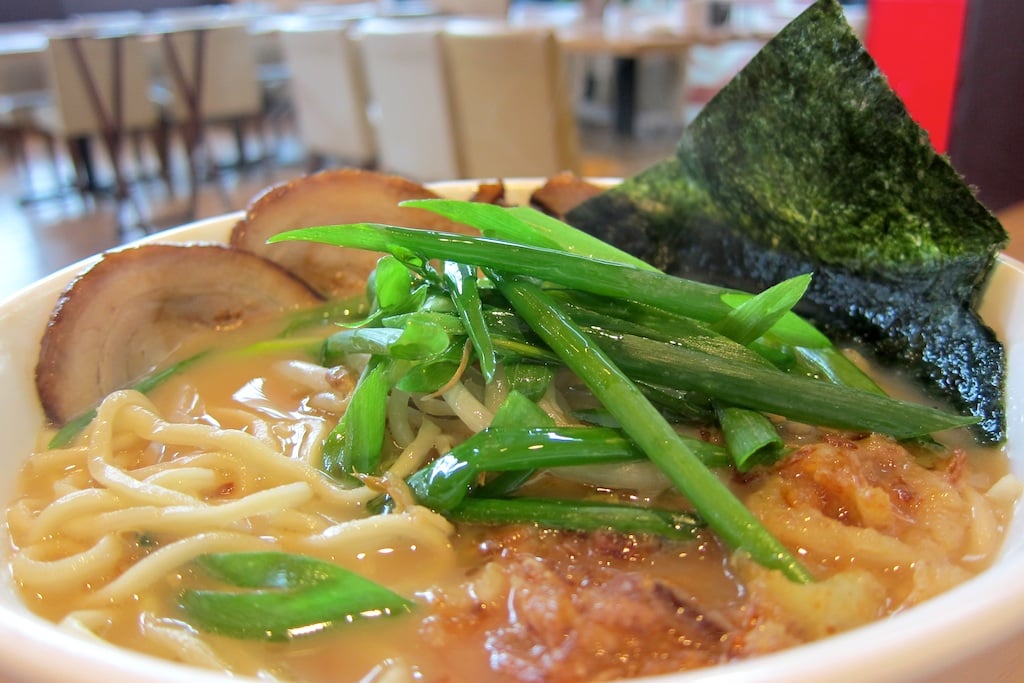 First there was wonder, then came rage. I'm talking about my first taste of broth from today's ramen at Shokudo.
So round, the flavors, so deep. I filled my spoon for another taste. There was a pork bone base, obviously, and an aromatic sweetness that was strange but familiar, and completely complementary. I should also tell you that when the bowl was put down in front of me, the server dipped a ladle into a silver pot and drizzled 10 ccs of hot sesame oil onto the green onions.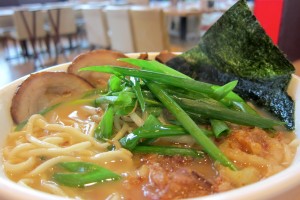 This was Tuesday, Day 2 of Shokudo's four-day Ultimate Ramen Battle. Each day a different chef prepares a different ramen, available from 11 a.m. to 4 p.m. THAT DAY ONLY, then it's on to the next bowl. You can score your bowl on a scale of 1 to 5; at the end of the week, scores are tallied and a winner declared.
Hence the rage. This was the best ramen I'd tasted since my whirlwind eatfest in Osaka in July. I'd done some research and realized the preparer of Shokudo's Tuesday ramen was none other than Hide Kawahara, founder of Japan's (and New York's and Hong Kong's) Hide-chan Ramen, and son of the founder of Hakata's Daruma Ramen. As any intense ramen lover would, I headed to Shokudo as soon as I could, but by the time I took my first slurp at 2:30, anyone I could broadcast my ramen joy to would have only 90 minutes left on a weekday afternoon — and then, like cherry blossoms fluttering on a breeze, the moment would be gone.
What was the point?! I seethed all the way home, then called Hide Sakurai, vice president of Shokudo's parent company.
Why only five hours per day per ramen? I asked.
"Hide Kawahara is a friend of mine," he said. "We've been talking for a long time about doing a ramen tie-in with Hide-chan, and we came up with the idea of a ramen challenge, but our kitchen is so small that we had to choose one ramen per day as a tryout."
But people barely have time to try it! Why don't you do a longer period, like Shirokiya?
"If a lot of people like it, we can do more tie-ins with Hide-chan Ramen," Sakurai said. "Wish me luck."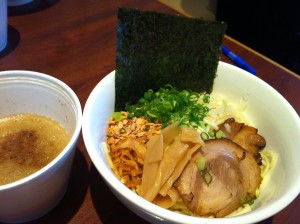 For the record, Monday's ramen was a dipping ramen in a smoky broth by another branch of Hide-chan. This is Melissa Chang's shot of her bowl. Wednesday's will be Okinawan soki soba from the local Izakaya Naru, and Thursday's will be Shokudo's own DaKine Curry Miso ramen.
Tuesday's ephemeral broth WAS tonkotsu, made from the hind leg bones of the pig. Hide-chan himself and four of his chefs simmered that broth for more than 10 hours and infused it with fried shallots, garlic and Hide-chan's housemade shoyu from Japan. I found out when I turned around and discovered the two Japanese in the next booth were Hide-chan Ramen chefs. "In Japan, there are hundreds of styles of ramen, and the trend lately has been to layer, for example, a shoyu broth into a tonkotsu broth," one said. "Ours is just tonkotsu."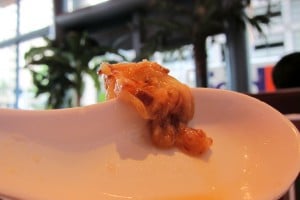 I went back to my bowl. Look what they did, caramelized whole shallots. There was a little mound of them melting into my broth. That was the strange but familiar sweetness — a flavor I associate more with happy Vietnamese garnishes and never with Japanese food. That Hide-chan's a smart man.