Eight Things for Chinese New Year
If you want a primer, I have a list of eight things you need to optimize ringing in the Lunar New Year.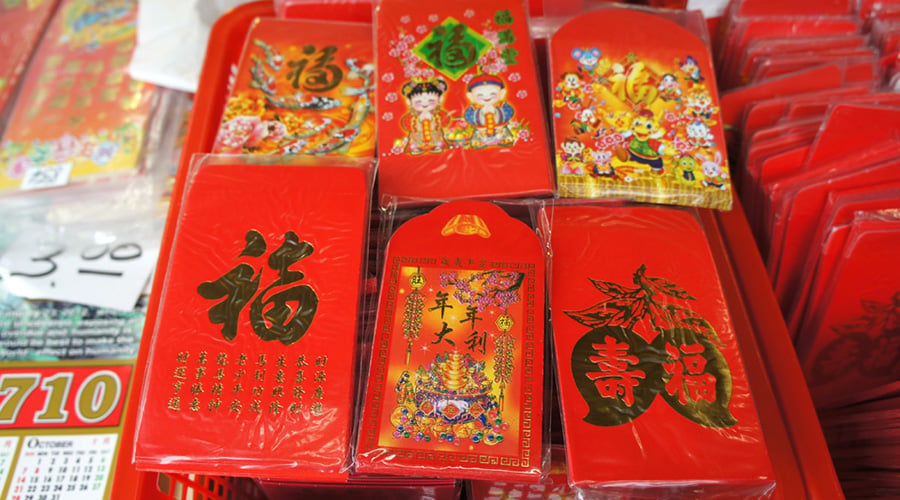 One of my earliest and favorite memories of Chinese New Year is being at my popo's house when she was making gau, the traditional brown sugar mochi. It would take her all day, kneading the dough on the floor before putting it into huge stockpots for steaming. When it was ready, she would pour some into a coffee cup for me — a molten, caramelly, pudding-like treat. I was acting as taste tester, which wasn't really a job because it was perfect every time.
On the other hand, my mom would make jai, known as monk's food, and for some reason each year's batch would come out differently. It was like uncorking the first bottle of a vintage wine: always a surprise, but not really fixable once the batch was done. Thank goodness, there were more good jai years than bad.
Then Mrs. Lee next door would make fresh gin dui for us as a Chinese New Year gift. They were always hot, lightly crisp, and filled with char siu. Since they were so delicate, they needed to be eaten right away or they'd deflate. These weren't like the heavy, doughy restaurant gin dui; these were the real deal.
You may not have people in your life like Mrs. Lee, my mom, or my popo, so if you want a primer on celebrating Chinese New Year, I have a list of eight things you need to optimize ringing in the Year of the Dragon on January 23. This year is supposed to bring prosperity for all, so celebrate big.
1. Li See
​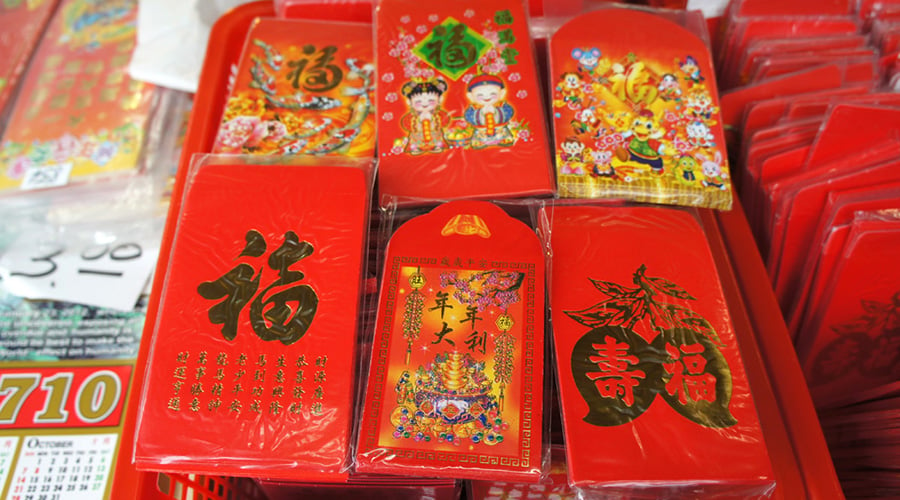 If you're Chinese, the number one thing on your list for New Year is giving — or better yet, receiving — li see (also pronounced lai see), the traditional red money envelope. You can get this at just about any store in Chinatown, usually in packets of 10 to 12. The red color of the envelope symbolizes good luck and is supposed to ward off evil spirits; any amount is appreciated, as long as you don't give your money in increments of four, which symbolizes death.
Tip: Make sure to ask what kind of envelope you're buying. Some are for the New Year, others for wedding or birthday.
2. Gau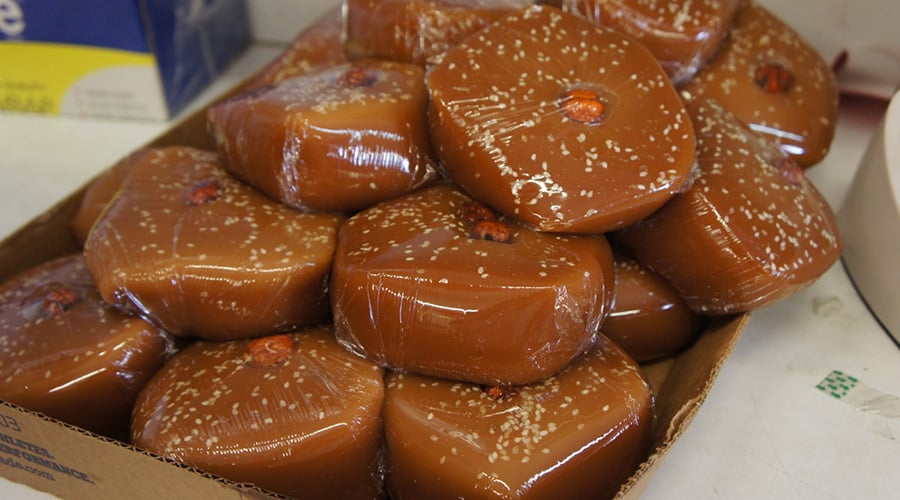 How now, brown gau? These steamed mochi cakes are made of glutinous rice flour, Chinese slab brown sugar, and a bit of peanut oil. Some people like to add coconut, as well. You will probably buy it when it's soft and floppy; let it harden for a couple of days so you can cut it. After a few more days, if it gets too hard, slice pieces of gau, dredge it in an egg batter, and fry it up for a snack. These are available at many Chinatown merchants.
3. Fai Chun (red fortune scrolls)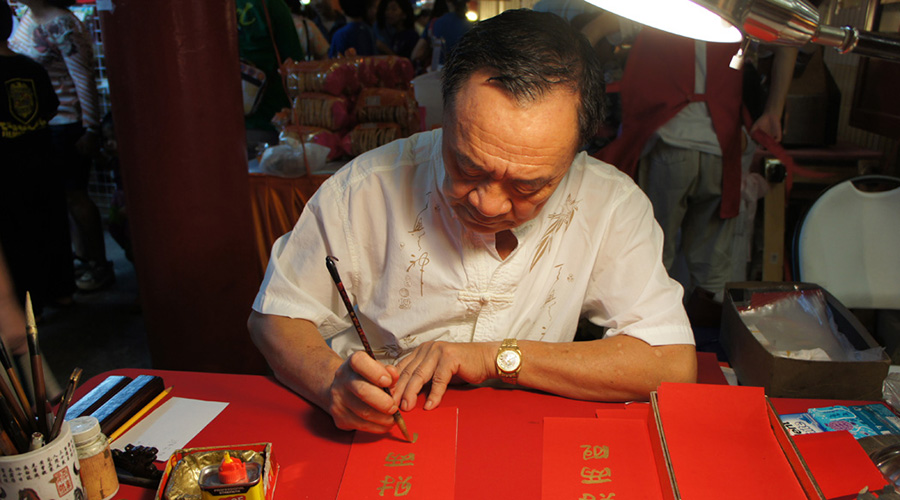 During Chinese New Year people hang small messages or wishes called Fai Chun in and around their homes and offices, hoping for good fortune during the year. There are many different Fai Chun, depending upon the occasion or need: some asking for sufficient food, domestic harmony, special wishes for the elderly and some wishing students good luck in their studies. Of course, the popular ones ask for prosperity or general good luck. The handwritten ones are available at booths in Chinatown during the New Year festivities; after that, you can buy pre-printed ones at retailers around Chinatown.
4. Jai (monk's food)
It is customary that the first meal of the New Year be completely vegetarian, and most Chinese turn to jai, or monk's food. Jai is usually comprised of gingko nuts, bean curd sticks, fried tofu, long rice, bamboo shoots, lily flowers, bamboo piths, mushrooms, black tree-ear fungus and hairy black moss. Green won bok and orange carrot add color; some places add baby corn for crunch, but you would already get that from the water chestnuts. I always buy my jai from the Honolulu Chinese Jaycees booth, here with Krystalle and Allan Wu.
5. Good luck charms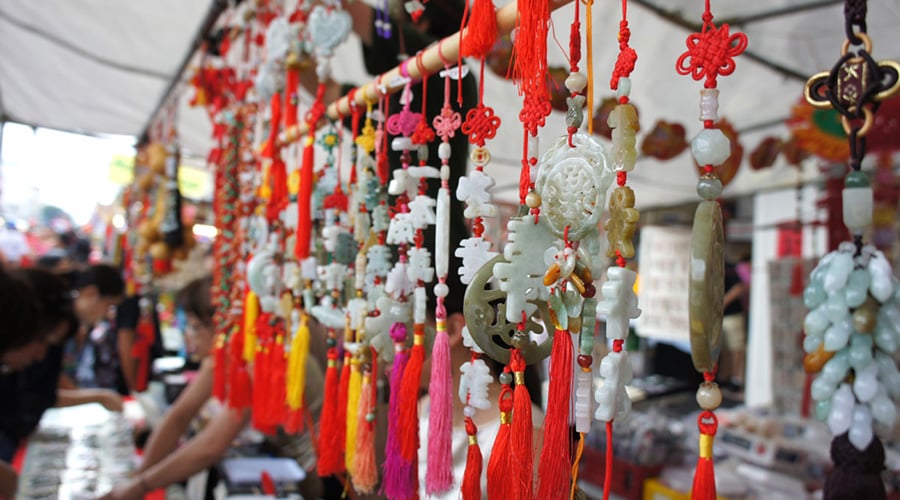 If you need extra luck, good luck charms are attractive and easy to attach to your purse, cel phone, keychain or car mirror. You can find a charm for everything, like prosperity, longevity, safety, love, power, or abundance. Don't worry about knowing the symbols, as all charm merchants have charts to help you.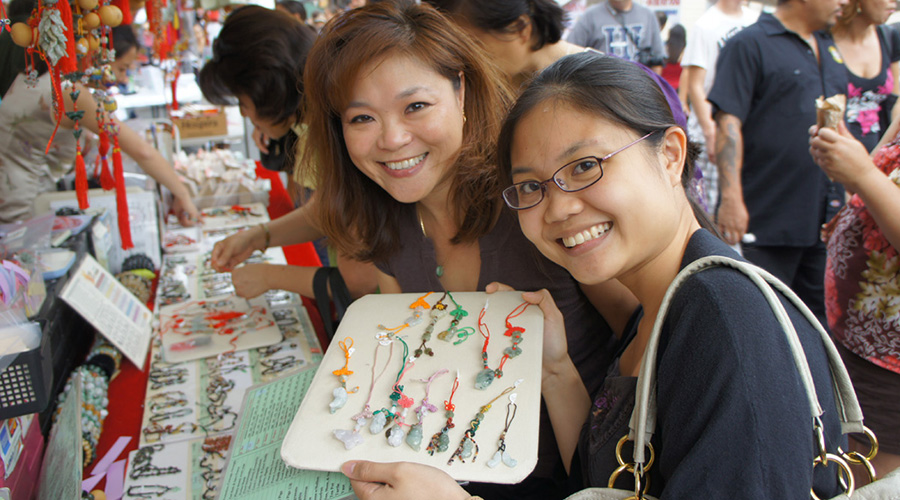 Classmate Lori Leong and her daughter shopped for the right combination of charms. It's believed when certain charms are grouped together, they become more powerful. These are from the Lucky Knots booth in Chinatown, but you can find their wares at FrostCity on Beretania St. during the year.
6. Gin dui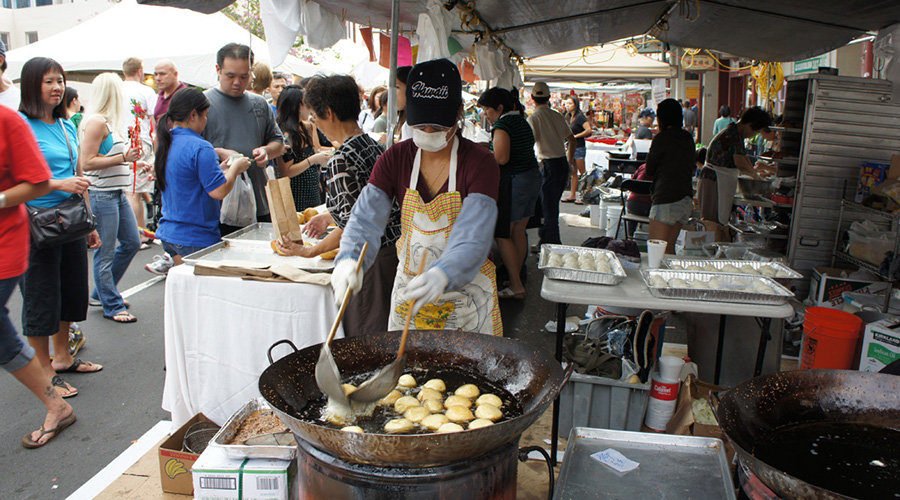 You'll find gin dui, the fried mochi balls, at restaurants year-round, but the best ones are sold fresh on the street during the New Year festivities. For people like me, if it's not fresh from the wok, it's not worth my time. Lori Leong (from the previous photo) insists that you need to watch the cook to make sure they smash the balls down during the frying process, which in turn causes them to puff back up. If they don't do this, the inside is imperfectly doughy.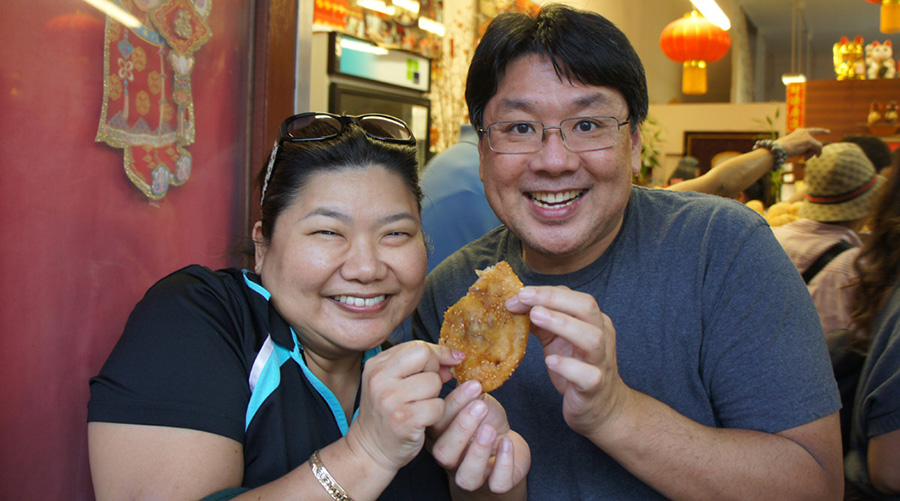 The result? Light, airy mochi balls with thin walls, and a whisper-crisp coating. I gave one of mine to a delighted Adele Miyasato and classmate Matt Wong. Tip: Most people are accustomed to eating gin dui with the sweet coconut or black sugar fillings because those are served in restaurants. Chinese people know to order the ones with savory char sui filling. Warning, the meat filling is sparse.
7. Narcissus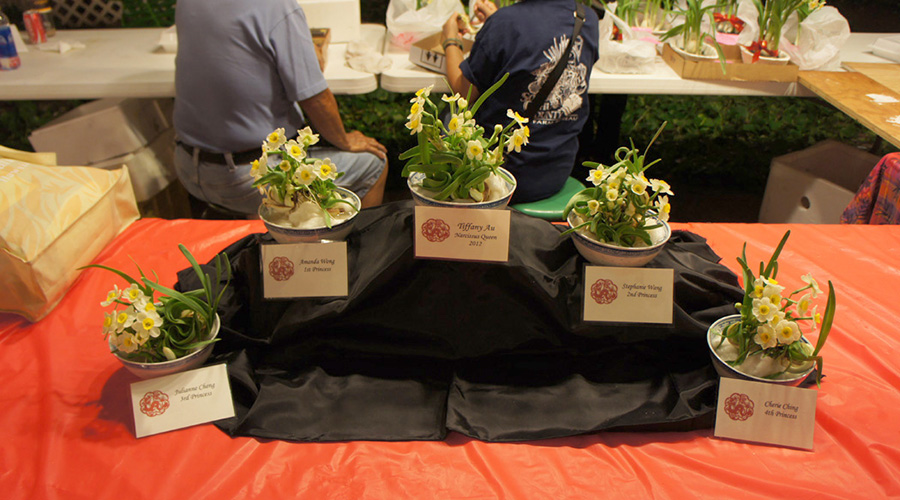 Narcissus bulbs bloom during the New Year season, and when they do, they can fill an entire home with their gorgeous, heady scent. You can buy narcissus plants in Chinatown during the New Year season.
Narcissus bulb carving and cultivation is an art, like Japanese bonsai. If the narcissus blooms on Chinese New Year, it is said to bring extra wealth and good fortune throughout the year. Ferman Au, shown here, teaches the art of bulb carving.
8. Chinese treats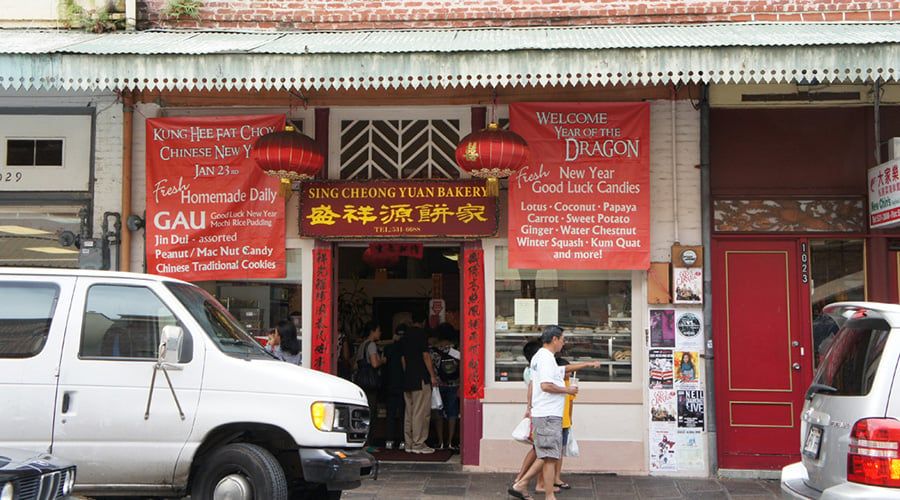 I'm going to finish my list with Chinese treats, because most of you will probably head to Sing Cheong Yuan on Maunakea St. Depending on your taste, you will find an array of sweets and savories — some available year round, others only at New Year.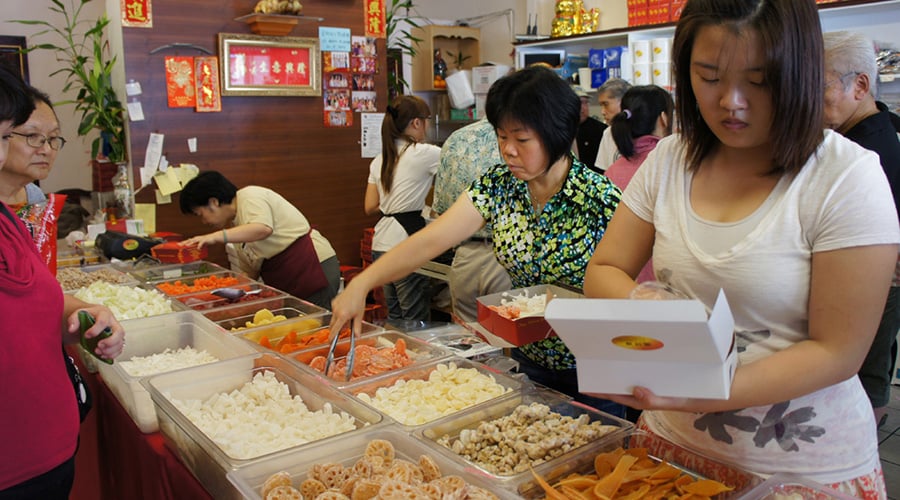 At New Year, the bakery changes the configuration of the back counter so you can choose from tubs of candied fruits and vegetables, assembly-line style. Do you know why these are so popular or how the tradition evolved? In old times, Chinese people filled a red lacquer box with six or eight candied items. These were served with tea in a symbolic ceremony for the New Year.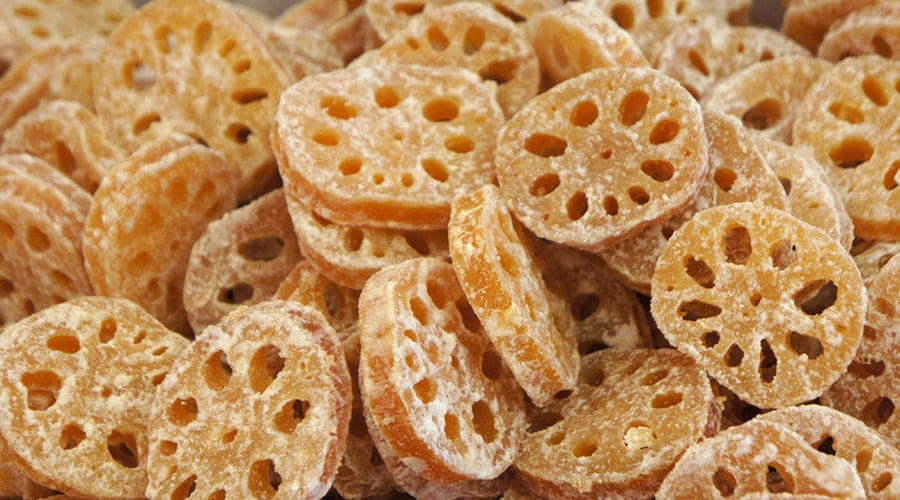 A few pieces of candied fruits and vegetables are to be placed at the bottom of the teacups before filling with tea to offer. Each item carries specific auspicious meaning, but most people don't know this, so it's okay to put almost any item in now. If you really wanted to get into it, the candied lotus root is the symbol for marriage. Candied lotus seeds symbolize fertility.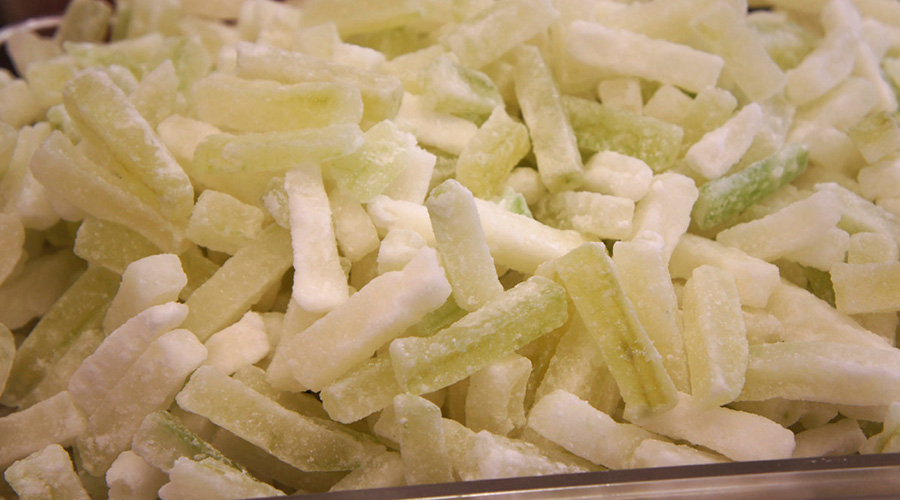 Candied winter melon is the symbol for abundance.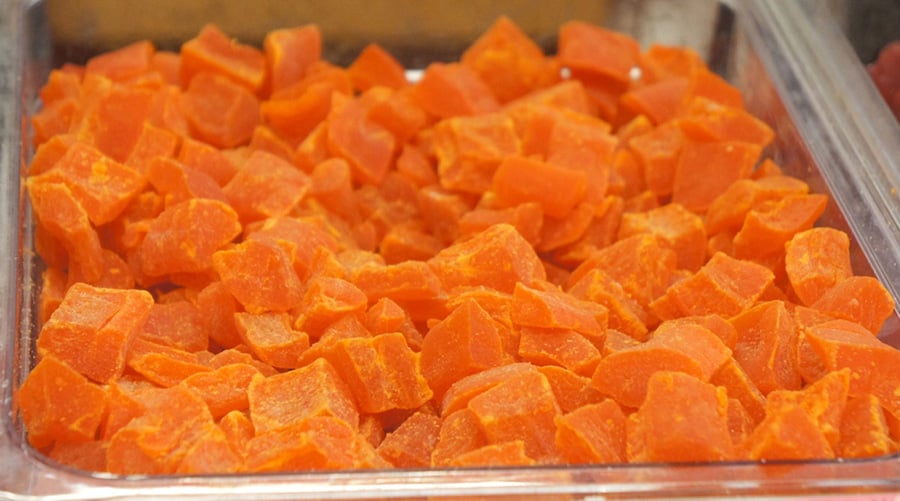 Usually, candied carrots, due to their high sugar content, symbolize a sweet time, meaning good times ahead. In recent times, Sing Cheong Yuan has introduced candied papaya, seen here, and other fruits, because … well, carrots are probably not as fun to eat.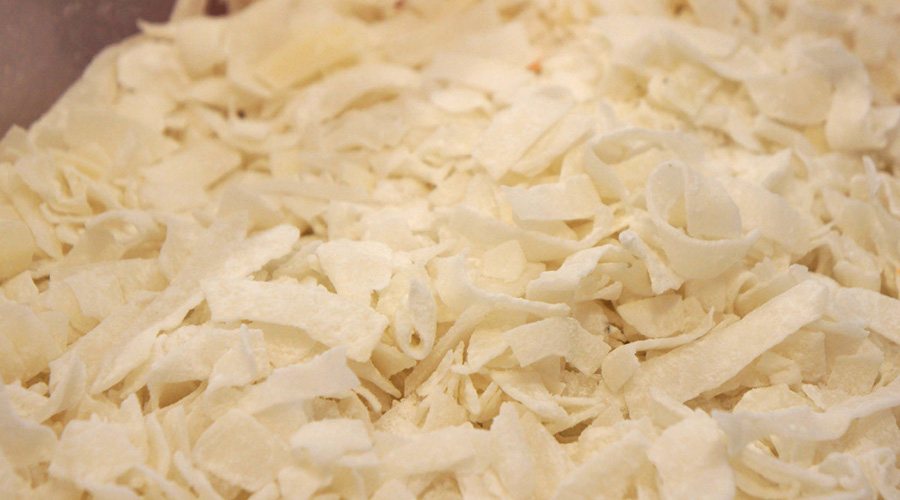 Everyone loves the candied coconut shavings, but did you know that they are the icon for resilience in life? This symbolizes strength, survival, and the ability to give life. Listen up, people! This is why there are 4 billion of us Chinese on the planet.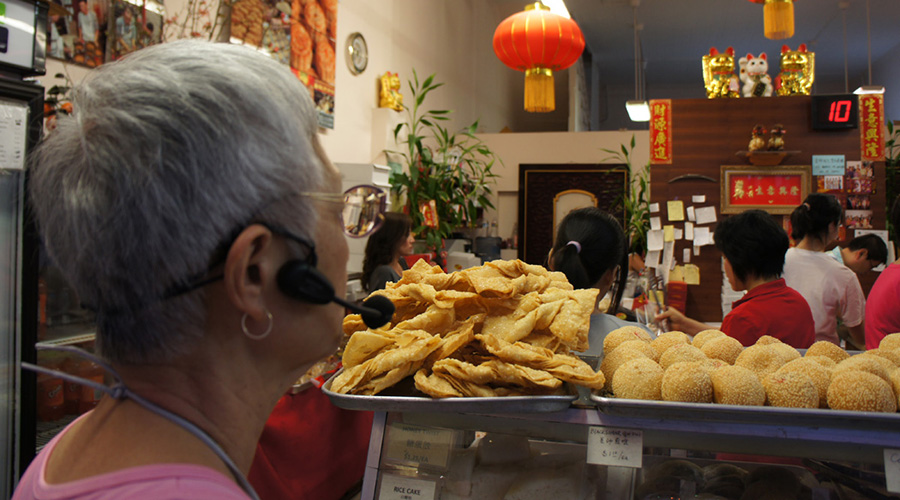 Since it's so chaotic at New Year, Sing Cheong Yuan has installed a wireless intercom system. Aunty Rowena stands at the front and calls out the service numbers so people know exactly who's next. Oh, those enterprising Chinese.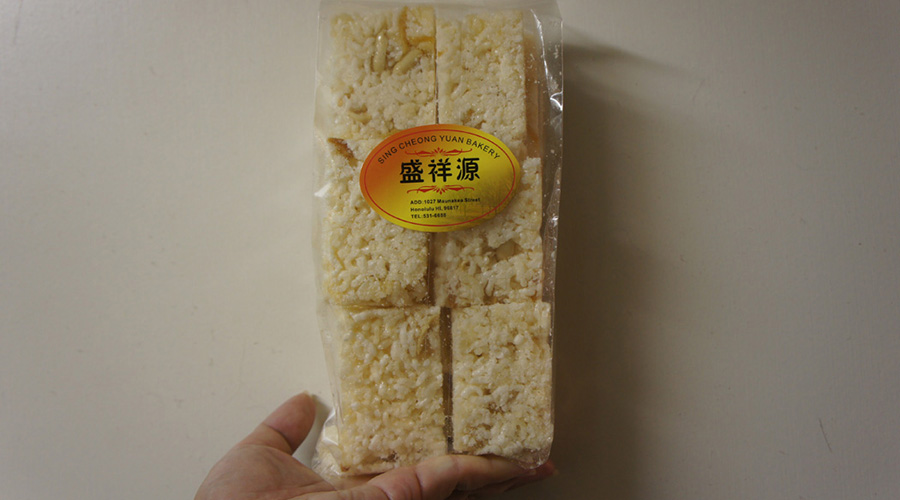 Many of you will be buying cans or big plastic tubs of toong mai, or the chinese puffed rice. This year, Sing Cheong Yuan has a new line of toong mai: it's in a bag, and has a more intense ginger flavor. The rice is still crisp, but not jawbreaking like the one in the tub, and a little chewy. It tastes just like the kind popo used to … um, buy for me.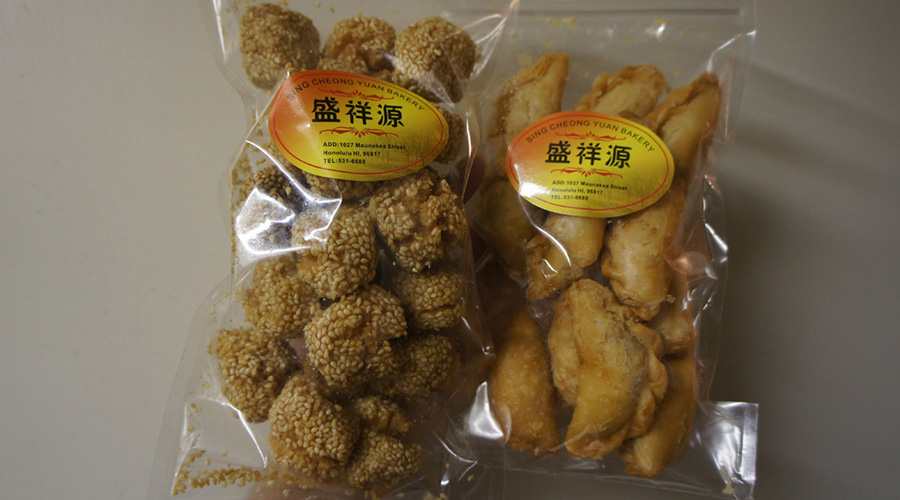 New items, and only for Chinese New Year: At left, a special puffy treat called kai kou xiao, which literally translates into "come mouth smile." They're sweet sesame puffs, basically. At right are siu gok, or fried dumplings. They kind of look like pastry versions of half moons.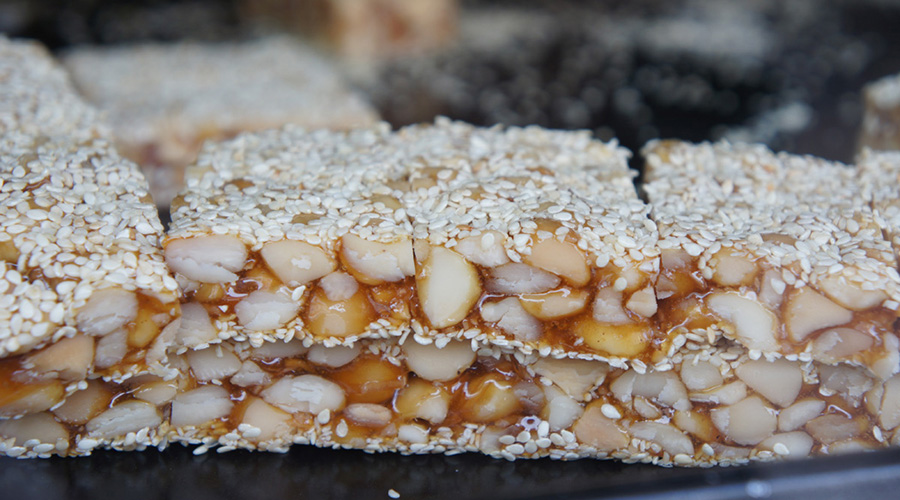 Peanut candy, now available with macadamia nuts instead. These are sweet, nutty, caramelly, and chewier than taffy — so be careful! It's worth the chewing effort, though.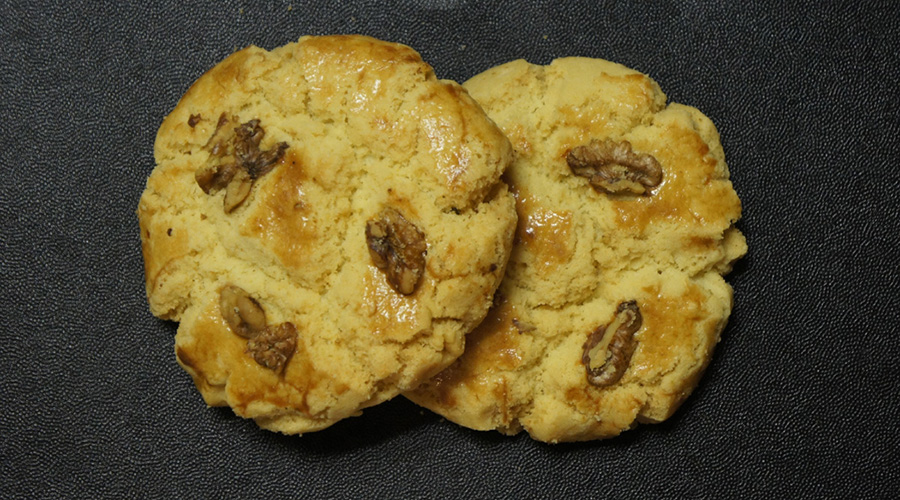 Chinese often eat symbols of things in hopes they bring good health. In this case, walnuts look like brains, so this walnut cookie is meant to help you become smarter. These are much like the giant almond cookies you find in glass jars at Chinese bakeries, but more crumbly and less dense, because Sing Cheong Yuan uses more eggs and less lard here. This is also just for New Year, so eat up and read my blog!
Most of these were from Night in Chinatown last weekend. The next (and last) big event is the Chinese New Year Festival this Friday and Saturday at the Chinese Cultural Plaza, 10 a.m. to 10 p.m. It's free to the public and will feature food vendors, cultural demonstrations, retail items, and fortune telling.
Here's a list of other happenings around town. Remember, you can celebrate Chinese New Year for the two weeks following January 23. Gung hei fat choy!
Mililani Town Center
January 21, 10 a.m.
If you can't come to Chinatown, Chinatown will come to you. Lion dance performance followed by visiting the merchants around the center.
Royal Hawaiian Center
January 21, 3:30 p.m.; and January 23, 5 p.m.
Performances will begin in The Royal Grove with a blast of firecrackers. Lion dancing and a martial arts performance by Lung Kong Physical Culture Club.
Hawaii Kai Towne Center
January 21, 11 a.m.
Lion dance performance and kung fu demonstration by the Wah Ngai Lion Dance Association. The lion dancing will continue throughout the Center to bring good luck wishes to shoppers and merchants for the coming year.
Waipahu Festival Marketplace
January 22, 9 a.m.
Another lion dance performance. Come early for parking, as this event gets crowded.
Kahala Mall Center
January 22, 10 a.m.
The Wah Ngai Association will do a lion dance featuring acrobatic pole jumping, followed by  visitation around the mall.
Ala Moana Center
January 25-28
The big lion dance is on January 28, noon at Centerstage, when 20 lions gather around a large firecracker cage, then disperse throughout the mall to bring good wishes to all.
Waikiki Beach Walk
January 27, 6 p.m.
The Chinese Lion Dance Association will feature a lion dance with the acrobatic pole jumping, followed by visitation to merchants around the Center.
Narcissus Coronation Ball
January 28, 5 p.m.
The Chinese Chamber of Commerce presents the Narcissus Coronation Ball at the Hilton Hawaiian Village's Coral Ballroom. A Chinese epicurean feast followed by program celebrating the 100th Anniversary of the Chinese Chamber, with Halau Hula Olana, opera singer Ms. Bai He, and the crowning of the 63rd Narcissus Queen and her Court. The evening concludes with ballroom dancing. Tickets, $68, available at 808-533-3181