Egghead is back in town: The brunch spot opens in Kalihi
Pancake trios, fluffy omelets and tiramisu lattes are back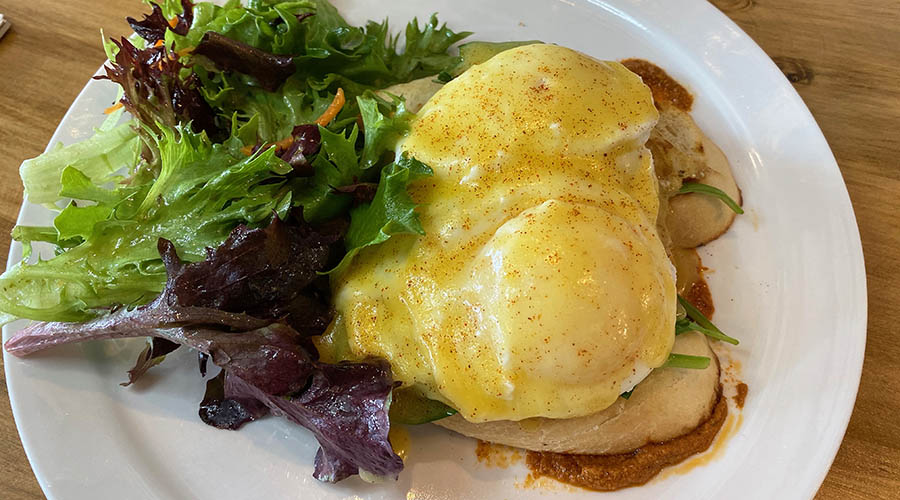 "Disappointed" can't even begin to describe my reaction when Egghead Cafe closed nearly two years ago. This Kakaako spot was a regular in my brunch rotation, thanks to its sweet lattes, peanut butter French toast and eggs benedicts.
All hope wasn't lost, though. Egghead told me they were just closing temporarily and moving to Kalihi. In the meantime, they opened an espresso bar in Kailua with a small menu of housemade pastries, sandwiches and salads.
See also: Droolworthy: Egghead's deep-fried peanut butter French toast
See also: Egghead Cafe is now an espresso bar in Kailua
So I waited for them to open in the former Violet's Grill space in Kalihi. And waited. The new location was supposed to open last July, but every time I drove by, it still wasn't ready. Now it's finally open, a welcome addition to a neighborhood where brunch options are limited.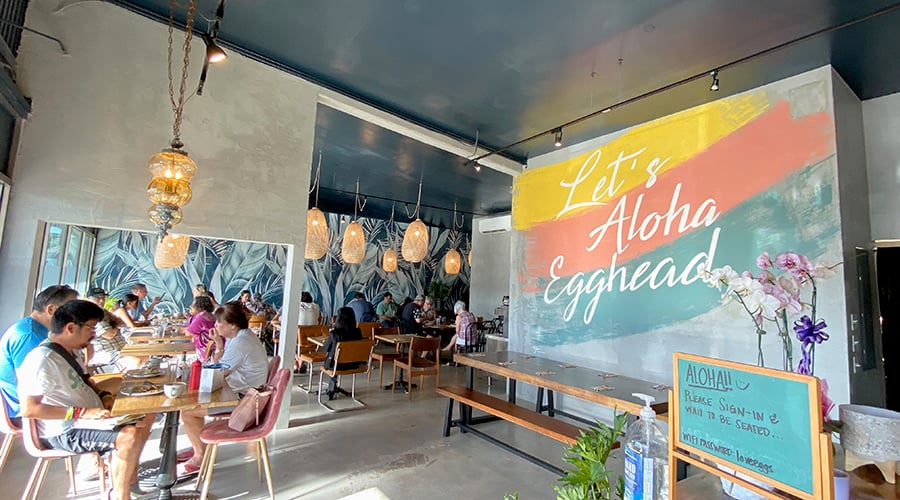 This is a much larger, brighter space than the old Egghead on Queen Street. Since it's in Kapalama Shopping Center, there is ample parking, which is a huge bonus. Anyone who remembers the old location can recall the tiny lot with limited stalls.
Egghead's food and drink menus are mostly the same. The coffee menu has everything from house brew coffee and macadamia nut lattes to Vietnamese coffee and blended drinks. Of the lattes, the vanilla bean latte and macadamia nut lattes are the most popular — the former created with housemade vanilla syrup, and the latter a good option if you prefer sweeter drinks. Ask for the off-menu tiramisu latte ($4.50) if you want something different. It's available when they have mascarpone cheese.
See also: O'Kims is doing Sunday brunch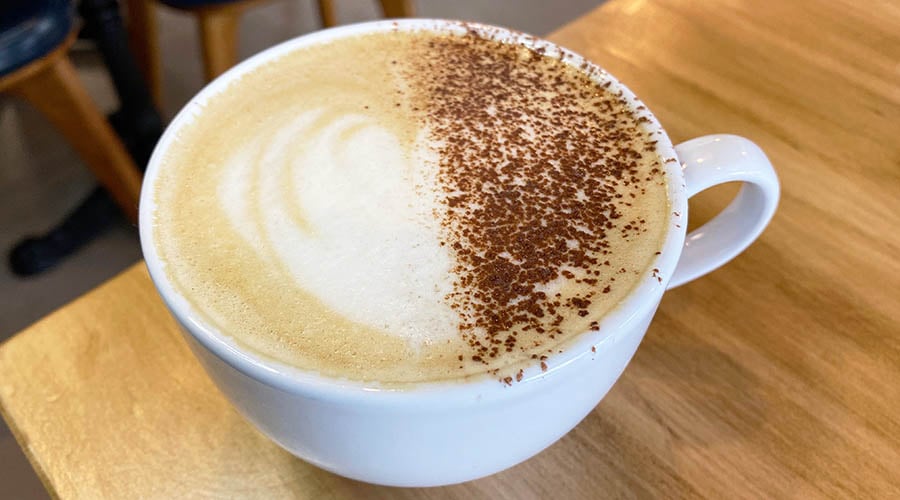 Brunch with an emphasis on eggy dishes is still Egghead's forte and omelets, benedicts, pancakes and sweet French toasts are back. Right now there's only one new item — Cheesy Eggs ($9), which is three scrambled eggs and a cheese with a side of country bread. Our server says the pork belly benedict, s'mores pancakes and avocado corn toast are still the most popular dishes.
Since I had the pork belly benny at the old restaurant, I want to try something else and order the crab benny ($16) that comes with spinach and romesco sauce. All eggs benedicts come with two poached eggs on French bread, hollandaise sauce and a side of mixed greens.
See also: Best brunch buffets on Oahu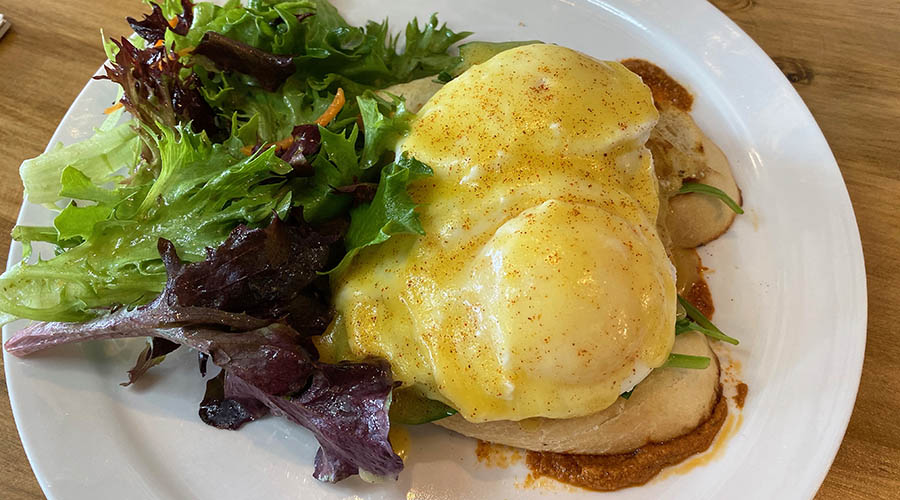 The heart of the crab benedict is a patty made with Blue lump crab. There's a lot more egg than crab; you can't even see the crab in the photo under all that egg and hollandaise. Regardless, this satisfies my craving for something that's seafood and savory. The fluffy, spongy French bread is perfect for mopping up the super fresh hollandaise, which the cooks whip up fresh every couple of hours.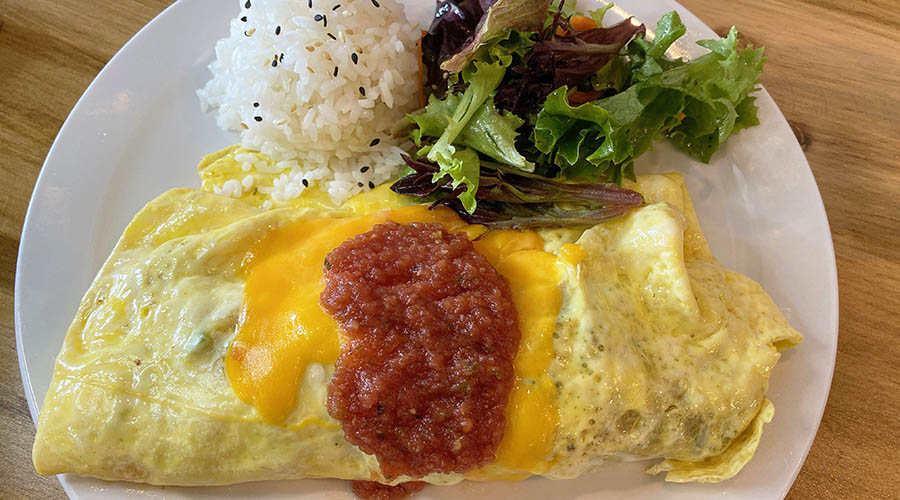 Since Egghead is known for eggs, my fellow Frolic team member Gregg Hoshida orders the California Love omelet ($13) with avocado, bacon, onion, bell peppers, salsa and cheddar. This and the Shrimp & Bacon and Veggietopia one are the most popular omelets, all of which come with a side of country bread, wheat toast, rice or mixed greens.
The omelet looks large, but it's thin so we easily finish the entire thing. While it's tasty, we wish the bacon were chopped and crispy instead of whole strips spanning the length of the omelet. Gregg says he would probably order a different one next time.
See also: Oahu's best brunch buffet is at Ko Olina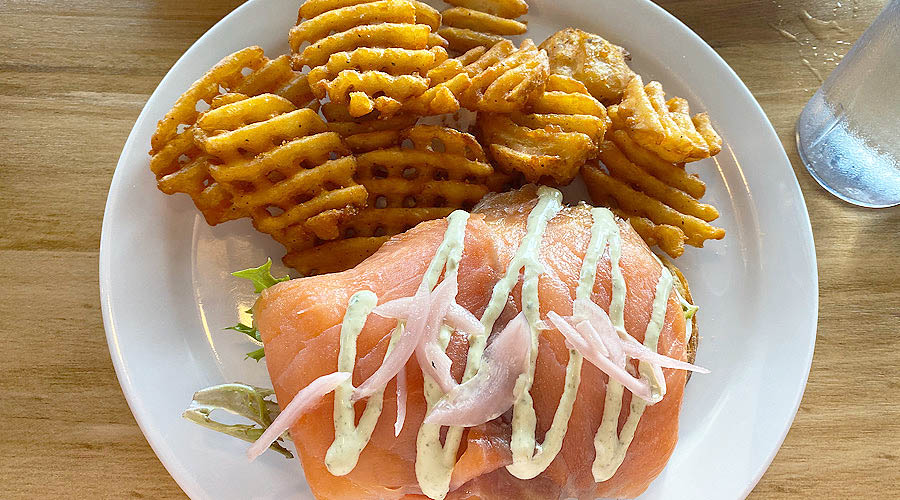 Frolic intern Erika Huang went to Egghead for brunch another day and recommends any of the loaded toasts. While avo corn toast is a customer fave, there's also smoked salmon toast, prosciutto egg toast or Lilikoi B.G.T.E (bacon, greens, tomato and scrambled eggs). According to Erika, the best part is that you can get Egghead's addictive waffle fries or sweet potato fries as your side. If you want to sub any of the other entrée sides for waffle fries, it's a $2.50 additional charge. The waffle fries are perfectly crispy and deliciously potato-ey. I wish they came with more dishes.
If you're in a hurry and want to order breakfast to go, there's a takeout area to the right. You'll see a door that says "Espresso Bar & Takeout Only." This section also serves as a coffee bar that's great for reading, studying or working while enjoying drinks from Egghead's espresso menu.
Egghead Cafe
1210 Dillingham Blvd.
Kalihi
888-2211
Daily 7 a.m.-2 p.m.