Eating local at the Hyatt Waikiki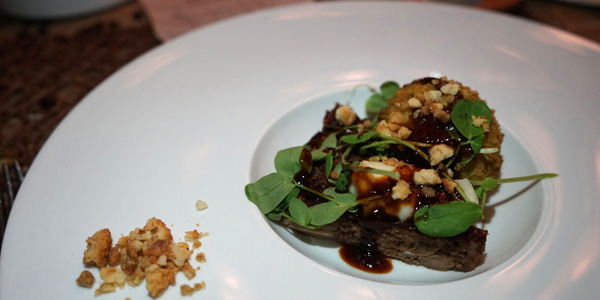 It's great to eat local, do the farm-to-table stuff, source your ingredients from a small radius, etc., but when you live in a metropolitan hub like Honolulu, that's not always easy to do. In recent months, the Hyatt Waikiki has been working on offering more local products to their guests, but instead of taking people out to the farms, the hotel is bringing the farms to them.
I went on a media tour recently to see what the Hyatt is doing to get this initiative moving, and was surprised (and impressed) that they are taking such extreme measures. They now have a farmer's market every Thursday night that spans almost the entire first floor, and many of the ingredients that the restaurants use come from the vendors. On top of that, they have started their own rooftop herb garden, and now keep bees so they can have their own honey onsite.
The coolest part, of course, is seeing how it all comes together. They showed us their new "Chef's Table" at SHOR, where you can get a prix fixe dinner, with wine pairings, using seasonal, local ingredients and the creativity of Chef Jake Andrews. You have to have at least four people, which costs $500 total; each additional person is $125. The meal was very innovative, both visually and to the taste — it was so amazing that we are talking about going back another time for a non-media event. Here's what we did:
Honey at the Hyatt
These are just the highlights. If you'd like to see all my photos from this event, click here.