Eating is believing: $15 and $25 happy hour teishoku at Akira
Choose from 12 entrees to go with your appetizer, salad, pickles, rice and udon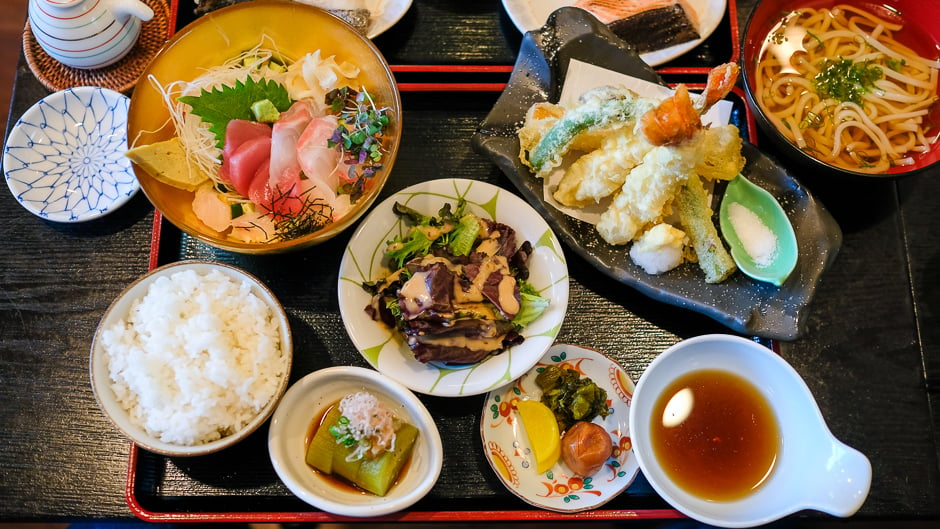 Eating is believing is a series spotlighting great deals on incredible food.

What: Happy hour teishoku dinners
Where: Akira Japanese Restaurant
When: Monday to Saturday 4 – 5:30 p.m. and 8:30 – 10 p.m.
Price: $15 with one entree and $25 with two entrees
Compare: Some entrees, like the lobster tempura and deep-fried soft shell crab, are $10.50 a la carte
Fullness factor: 10 out of 10
The deets
Chef-owner Taiki Kawai opened Akira Japanese Restaurant next to Morio's Sushi Bistro in the Eleven50 building on King Street last August. It soon debuted a $48 early-bird kaiseki tasting menu; as of last week there are new $15 and $25 happy hour teishoku dinners and the value is insane.
Every set includes rice, tsukemono pickles, an appetizer, mesclun green salad and a mini bowl of hot udon. That could be a meal in itself but you also get to choose one or two entrees from a list of 12:
Karaage chicken with oroshi ponzu
Beef fillet diced steak (teriyaki)
Grilled miso butterfish
Unagi kabayaki
Grilled hokke fish
3 kinds of sashimi (6 pieces)
Grilled miso king salmon
Lobster and vegetable tempura
Chicken katsu
Mini chirashi bowl
Deep-fried soft shell crab in bubu arare crust
Simmered Chilean sea bass with grated daikon
One entree choice with your meal set is just $15 while two choices brings it up to $25. I'm not sure when you last went out for a teishoku dinner, but newsflash: They're not cheap! Outside of casual neighborhood restaurants, they're tough to find, and when you find them at places of Akira's level, they're over $30. Entree options here have a touch of luxe and the sheer quantity — my meal could not be contained on one tray — also sets Akira apart.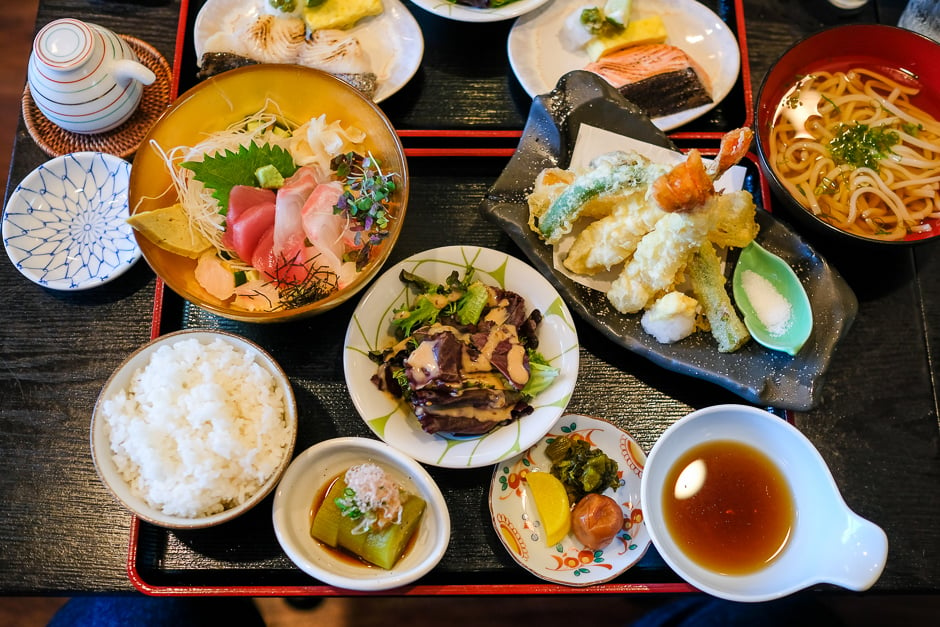 Feeling a bit extravagant, I go for the two-choice combo with mini chirashi and lobster tempura.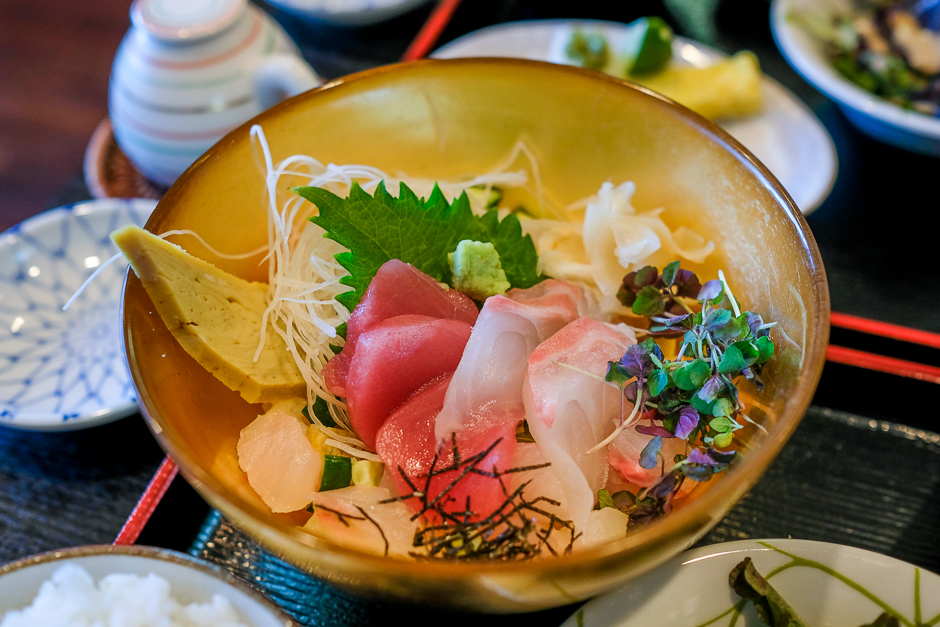 The chirashi bowl changes from day to day, depending on what type of fish the restaurant has on hand. My bowl contains pieces of pink akami, tai and shima-aji over a bed of sushi rice with cubes of cucumber, avocado and tamagoyaki sweet omelet. Garnished with shredded nori, daikon, shiso and a knob of wasabi, this bowl actually isn't so mini.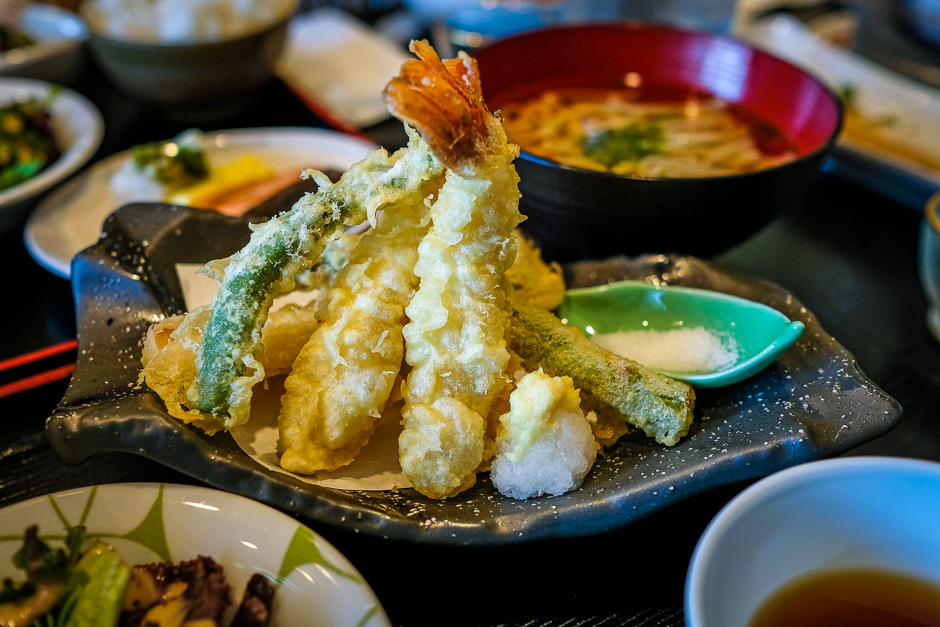 The lobster tempura is rustic and matches the wabi-sabi vessel it's arranged on. The batter is light and retains a nice crunch, especially on the lobster tail which is split in two pieces. The vegetable assortment includes asparagus, green bean and kabocha, none of which overpowers the delicate sweetness of the lobster meat. You can either dip into the finishing salt or the tentsuyu with oroshi (grated ginger and daikon radish).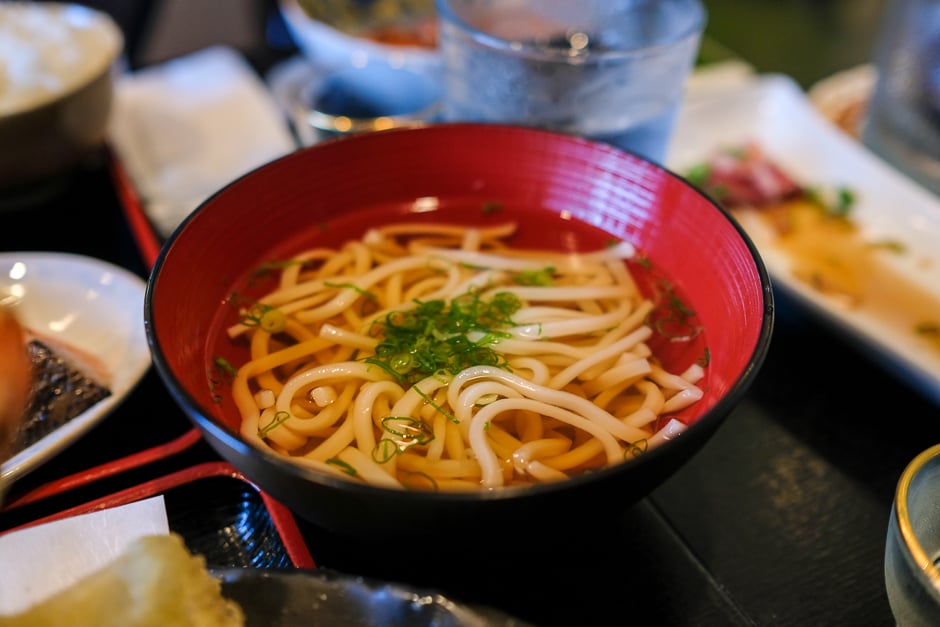 All teishoku sets include a (not-so) mini bowl of udon, lessening your chance of ever leaving hungry. The noodles are on the thinner side (how I like them) and come in a light but flavorful dashi broth garnished with green onion. I suggest knocking it out first while the udon is still al dente and the broth is warm.
The appetizer on my set is a seasonal nasu nibitashi, a simmered eggplant that's served chilled. A great side for summer, it is divine — so silky smooth and bursting with flavor, I probably could eat a few of these little dishes.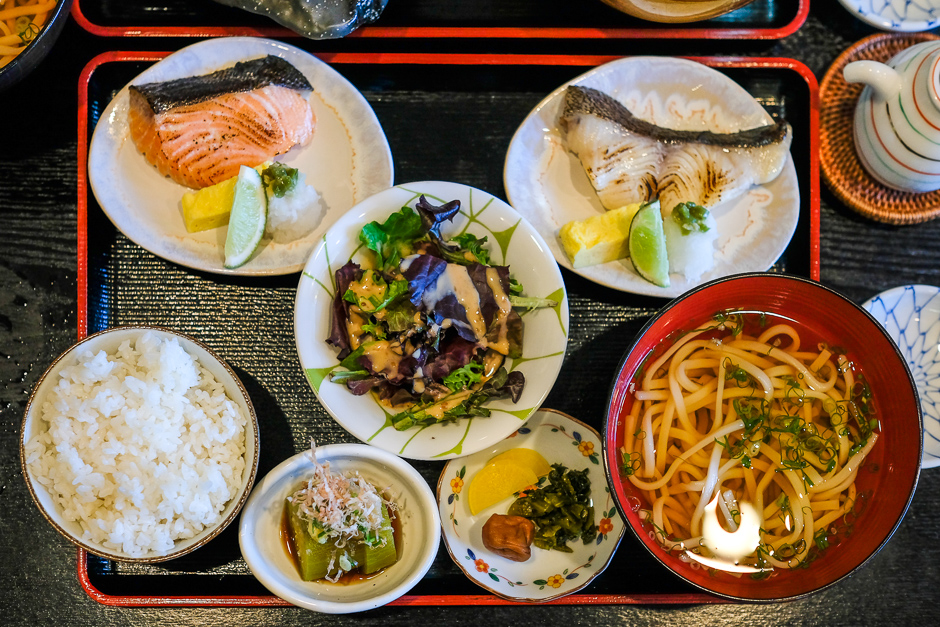 Frolic managing editor Mari Taketa is also feeling peckish and, after interrogating the server about his favorites, springs for a two-choice set with his recommended grilled miso king salmon and grilled miso butterfish, both staples when it comes to teishoku sets. They're marinated for three days in saikyo miso, sake and mirin before being baked and torched or grilled. True to its name, the butterfish melts in your mouth and the salmon's oiliness is enhanced.
Plus tip
In addition to the teishoku sets, there's a happy hour menu with beverages like a glass of Suntory Premium Malt's draft beer for $3.50 or a $4 whiskey highball and a $13 small bottle of Naraman muroka junmai sake. Food items include an unctuous $6.50 ahi poke with wakame, limu and ume shiso and a $7.50 wagyu beef tataki and onion salad that's dressed with ponzu and oroshi.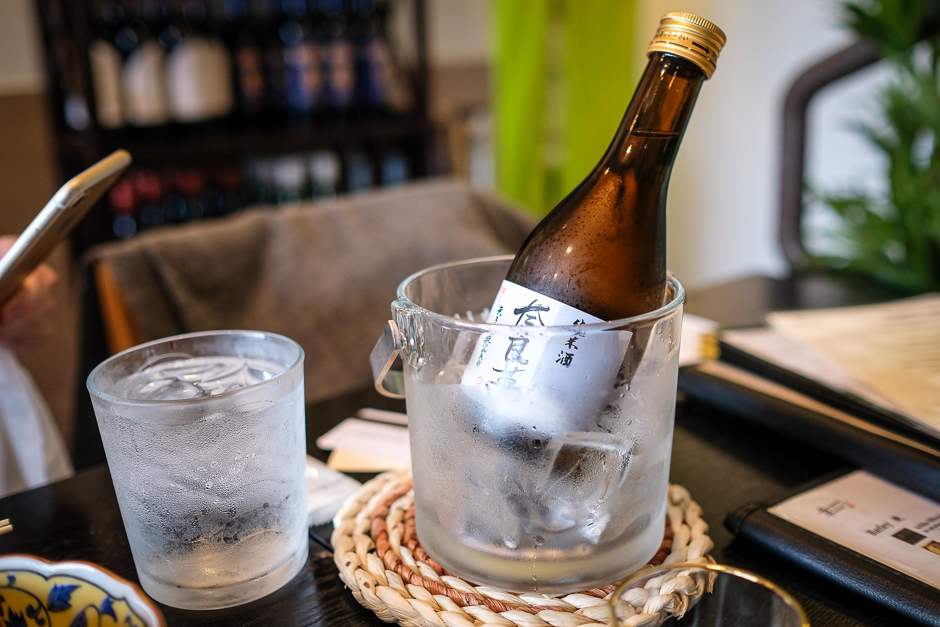 Akira validates parking in the Eleven50 building for $2 but you can find street parking on Young Street and, if you're going for the late happy hour, on King Street as well.
Akira Japanese Restaurant
1150 S. King St. #101-B
Makiki
Parking entrance on Young Street between Pensacola and Piikoi
376-0928
www.akira-japanese-restaurant.com
Mon-Sat 4 – 10 p.m.