Eat the Street: Shut out last time, but now I'm amped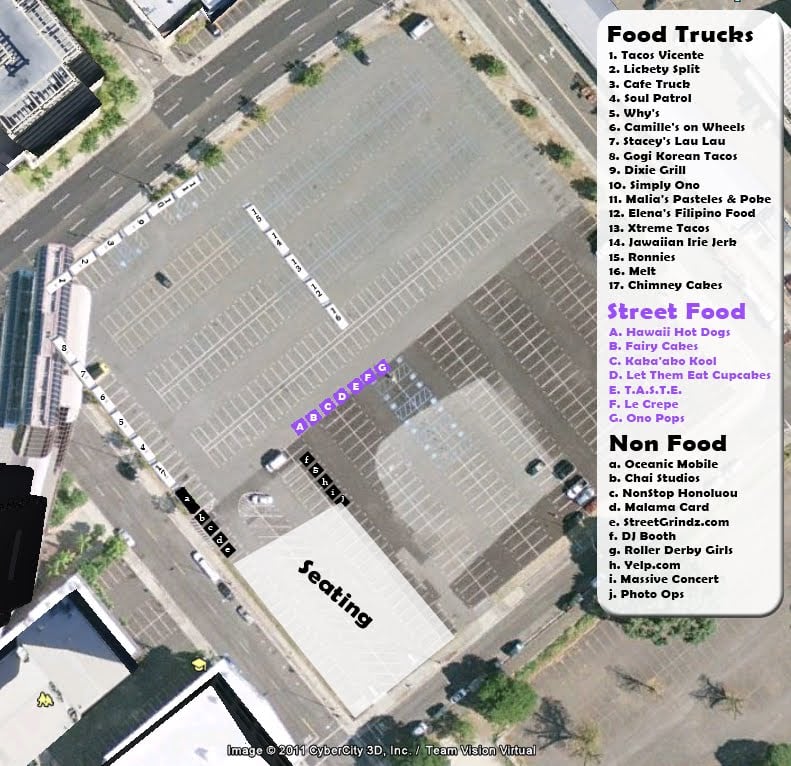 I know what you're saying. I want it too. I want the lines to be sane. I want the food to be appetizer-size, so I can make like Melissa Chang at San Francisco's Off the Grid street food rally and eat 15 dishes (or something like that; I got dizzy looking at all her food porn).
I want tonight to not be like last month, when I showed up at Eat the Street and waded into a mass of 1,000 people packed into a parking lot on Kapiolani. Lines were snaking around each other. I saw tons of people I knew, shot cool pics, had a blast — but I got no food. I got shut out. And I know other people did too.
So I get why I'm still convincing friends that tonight will be different. But this time I'm totally amped, and here's why: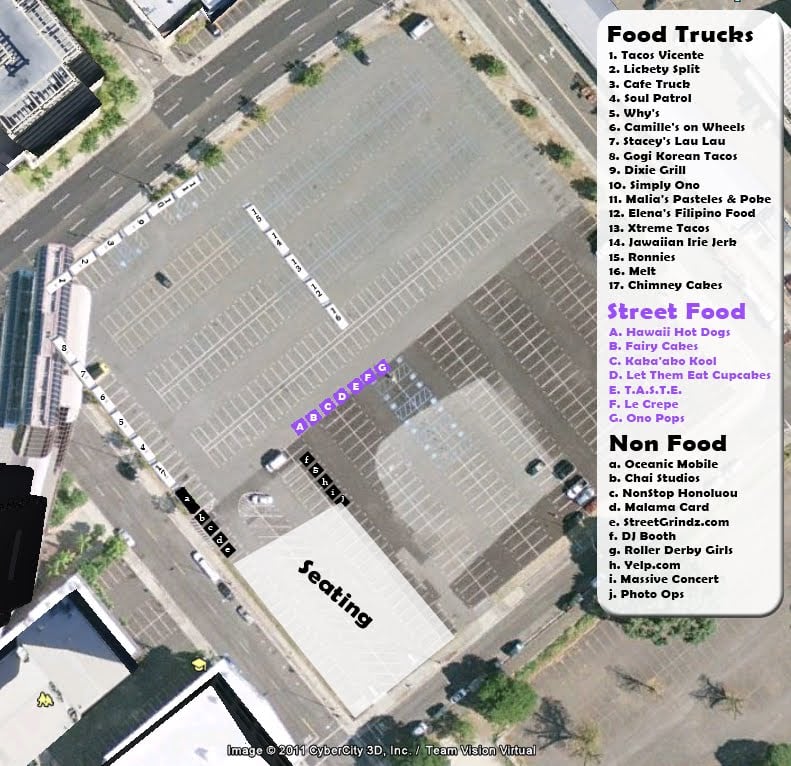 1. Last month: 11 food trucks + 2 street food vendors. Tonight: 18 trucks + 8 vendors. Do the math. Double the food sellers = shorter lines, more choices.
2. The sheer size: Last month's space was less than half an acre. Tonight's event will spill over a four-acre city block — spreading out food and crowds, with room to spare for parking.
3. Vendors get it too: Melt, the gourmet grilled cheese truck that got swamped by 90-minute lines last month, is streamlining its offerings to two sandwiches and two soups (including a brand-new steak melt and a lobster bisque). Gogi Korean Tacos, another hot truck known for whipping up new dishes, is instead focusing on core items to cut down wait times.
For me, all this adds up to more mellow. Organizer StreetGrindz.com is promising more seating, so I plan to hang out at the tables or at the Nonstop booth (come say hi!). The only thing that leaves is the full portion size most trucks are sticking with, but this being only Eat the Street v2, I'm cutting them some slack on that.
I already have a plan in place to snag maximum grindage from an event with full-size plates. Perfected after years of covering food festivals, I'm presenting it in tip form for you:
Bring cash. No plastic here.
Go with as many people as will fit in one car. Generally, this is also a good number for splitting dishes.
Coordinate as a group and identify your food targets. Split up and go stand in all different lines.
First one to score food snags a table. Use this as a base camp. Have everybody bring their dishes here, sit a while, taste, get up for more food.
Pack a knife. I do mean plastic. It's the single rarest, most overlooked utensil, and you're going to need it to split dishes. Pack two.
OK, now I'm hungry and amped. Doing my anti-rain dance to keep the clouds off Kakaako. See you all tonight!