Does 'lechon sushi burrito' speak to your soul? Head to Maui
This Maui food trailer creates modern twists on nostalgic favorites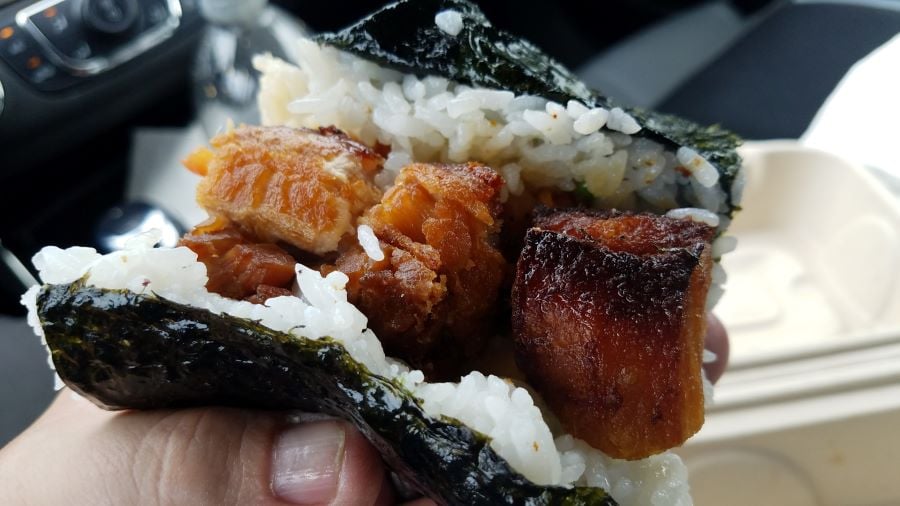 A few times a year, I get a call like the following: "I'm vacationing in Maui this year, what do you recommend I eat?"
I'm not from Maui, nor am I more than an occasional staycationer on the Valley Isle. Other than a restaurant by a heralded local chef, there are only a few places I can recommend with confidence.
Now there's a new place to add to the list: an unassuming lunch trailer named OGO, an acronym for Originals by Grant Oura and a nod to his memories of picking ogo at the beach with his dad.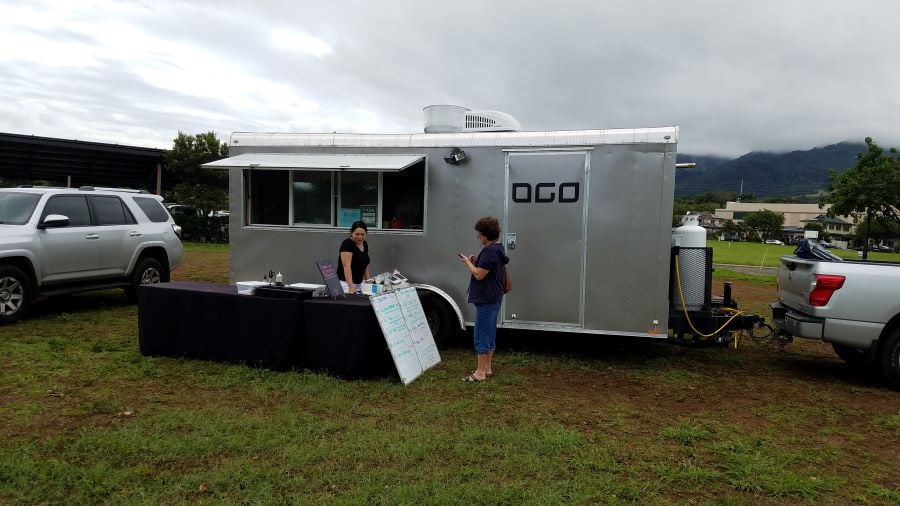 Oura, one half of the former Rua Catering pop-up team, describes his offerings as "local food for locals." It's not just about the menu items and affordable price point. To help drive that point home, the trailer is parked far off the tourist-beaten path, in an empty lot where Kahului borders Wailuku.
Driving up, I see a silver lunch trailer sitting solemn and full of potential; My appetite builds when I look over the menu. I see several carry-overs from Rua, but two items have my full attention: oxtail katsu and a lechon sushi burrito.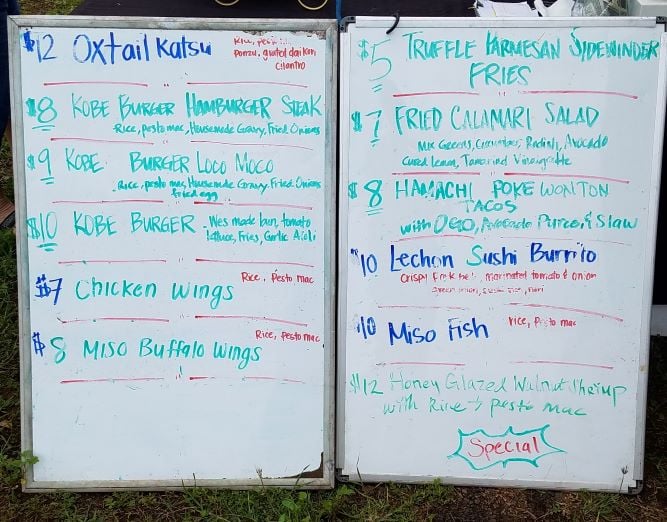 The oxtail katsu ($12), which was previously served alongside a bowl of ramen, is now the star of its own lunch plate. Served with a scoop of rice and pesto mac salad, this meal delivers luxury yet is humble enough to eat while sitting in your vehicle. As if katsu-ed oxtail wasn't enough, the pesto mac is a marvel in itself.
Tucking into the katsu, I can't help thinking about the work that went into making this dish. My appreciation for this unctuous cut of Maui beef is elevated when I consider the deboning, braising, breading and deep-frying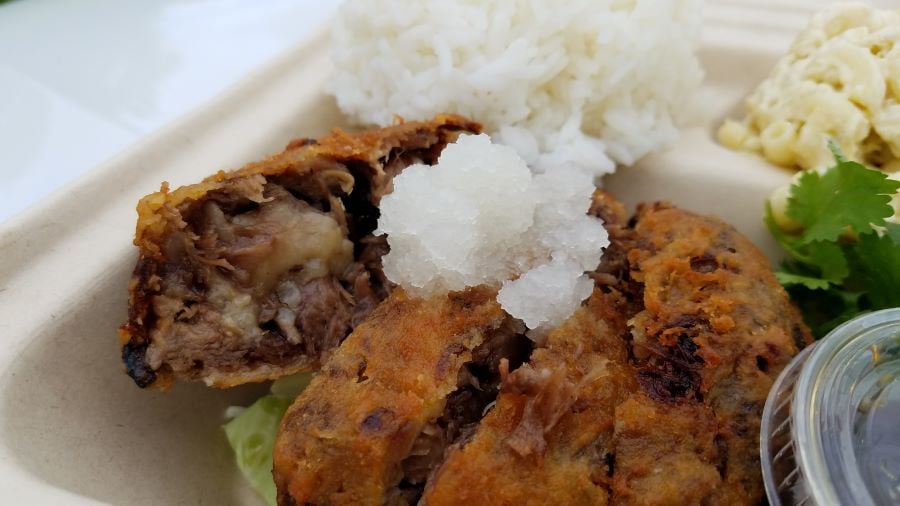 I recommend stirring the dollop of grated daikon oroshi topping into the side of shoyu: This sauce provides just enough brightness to each slice, refreshing your palate for the next crunchy, decadent, beefy bite.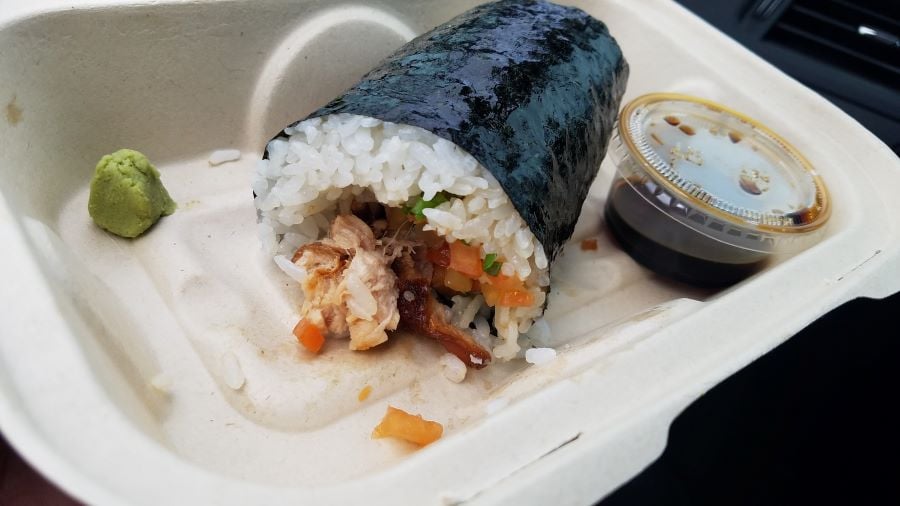 If the words "lechon sushi burrito" excite you as much as it did me, then you know what is coming. I polish off the oxtail and give in to my inner Yuka Kinoshita by ordering the burrito without hesitation.
At first bite, I note the crackling crunch of the lechon releasing all of its marvelous porky juices. Cut into six to eight bite-sized chunks, these flavor parcels dance a lovely fusion ballet with the onion-tomato salsa on a stage of sushi rice. Memories of eating my grandmother's futomaki sushi as a child come flooding back. The way rice vinegar coats each grain is undeniable.
After the final glorious bite, it becomes clear to me that this is an early contender for the best thing I ate this year.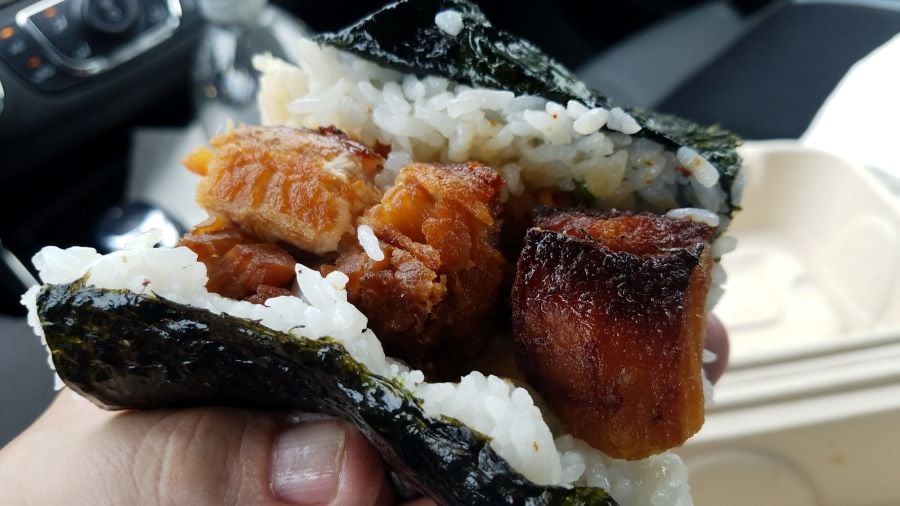 Next time I get a call from a friend asking for food recommendations for Maui, I'm telling them to go pick OGO in Kahului.
OGO
137 Maa Street
Kahului, Maui
Tuesday – Saturday 11 a.m. to 7 p.m.
ogomaui.com