Did this: YoDama!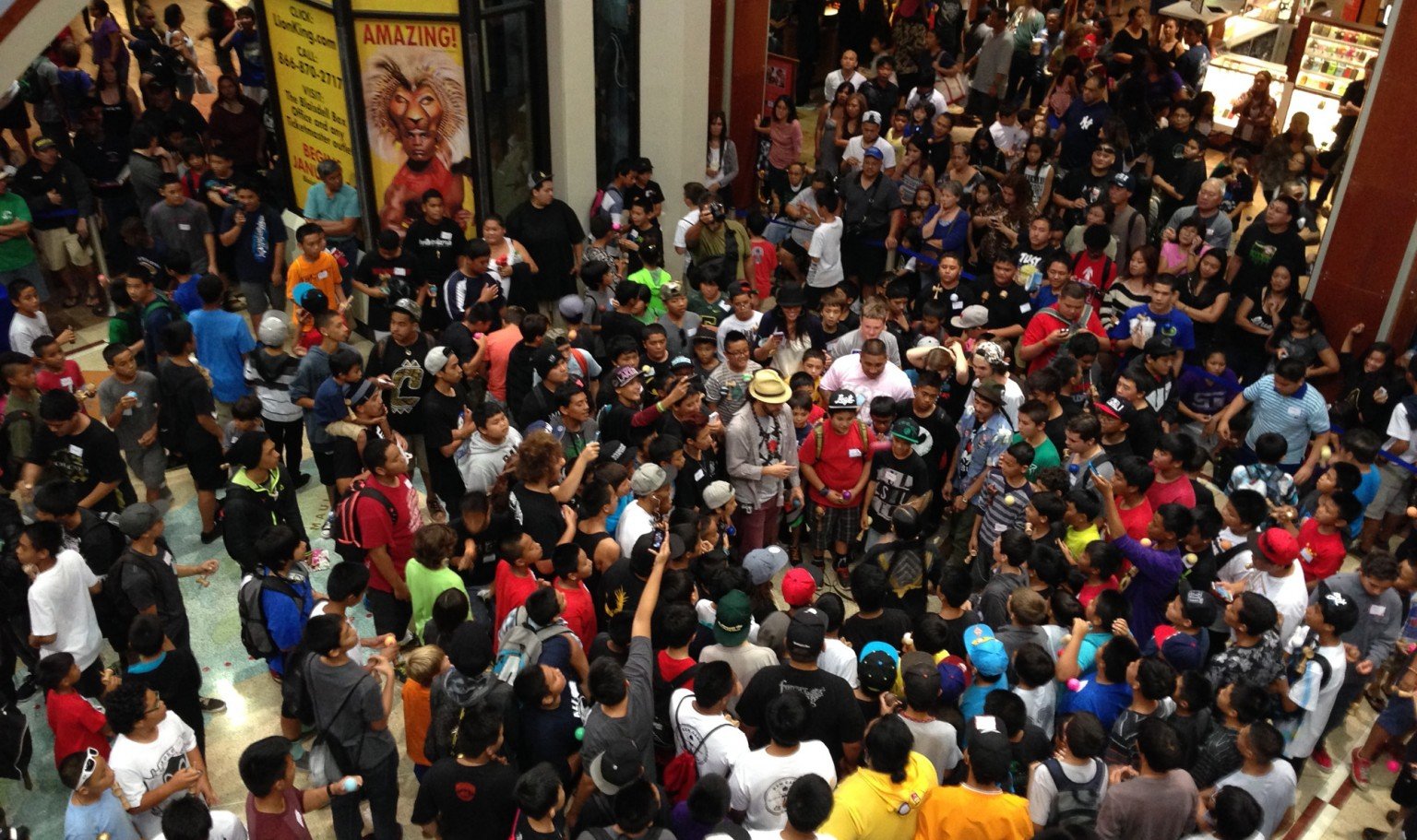 How did this happen? A little wooden toy — the one you did NOT want to get as a Christmas gift — is suddenly the hottest thing since POGs to hit the market. You see them everywhere in Hawaii, mostly in kids' hands, as players try to spike a ball tethered to a T-shaped stick. Then it advances with tricks that defy the laws of gravity while exemplifying the laws of physics. Love them or hate them, Kendamas are the biggest obsession for almost every demographic right now.
According to Kendama USA Pro Jake Wien, Kendamas got big when freestyle inline skaters brought it back from Japan, and people from the skating, snowboarding, and skiing communities caught on to it as a "freestyle alternative" sport. That made it hip, the growing list of tricks made it hipper, and it just took off from there.
I asked one boy how many Kendamas most people have, on average. He said four: One junky Kendama for goofing around, one regular, one special and one novelty, the more expensive kind that you bring out for special occasions. How many did he have? Eight.
Pearlridge Center, with its tenant Razor Sports (one of the larger Kendama retailers in town) held a festival this past Saturday to celebrate Kendama and yoyo players and have a tournament. They brought in four pros from Kendama USA, one from Sweets Kendama, and one from Kendama Co. They expected a few hundred people. The pros had gone to large mainland events with a few hundred people. But this is Hawaii…and thousands showed up, some lining up from 7 a.m. to register for the Kendama contest. More than 1,800 people stood in line before they had to cut it off. For those of you who didn't get to enter, I'd recommend you get there earlier next time. And believe me, there will be a next time.
(My apologies for this very rough video, as I did it on my iPhone.)
YoDama!
Picture 1 of 19
Before I start this gallery, I want to recognize the yoyo players who came out. Yoyos are still hot — not as hot as Kendamas, but they've got their own sub-culture. About a dozen contestants signed up to do a series of tricks as determined by Yoyo Factory. Dawson, shown here, was one of the winners.
Disclosure: Pearlridge is my social media client but they did not ask me to do this blog entry.