Did this: Wanderlust Oahu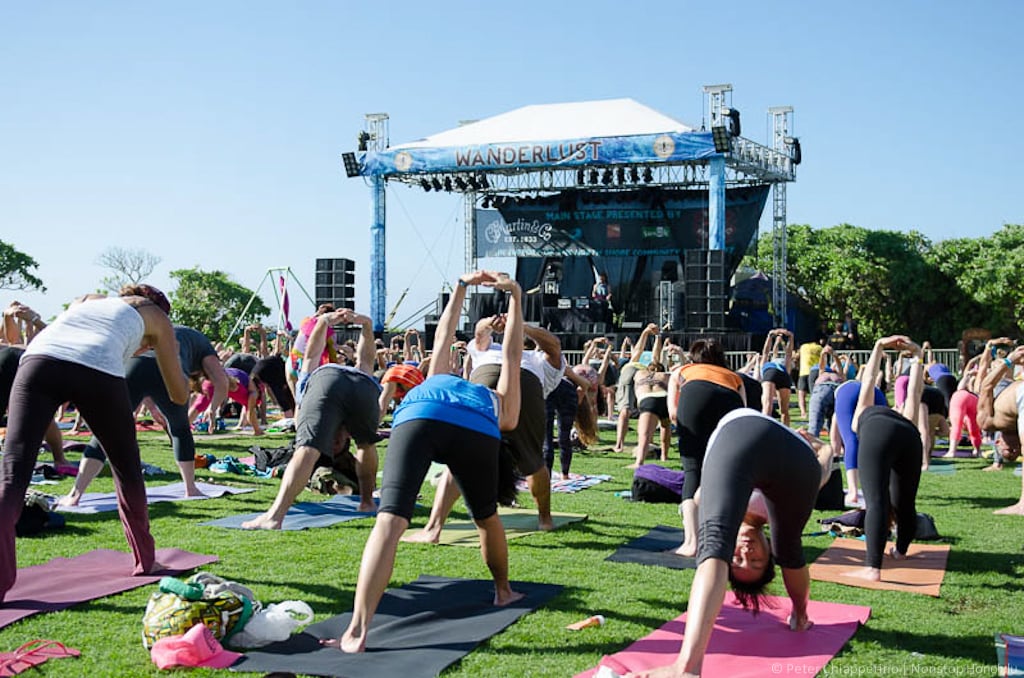 By Peter Chiapperino
Special to Nonstop
Over the weekend, I attended Wanderlust Oahu, a huge four-day yoga festival at Turtle Bay Resort with about 1,500 attendees. I've never tried yoga before, so I feared I would be outside my element. But Wanderlust is an inclusive, welcoming event — a celebration of yoga, music, food and amazing performers that unites people from around the world, even those without yoga experience. Started in Lake Tahoe by Jeff Krasno and Sean Hoess, Wanderlust festivals focuses on mindful living, yoga, organics, sustainability, ethical consumption and arts appreciation.
On the first day, I attended Ono Slack Key, a slack key guitar lesson by Thayne Duarte. I then took my first yoga class, a Vinyasa flow class taught by Schuyler Grant, founder of Kula Yoga Project in New York. I never knew yoga could be so taxing to the body and mind. But afterwards, I felt a physical peace and dove head first into a relatively new style of yoga called Slackline Yoga, which involces balancing on a nylon band to develop core muscle groups. I grew very fond of this and would like to attend more classes locally.
The first night concluded with a welcoming bonfire party. Here are some photos:
On Day 2, I took a nutritional class taught by Maui native Jessica Quinn, then had another day of yoga and fun. The evening's entertainment was headlined by national recording artist Moby (his first time in Hawaii), which brought out a big crowd of local music lovers. The concert at Kuilima Point started with MC Yogi opening for a DJ set by Moby, a regular at Wanderlust festivals. What some may not know about '90s dance music legend Moby — who's sold millions of albums and collaborated with the likes of Bono and David Bowie — is that he practices yoga, adheres to a vegan diet and lobbies for animal rights.
Moby came in full force on his first set, starting with a remixed version of "Honey" and mixing music from a variety of other electronica artists. Here are scenes from the concert and other activities of the day.
Wanderlust Day 2: Friday
On Saturday, I attended a talk with Moby, called "Music as Therapy." It was an interesting lecture about the neurological and emotional impact that music has on our lives and how music is being used to rehabilitate the disabled and care for the sick. That night, Hawaii's Mike Love and Donavon Frankenreiter brought the crowd together for a concert. They were followed up by DJ Drez and DJ HyFi.
Wanderlust Day 3: Saturday