Delicious Deals to Celebrate National Doughnut Day June 4 on O'ahu
You doughnut want to miss these fun and tasty ways to celebrate this iconic treat.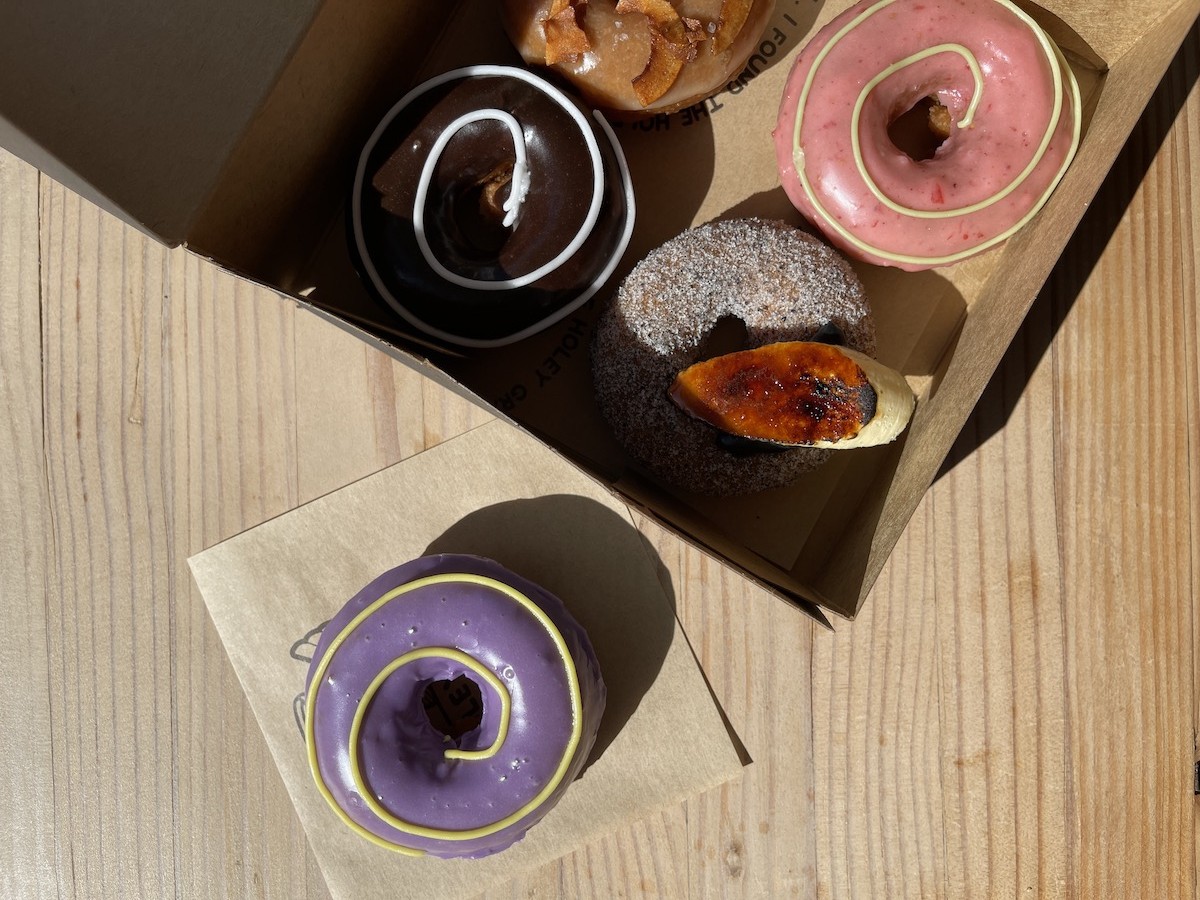 Today is National Doughnut Day and whether you're a glaze fanatic, sprinkles savant, classic connoisseur or gluten-free gastronome, O'ahu has something for you. The doughnut's origin goes back to the 19th century, meaning plenty of time has passed for different styles and techniques to surface. O'ahu's offerings vary from the über traditional to the wild and wacky. On June 4, doughnut destinations are celebrating with complimentary treats, a live event and lots of love for the ring-shaped delectable.
Donut King Hawai'i
Donut King is known for a popular fluffy yeasted doughnut glazed with maple syrup and loaded with crispy bacon; and hybrid croissant-doughnut holes that come glazed and golden brown. Today, active military, veterans, nurses and first responders can get a free regular doughnut while supplies last.
Multiple locations, donutkinghawaii.com, @donutkinghawaii
---
Holey Grail Donuts
Holey Grail's signature taro cake-style doughnuts are fried in coconut oil and glazed to order. Most of the rotating flavors feature local ingredients and funky yet refined designs. They also happen to be 100% plant-based, but you wouldn't know it.
On National Doughnut Day, you get a free Purple Haze (ube yam and liliko'i glazed) doughnut with any purchase. A live DJ at the Ward Village location will fill the courtyard with funky soul vibes from 5 to 9 p.m. Ten customers will find golden tickets in their doughnut boxes, redeemable for special merchandise.
Multiple locations, holeygraildonuts.com, @holeygraildonuts
---
SEE ALSO: 5 Reasons We Love Kaka'ako's New Taro Doughnut Truck
---
Little Vessels Co. (sold out)
Little Vessels is a small online business boasting vegan yeasted doughnuts with iconic topping combinations. Orders open at 10 a.m. every Wednesday and Tuesday for pickup behind Kaimuki Superette on Saturday and Sunday. Die-hard fans are punctual, so you may have to set a few alarms to snag some—but they're worth the hassle. Little Vessels has been taking entries for a giveaway all week; the winner of a doughnut flight will be announced today.
3458 Waialae Ave., little-vessels-co.square.site, @littlevesselsco
---
Purvé Donut Stop
Purvé was started by a couple of long-time bartender friends with a dream of stoking people out–this time with doughnuts instead of shots. The flavor combos are cheeky and fun, reflective of the duos' time spent in nightlife. Cake donuts are fried fresh to order and come glazed and sprinkled with everything from Fruity Pebbles cereal to li hing mui powder.
Purvé Donut Stop will be giving away free doughnuts (one per customer) at their Kāhala or Kaka'ako locations.
Multiple locations, purvehawaii.com, @purvedonutstop
---
SEE ALSO: Taste Test: We Tried Every Doughnut at Purvé Donut Stop in Honolulu
---
Regal Bakery
This year marks the 10th and last National Doughnut Day for this longtime local favorite, which closes its doors for good on June 4. From traditional glazed to Red Velvet and Haw'n Snickas, Regal's flavors span the gamut. On National Doughnut Day, see them off one last time with a free regular doughnut (one per customer), knowing that a percentage of Friday's sales will go to the Salvation Army Hawai'i.
3040 Ualena St., (808) 834-4423, regalfoodsusa.org, @regalbakery
---
The Beet Box Café
Beet Box Café is best known for plant-based breakfasts and burritos, but over the years a collective of gluten-free doughnut groupies has formed among its regulars. Each morning, the Kailua location bakes gluten-free, vegan doughnuts. At the North Shore shop, you'll find gluten-free doughnuts made with eggs. Glazes are made with fresh fruits, organic cocoa powder and superfoods like spirulina. Buying a gluten-free doughnut at either location on National Doughnut Day will enter you in a raffle to win a half-dozen doughnuts.
Multiple locations, thebeetboxcafe.com, @thebeetboxcafe