Da 7 best snacks at 7-Eleven Hawaii right now
Local 7-Eleven connoisseurs know da Hawaii stores always bringing in new kine stuffs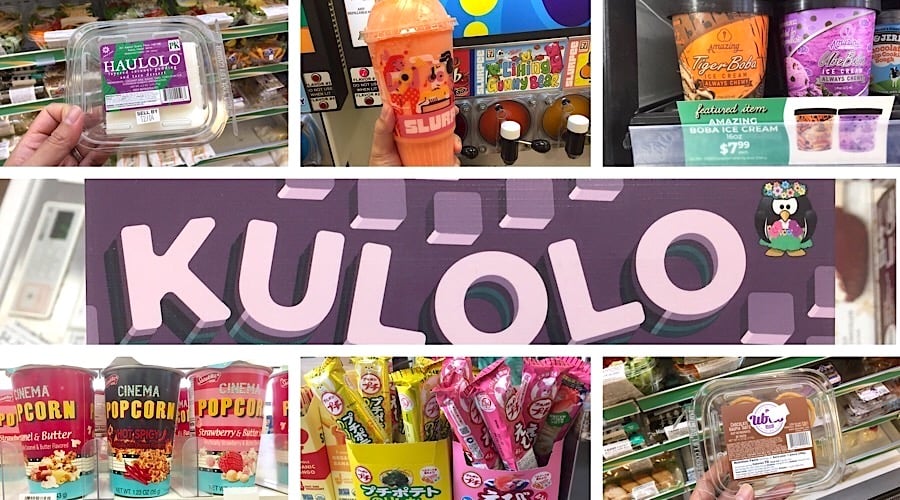 Lotta times when you go 7-Eleven, you might rush in for grab what you need an' den dig out. But what kine wonderful surprises might be in store if you took da time for just browse little bit? Das why I like hanging out inside 7-Eleven Hawaii: They keep bringing in new products and developing new limited-time items so you nevah know what you might find. We lucky we live Hawaii. 7-Elevens on top da continent, they no more da kine cool kine stuffs we get.
Here get my picks for da seven most ono snacks I found recently at 7-Eleven Hawaii.
Amazing Tiger Boba Ice Cream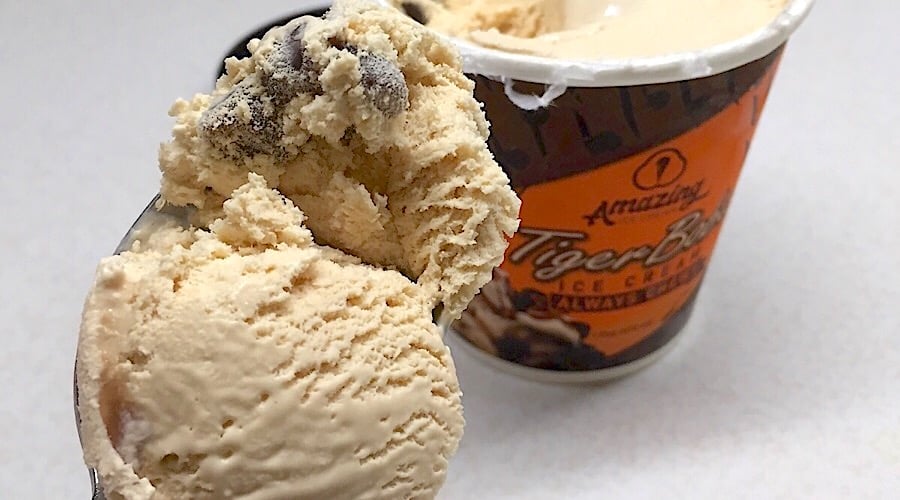 Da boba ice cream pop craze has kinda died down now that you can find 'em at planny stores. But one noddah craze might ignite with da introduction of this. This Tiger Brown Sugar Boba ice cream had just da right amount of boba with da boba having just da right amount of chewiness. Da brown sugar ice cream wuz creamy and not overly sweet. I tink I like this even mo' bettahs than da pop! 7-Eleven even get special signage for this one so what if sell out? You bettah go fast!
$7.99
See also: What I found at Palama Market: Brown sugar boba ice cream bars
Bourbon Petit Chips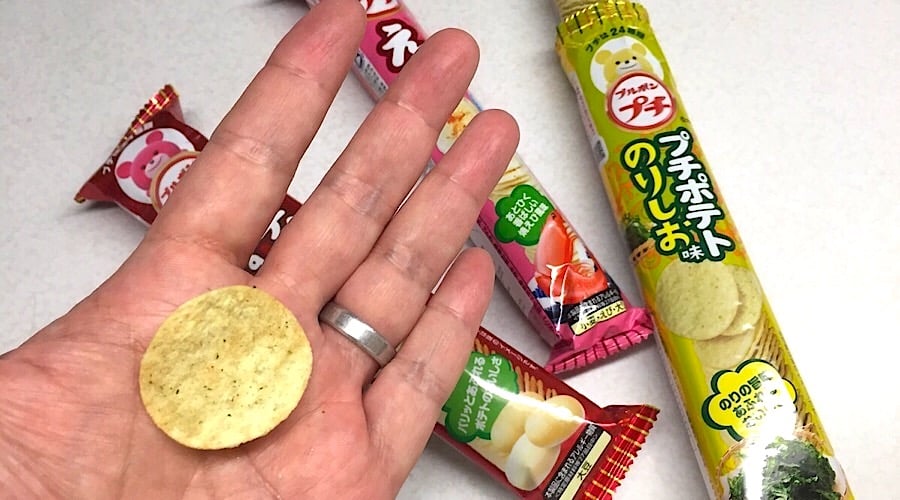 I found these straight-from-Japan snacks in three flavors: usushio, nori shio and ebi. So das lightly salted, seaweed and shrimp. Da first two is baked potato chips, but da shrimp one is one rice chip for some reason. Lotta times for American chips da flavors is really bold. If you craving chips with little bit more subtle flavors, these might better suit you. Imagine tiny Pringles, with a hint of seasoning. They wuzn't super oily, and that wuz one plus. So cute these little chips. No need go Japan for get some interesting flavor chips, you can just go 7-Eleven Hawaii.
$1.85
Haulolo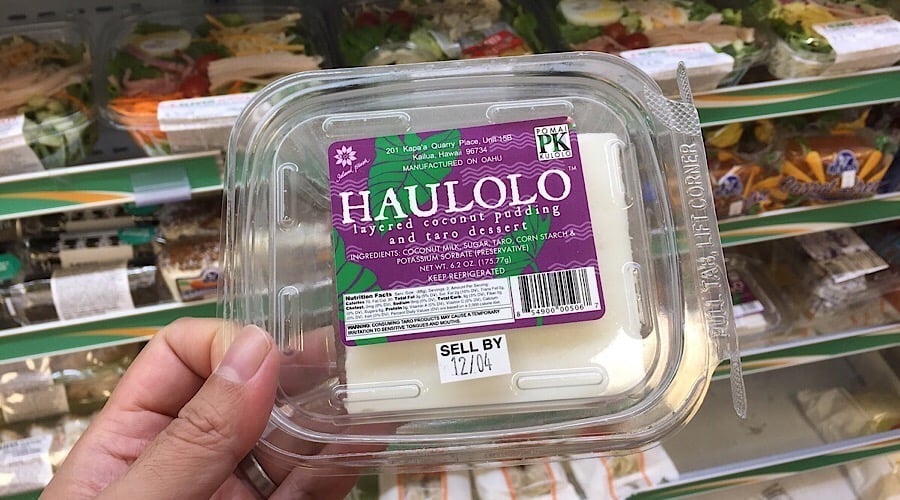 Me, I'm always a sucker for anyting haupia. I would normally expect for find one haupia-kulolo dessert at one farmers market or some mom-and-pop shop in da country. But though this one's prepackaged, it still tasted fresh. Da tastiness of da earthy kulolo combined with da refreshing lightness of da haupia is truly heavenly. It's like two desserts in one. My townie friend Aiko Wan only makes da drive through da tunnel for kulolo. I betchoo when I show Aiko this, she nevah going make da trek beyond town again. 7-Eleven truly get anykine, brah.
$5.95
Kulolo Ice Cream Bar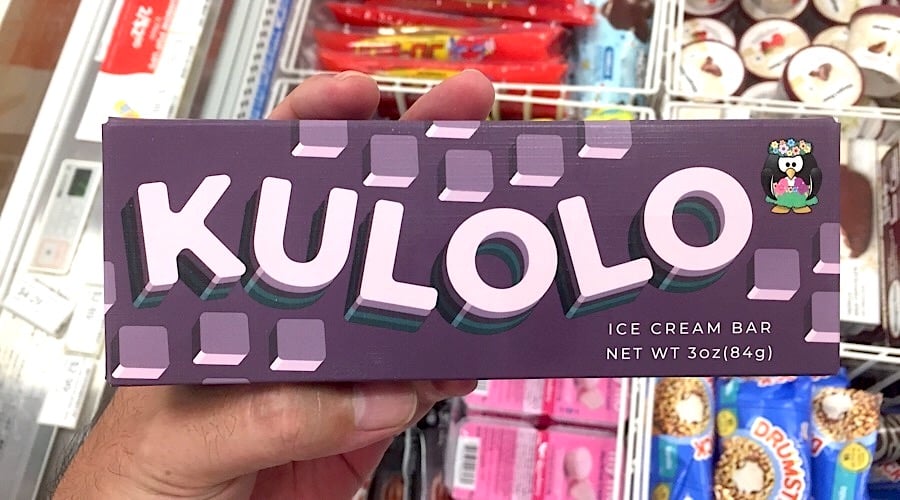 I had seen da poster for this latest from Franny's Hawaiian Ice Pops at 7-Eleven months ago, but took several trips for me to get 'em cuz it always sells out super fast. Luckily I managed to find 'em in time for Boss's Day in October. So I texted my boss that I had this Kulolo Ice Cream Bar for her. I know she get all kine stuff she no eat for her restricted diet, so I text her one picture of da ingre-da-ments: taro, coconut milk and sugar. No dairy! She texts me back at instantaneous speed in all caps: "BRING IT I WANT THIS thnku lee!!!!!!" And she ate it for breakfast. LOL. Tastes like kulolo, but in frozen form. So refreshing. And apparently one great way to start your day.
$3.99
See also: Of course we'd eat paiai on ice cream! Here's Kalo Bombs
LiHing Gummy Bear Slurpee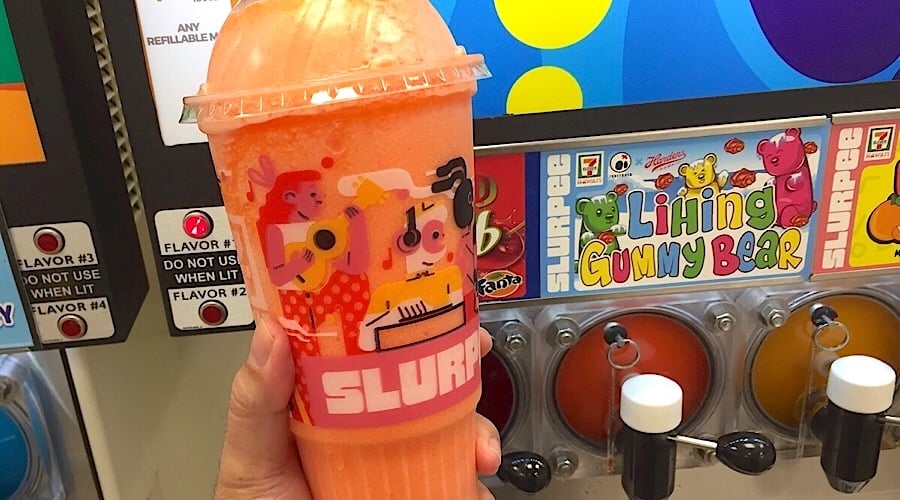 This one is kinda challenging for get, cuz not all 7-Elevens get 'em. I suppose you can call or check their website, but I like da excitement of going into random 7-Elevens and taking one chance. I found this on my second try at da 7-Eleven in Aiea by Forty Niner's. Aurite! (Das da face I made.)
So I remember when Harders Hawaii made straight-up li hing flavor Slurpee couple years ago. That one wuz too potent and I dunno anybody who really liked that one. My akamai friend Daris Aoki told me that she mixed hers with strawberry and created her own li hing strawberry that came out way betters. Soon as I heard about this one, I thought Oh, it's kinda like what Daris did, except now there's that extra gummy bear element. How would that work? For me da funnest part wuz figuring out da flavor. It's fruity li hing, and at first I thought I tasted some kinda berry. After another sip I thought oh, maybe lemon. Then strawberry. No, maybe pineapple. And that's when I realized, hey, it's just like sticking a bunch of random gummy bears in your mouth. Neat how it captures that experience. So clever, their invention.
$1.68 for da large
See also: Lemon peel gummy fans, here's a side-by-side look at 6 favorites
Shirakiku Hot Spicy Hot Chicken Flavored Popcorn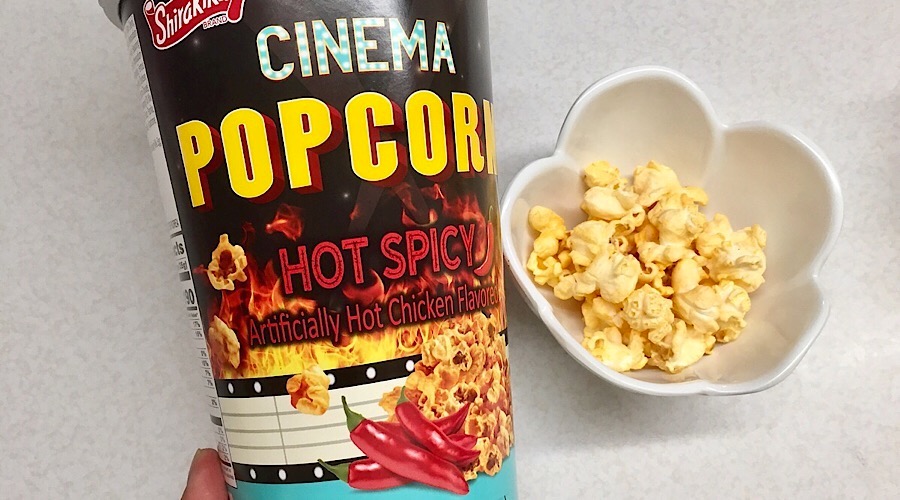 Some nights you wonder, should I eat popcorn or uncooked instant saimin for my movie snack? Well, if you eat this you can have da best of both worlds. Little bit hard for detect da chicken, but definitely da spiciest popcorn I evah had. Believe da big letters that say Hot Spicy. If this one's too funky for you, and you prefer sweet as oppose to savory popcorn, Shirakiku also get Caramel & Butter and Strawberry & Butter Salt flavors too. No sked, chance 'em!
$1.99
Ubae Chocolate Haupia Tarts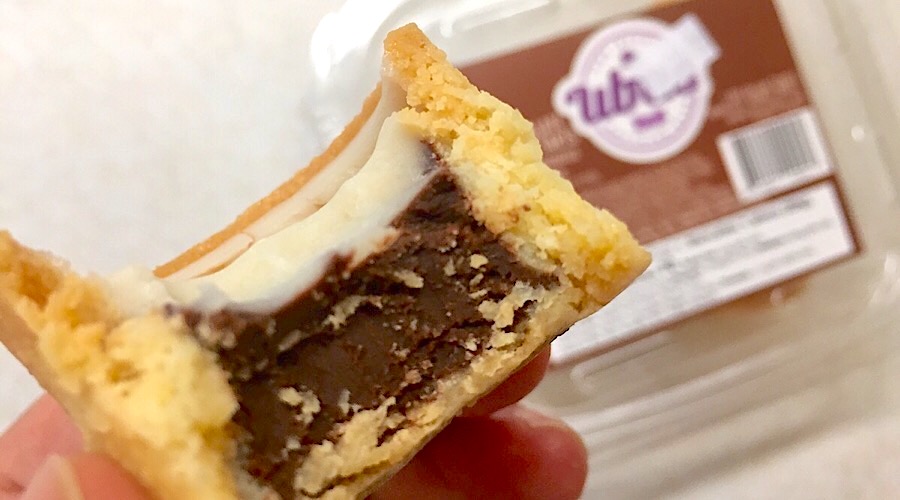 I remember when da Ubae store in Kalihi only had three tings: ube tarts, ube cheesecake thing and ube crinkle cookies. When I first went there I knew immediately these desserts had for be good, cuz if you can make money by selling only three tings, den gotta be good right? I tried their stuff and found out that I wuz right! But I wondered if they would ever make oddah flavors. Cuz I knew that their competitor, Wahiawa's famous Uber Factory, had all kine fancy tart flavors. And now Ubae does too! And da cool ting is I found that out cuz I went 7-Eleven!
If you love chocolate and haupia, you gotta get this. Da chocolate in da tart is very dark and rich with da haupia adding one nice hint of coconut flavor. Haupia is really da perfect dessert topper, brah. So ono. I dunno which 7-Elevens get this or how much they stock. When I went only had two left. Definitely worth looking for.
$7.75
See also: Ultimate ube roundup