Crazy for Wow Wow Lemonade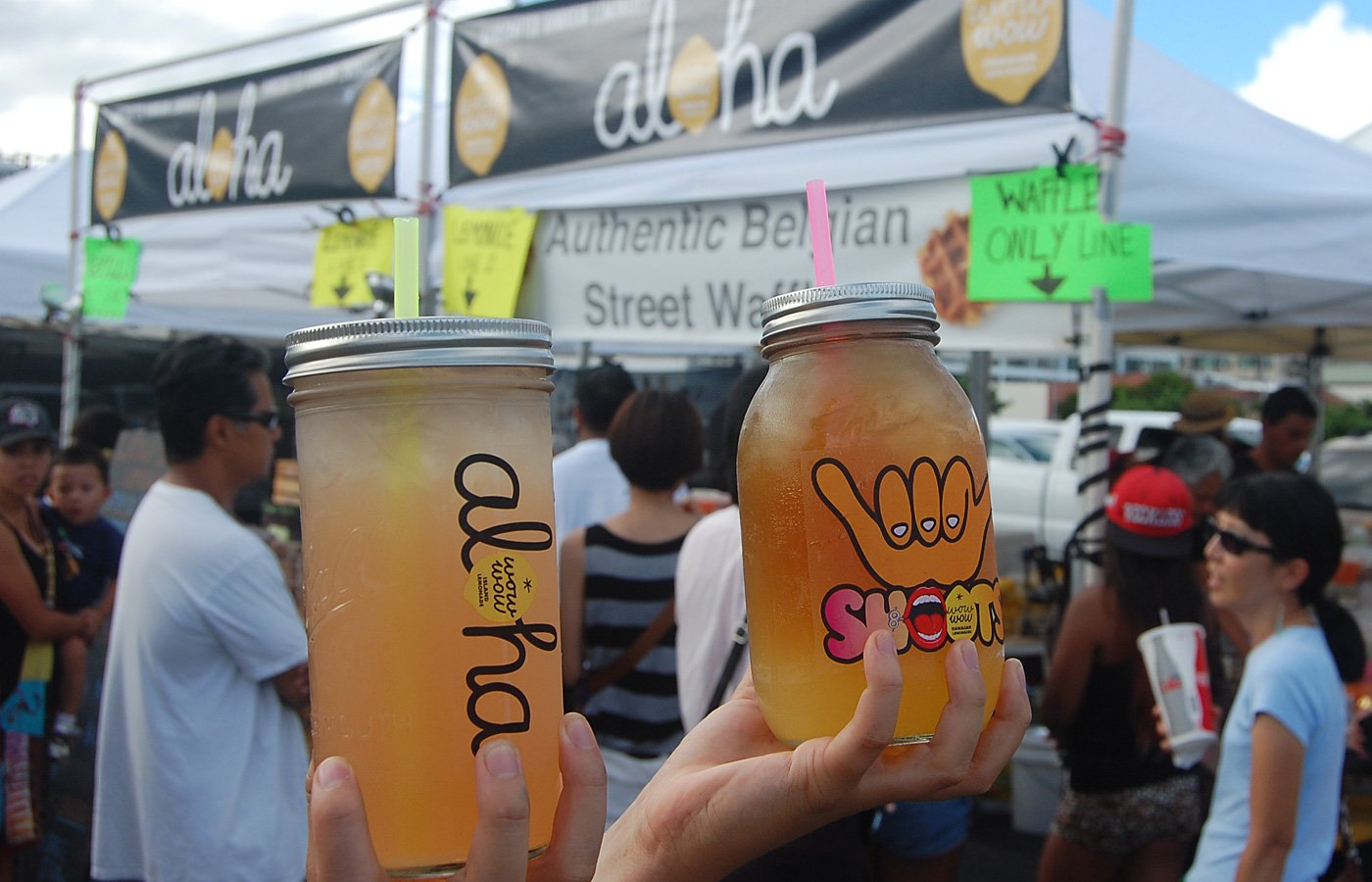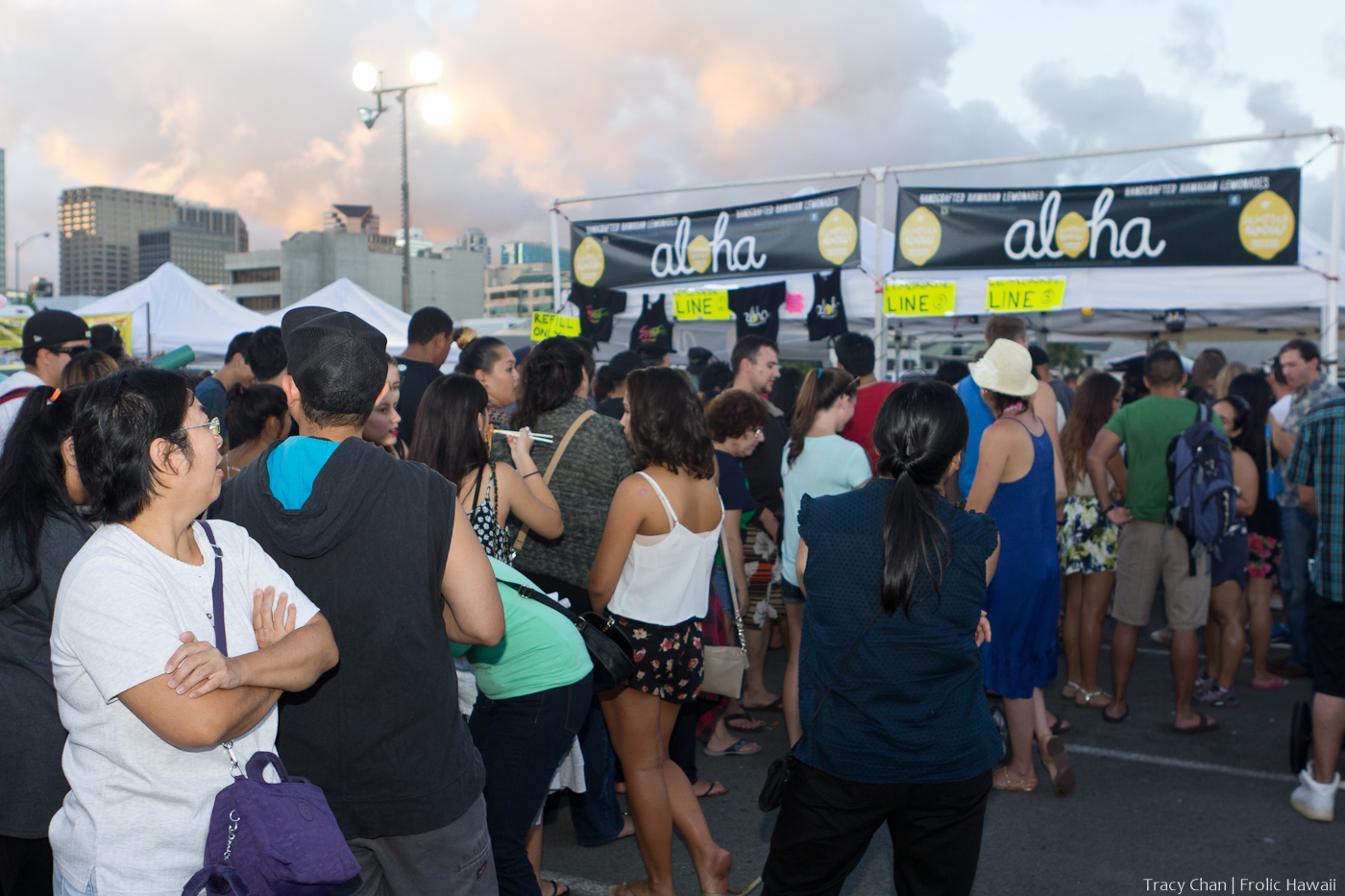 Remember when "Wow Wow" was best known for its waffles? The company's Belgian street waffles may still be delicious, but right now, it's the lemonade that's getting all the attention.
For several months, the Maui-based vendor, now called Wow Wow Lemonade, has been drawing the craziest lines at Honolulu Night Market, Eat the Street and local farmers' markets. Amid the raging heat, hundreds of people of all ages have been patiently waiting for these fun lemonades, served in 24 or 32-ounce Mason jars with colorful shaka and aloha stickers.
Business is so strong the owners plan to open their first brick-and-mortar storefront in Wahiawa in early August, then Haleiwa in September, and Kakaako next summer. The Wahiawa shop, located at 43 S. Kamehameha Highway, is a 700-square-foot space next to Surfers Coffee Bar.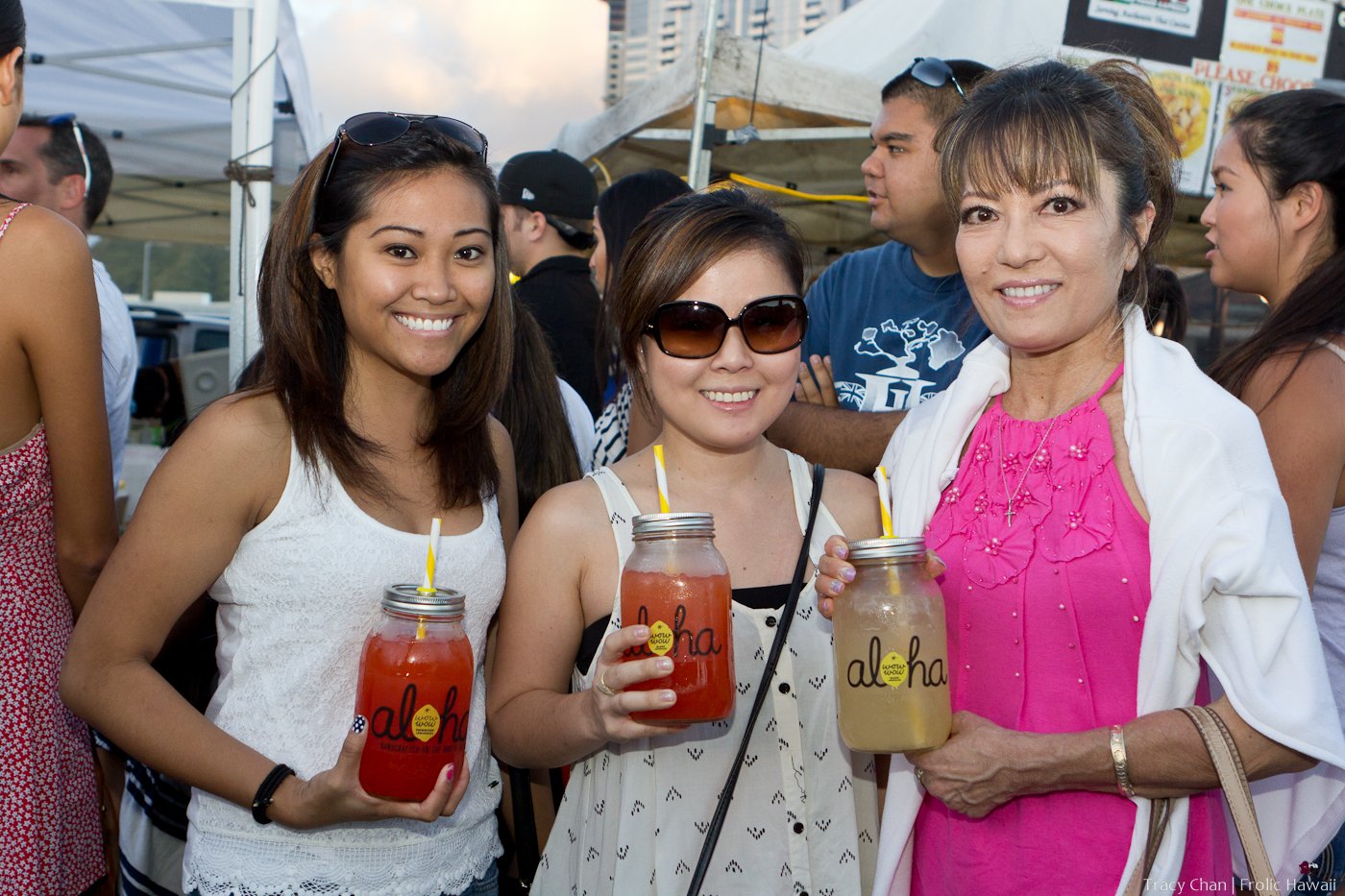 So what prompted the enormous popularity of these seemingly simple drinks? Is it the heat of summer? The creative, locally sourced, handcrafted flavors like Kula strawberry lychee, mango pineapple li hing and watermelon basil? Or just the chance to show off your cool Mason jar drink on Instagram?
It's hard to say, but maybe all of these things.
"Definitely the Mason jars; they're in right now," says Ashley Nomura, one of the people we spotted at last Friday's Eat the Street waiting for the lemonade. "Plus the cap with a hole in it is so convenient. There are other places that sell lemonade in jars like this, but none of them have holes in the caps."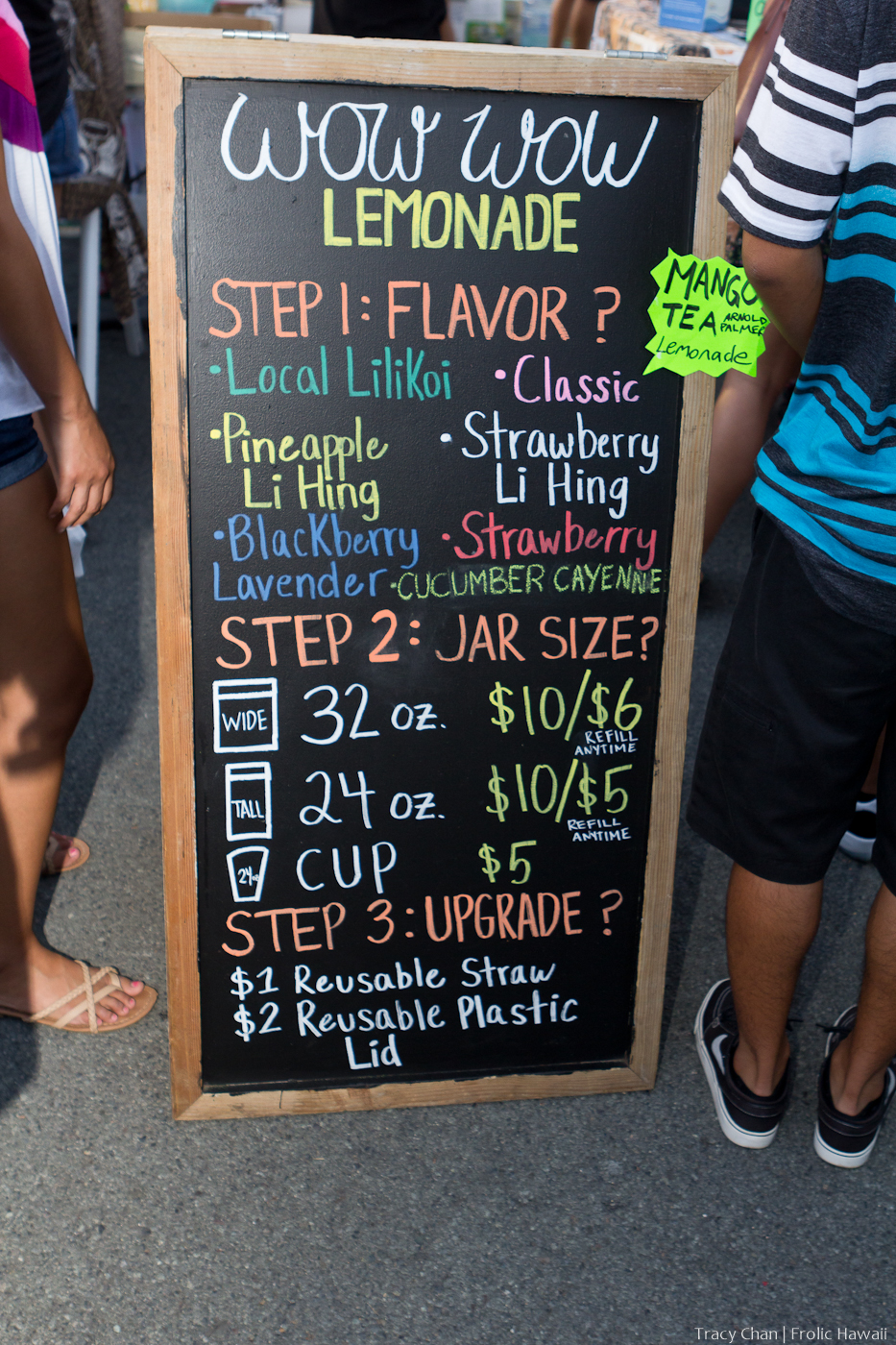 Wow Wow Lemonade founders Todd and Chloe Casselberry and their partner Kawika Drummond started selling their handcrafted lemonades a little more than two years ago at various farmers' markets. They've always tried to source as many local ingredients as possible, and they ingeniously came up with a unique lineup of flavors that take full advantage of Hawaii's finest fruits and flavors.
The partners opened their first lemonade stand in Kahului, Maui about a year ago. As soon as they started selling the Mason jar drinks, with a straw hole pierced into the lid, they lit up on social media. Last September, when they introduced the lemonades on Oahu at places like Eat the Street and Night Market they instantly became a hit, with people eager to nab one of the coveted jars. (If you purchase one of the two $10 Mason jar lemonades, you can bring your jar back for a $5 or $6 refill.)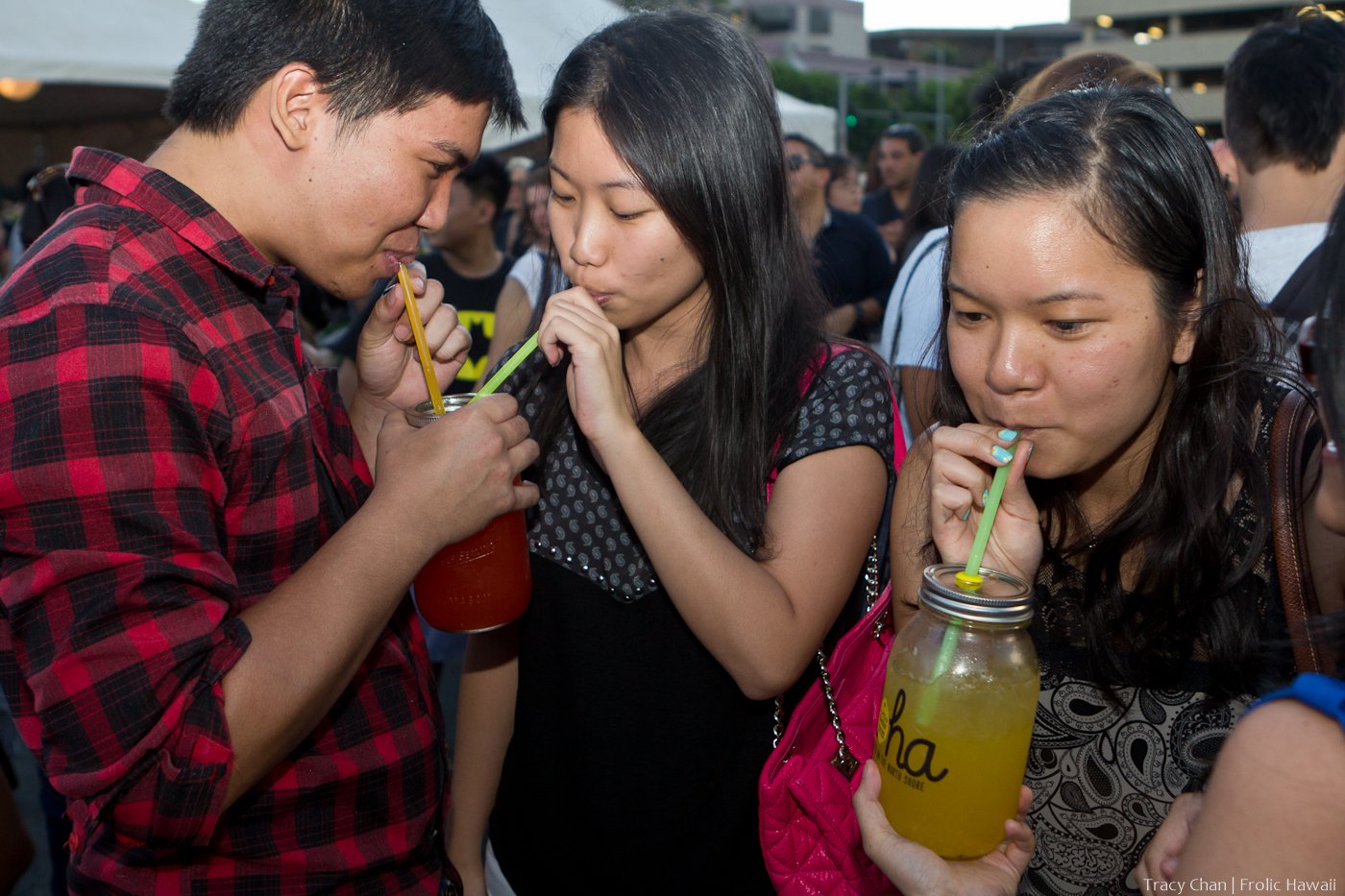 "Somehow word and photos spread quickly on Instagram throughout the islands," Todd Casselberry said. "We honestly don't know how it became such a craze lately, as we've been crafting local lemonades for a little over two years now… We're super thankful that we have a large community that loves our lemonade now."
Todd's partner, Kawika, will run the Oahu stores, although Todd and his wife will continue to fly in frequently from Maui to help build the business. "We have so many favorite lemonades that we haven't been able to feature due to space we have at markets, so we are all excited to have a store," Todd says. "It will be a retail/kitchen space, where we will do some local bottling, and a cafe to craft several more flavors of our lemonades. It's also a community drop off point for local fruit."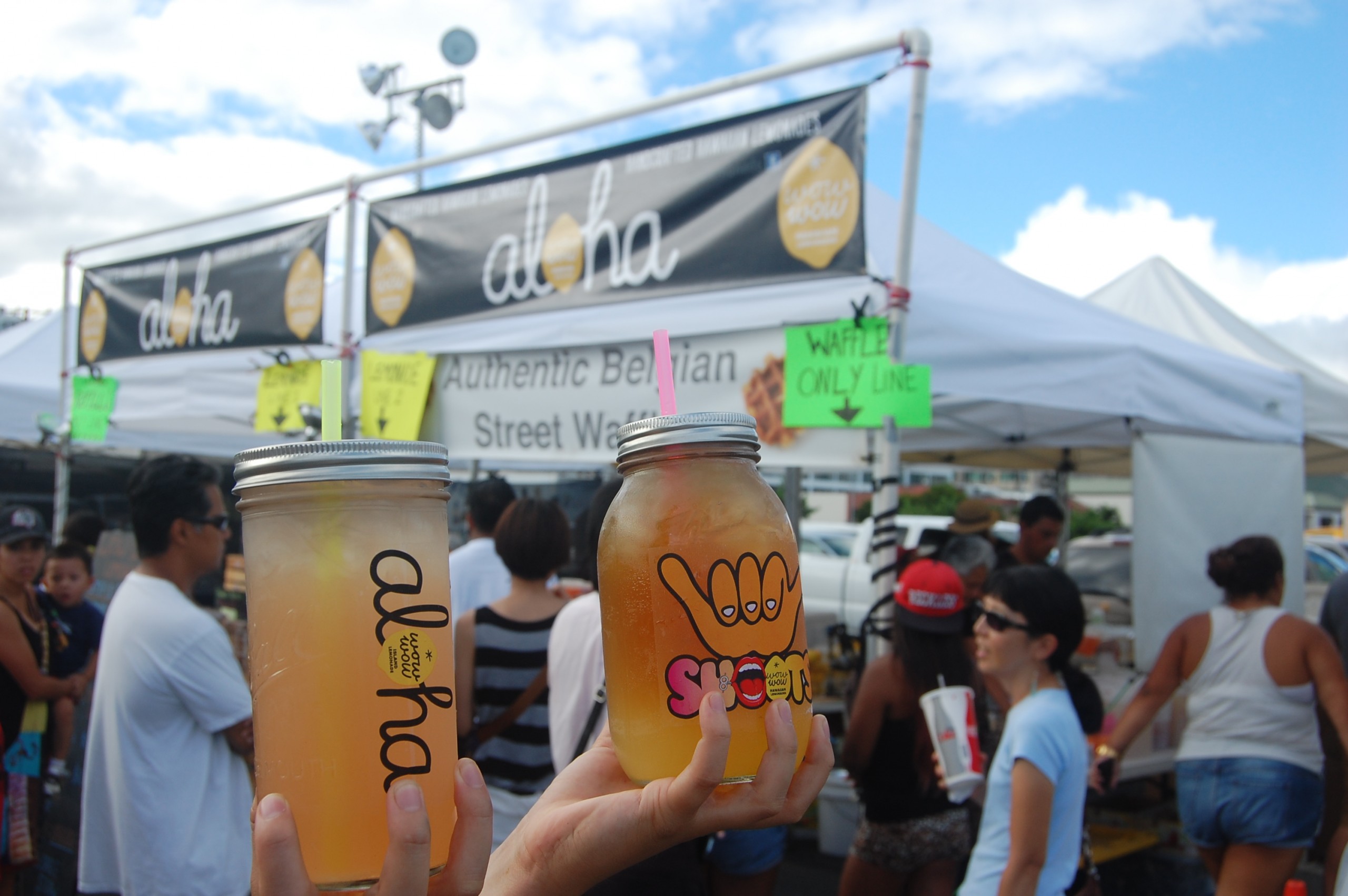 The 300-square-foot Haleiwa store, next to the food truck court in the new Plantation development, will be a lemonade stand with very limited seating, but will feature a nice indoor/outdoor space with a large roll-up wall for customers to hang out, Todd said.
"We'll continue bottling our lemonades and selling to local grocery stores, cafes and food trucks," Todd said. "We'll have lemonades in the Foodland Farms in Oahu in September. We still sell at our local farmer's markets four times a week, and will continue to focus on crafting the freshest local lemonades possible, as we grow and make our product more available to the rest of Hawaii."
Here's a look at the Wow Wow Lemonade craze at Eat the Street:
Wow Wow Lemonade
Picture 1 of 6
Some of Wow Wow Lemonade's fans, including Diane Paz (far left), who says: "I think (the lemonade jars) are so popular because it's local, supporting aloha. The stickers and the Mason jars are cool."
According to Ashley Nomura, middle, it's all about the jars: "They're in right now. Plus the cap with a hole in it is so convenient. There are other places that sell lemonade in jars like this, but none of them have holes in the caps."
Wow Wow Lemonade (and waffles)
wowwowlemonade.com
Regularly at Eat the Street, Honolulu Night Market, Pearlridge Farmers' Market, Kailua Town Farmers' Market and Waimea Farmers' Market on Oahu; and in Maui at 1st Friday, Wailuku, 4th Friday, Kihei, and at UHMCC Market in Kahului.
Lemonade stands
43 S. Kamehameha Highway in Wahiawa
415 Dairy Road in Kahului
1279 S. Kihei Road in Kihei