Crazy for ramen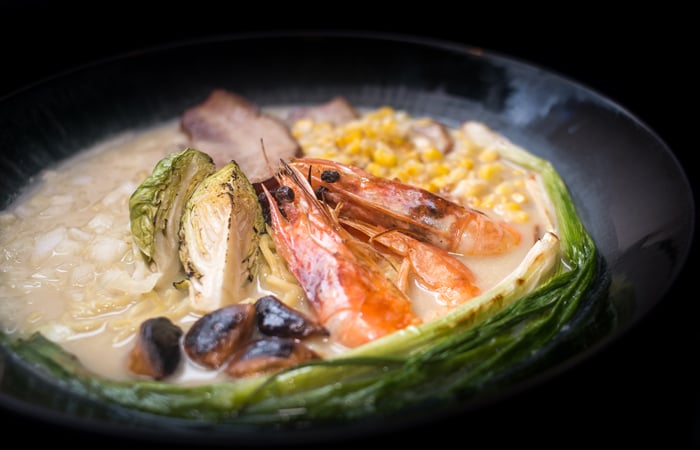 Ramen is one of the hottest food trends to emerge in the last few years. That's true especially here in Honolulu, where new ramen shops that have popped up in recent months include Golden Pork Tonkotsu, Man Ichi, Kamitoku, Wagaya and the ever-changing ramen bars of Shirokiya's Yataimura.
Fueling much of America's appetite for the savory Japanese noodle is Hawaii's own Sun Noodle. The story begins with Hidehito Uki, who arrived from Japan and started the company in Kalihi in 1981. By customizing his noodles to each restaurant's broths, adding different noodle products to the lineup and selling to supermarkets and airlines, he grew the company and expanded to the West Coast.
Enter Kenshiro Uki. Hidehito's son was eating a bowl of ramen at Momofuku Noodle Bar in New York and noticed the texture was slightly off. It turned out Momofuku and others were flying in frozen noodles from Sun Noodle's L.A. factory. Ken asked his dad for permission to build a facility on the East Coast.
Now Sun Noodle serves most of New York City's ramen shops and other restaurants like Marcus Samuelsson's Aquavit. A few months ago Ken opened Ramen Lab, a 10-seat noodle shop in New York's Nolita neighborhood that's constantly packed. He's expanding down the East Coast. And he's not even 30 – he turns 29 this week.
I got to sit down with Ken Uki of Sun Noodle to find out his take on America's ramen craze.
Chuggy: Take me back to the beginning of the ramen craze in America.
Uki: Back in 2004, David Chang opened Momofuku Noodle Bar and helped bring ramen into the public conscience. Then in 2008 Ippudo opened in New York's East Village and popularized the tonkotsu style prevalent today.
Chuggy: Ramen shops are opening almost monthly here in Hawaii. What's fueling this obsession?
Uki: Hawaii appreciates the different types of ramen, each representing a region of Japan. Whether you like tonkotsu, miso, shoyu, tsukemen or mazemen, there is something for everyone.
Chuggy: How is Sun Noodle keeping up with the demand?
Uki: We have three factories, one in Hawaii, another in California and the last in New Jersey. In 2012 we launched Ramen Lab to help people open ramen shops. Not only were we able to help provide noodles for restaurants like David Chang's and Ivan Ramen, we were also able to serve the needs of the industry and provide education and customer support.
Chuggy: Where does ramen go from here?
Uki: We're working on a new incubator at Ramen Lab to showcase experimental ramen. Currently Ichicoro, a new ramen shop to open in Florida, is serving Tampa-style ramen with grilled vegetables and Cuban-flavored pork.
Chuggy: You're on the road now. When are you coming back to Hawaii and what are you looking forward to eating?
Uki: I'm with Chris Kajioka and Richie Nakano at the Culinary Institute of America now and I should be back sometime in July. I'm looking forward to trying Lee Anne Wong's new restaurant (a noodle and sake bar) when I'm back home.