Course Correction 3: Making waves
This is Part 3 of a series about how I found my way back into the kitchen after a near career-ending injury. Here's Part 1 and Part 2.
While having lunch at the Highway Inn bar with chef Mike Kealoha, he receives a text. "You're nominated for a Hale Aina award," he says. I look up from my bowl of beef stew with a raised brow, and he clarified that Highway Inn was nominated for Best Hawaiian Food, which was no surprise, and Best Desserts.
I checked the Hale Aina site on my phone and sure enough, Highway Inn was listed under the Best Desserts category with JJ's Bistro (last year's winner), Alan Wong's, MW Restaurant and Stage Restaurant.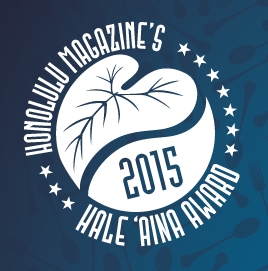 When I embarked on my journey back to the kitchen, the thought of awards never crossed my mind. Looking back, it's hard to believe that more than a year has passed since I made the choice to have a career rather than a job. Despite the hard work, long hours and sacrifices required to open a restaurant, I enjoyed the ride, and it was an experience that I would not trade in for anything.
My Japanese upbringing tells me I need to be humble and not seek acknowledgement. Yet, the recognition the nomination represents validates the hard work of the previous year and puts to rest the self doubt and limiting beliefs I had while opening Highway Inn Kaka'ako. Yes, I was ready, and I had the ability to do the job.
In the past, I would shy away from the limelight. Despite the high-profile photography gigs I had between 2009-2013, there are very few photos of me from this period. Any photos of myself with the political candidates I worked for came about because they insisted I get in the photos.
I faced my aversion for being in front of the camera just prior to the Hale Aina announcement when Our Kaka'ako contacted me about their Meet Our Makers video series.
I had done interviews to promote the restaurant before, however, the video shoot for Our Kaka'ako was a completely different experience. An entire film crew had come to Highway Inn. I had been on the view finder end of many shoots like this before, however, this time, I found myself staring down the opposite end of a camera lens.
The four-hour shoot had a lot of moving parts — head shots, a cooking demo, re-shoots of different aspects of the cooking demo, shooting b-roll of the restaurant, recording of kitchen sounds. Essentially, we shot a cooking show that day.
The end result, which eloquently condenses part one and two of my Course Correction blog posts into a 97-second video, is now up for the world to see. There's even a infographic with one of my recipes.
Watching the video is a very surreal experience. Despite having lived it, it's hard to believe this is my life. It's so true what Our Kaka'ako writes on my Makers video page, "Sometimes second chances are even sweeter."
Here's a link to the video