Congratulations 2015 Hale 'Aina Award Winners!
HONOLULU Magazine readers chose 180 restaurants in 38 categories. Here are the highlights.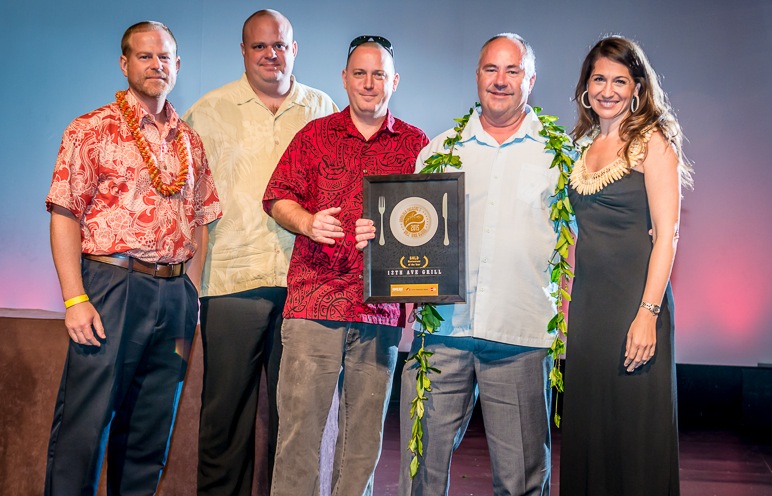 Last night, we celebrated the Hale 'Aina Awards, announcing Hawai'i's best restaurants, as voted on by you, our readers.
Some of the surprises and highlights:
Best Breakfast
Newcomer Koko Head Café, less than a year old, is already one of Honolulu's favorite breakfast spots, ousting longtime favorite Cinnamon's from the top 3, while Café Kaila continues to be the gold standard. It seems we love cornflake French toast and creative skillets, but when it comes to breakfast, tradition still rules, in the form of perfect pancakes and waffles.
Best Cocktail and Best Beer Program
Pint and Jigger is Honolulu's favorite bar for drinks, whether it's a craft beer or craft cocktail. Good luck finding a seat now.
Best Hawaiian
For the first time, Highway Inn beat out all the other Hawaiian restaurants for gold, probably thanks to its new Honolulu location, which continues the original Waipahu restaurant's legacy of 'ono Hawaiian food with some contemporary local-style dishes, like a smoke-meat moco and poi cupcakes.
Best Sushi
Tiny Sushi ii knocked out sushi bar stalwarts Gaku and Sushi Sasabune for gold. Perhaps it's because this Ke'eaumoku spot, while small, offers a lot of the fish variety of the others, in a friendly, non-intimidating setting. Because where else can you get shima aji and kinmedai along with an inside-out roll?
Best New Restaurant
An uber-competitive category this year, thanks to the the slew of excellent restaurants that opened this year. The top write-in vote: Kaimuki Superette, just a few months old, and the favorite new restaurant: The Pig and the Lady.
Restaurant of the Year
This year, we chose this restaurant based on votes across all categories as well as editorial recommendations. And the winner: 12th Ave Grill, now bigger and better than ever.
For the full list of Hale Aina Award winners, click here.