Coming soon: Chris Kajioka's Senia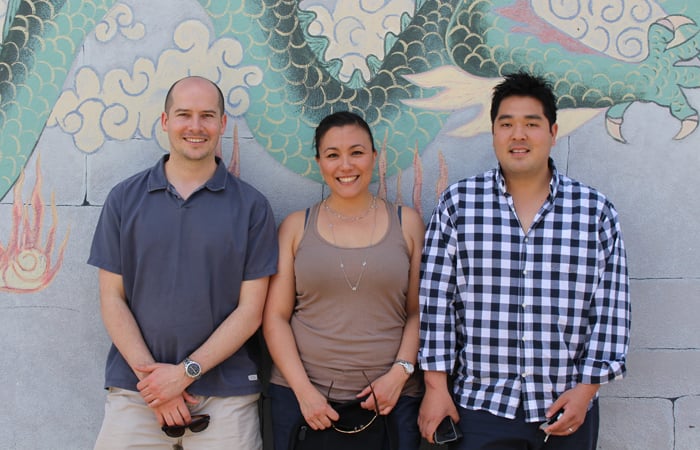 It's been nearly a year since Chris Kajioka's departure from Vintage Cave, the $10 million restaurant where tasting menus started at $195. He did a little traveling courtesy of a James Beard scholarship and helped his Michelin-starred friend and mentor Mourad Lahlou open his new restaurant, Mourad, in San Francisco. And then Kajioka came home and is looking to open his own restaurant in Kaimuki and then in Chinatown.
His partner in the new venture is Anthony Rush, the Devon-born chef at Fera in London's famed Claridge's Hotel. The two met at Per Se, Thomas Keller's three-Michelin star restaurant in New York City, back in 2007 and have kept in touch since. "Anthony is easily one of the best cooks I've ever worked with," Kajioka says.
Both have impressive resumes. Kajioka's includes Roy's and San Francisco's Aziza, Parallel 37 and the Dining Room at the Ritz-Carlton as well as Per Se. Rush has cooked at French Laundry and Per Se, Heston Blumenthal's Fat Duck (the second best restaurant in the world according to World's 50 Best list 2004) and Fera.
We had lunch at Koko Head Cafe the other day. When I asked how they would categorize the style of cooking for their restaurant, they said only that diners could expect fresh, local, seasonal ingredients prepared in ways foreign to the Hawaii palate. What they want, they said, is to make people happy through food.
"We will have a casual dining room," Kajioka says, "but also serve an eight-seat chef's counter where we are going to have a lot of fun."
"One of the features we wanted was a true chef's counter," Rush agrees. Hawaii doesn't really have any where diners get a one-of-a-kind meal based on the ingredients available that day and the expression of the chef. The closest we have are omakase meals at one or two higher-end sushi bars.
Our meal wound down and Kajioka, Rush and his wife, Katherine Nomura Rush (who's from Los Angeles) prepared for their next stop, a local microgreens farmer. I asked the Rushes if their date to move to Hawaii had been pinned down yet. "We're about to figure that out," Rush says.
Their as-yet unnamed restaurant is slated to open this fall.
# # #
This Friday evening, Kajioka and Rush will cook a $100-a-head preview dinner for 36. The pop-up quickly sold out over the weekend. Follow Frolic's Melissa Chang (@melissa808) and check this site to see the creations Kajioka and Rush prepare.
A sneak peek at Friday's menu shows a solidly English lineup including Yorkshire pudding and Eton mess, a dessert usually of strawberries, cream and meringue.