Coming Saturday: Firestone Walker beer crawl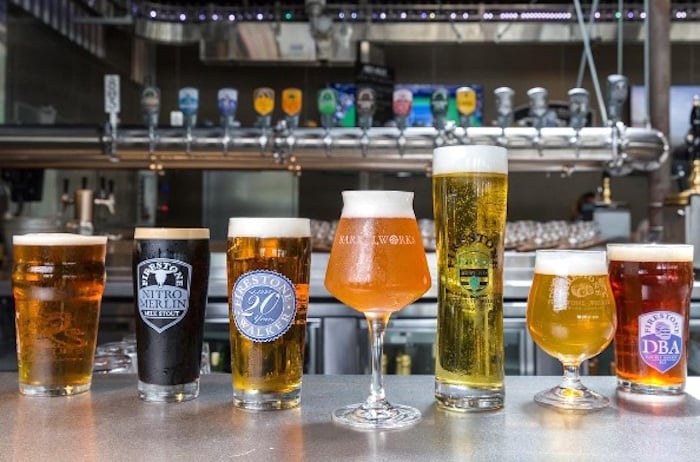 By Will McGough
Special to Frolic Hawaii
Some of California's best craft beer is about to land on Oahu, and there's going to be a bar crawl to celebrate.
This weekend marks the beginning of a new era for Firestone Walker, one of California's most award-winning breweries and certainly the most well-known along the Central Coast. It not only begins distributing in Hawaii for the first time, it also launches its draft line, with bottles and cans to follow in March.
For Hawaii craft beer lovers, that means there will be a party to celebrate at the SALT complex at Our Kaka'ako this Saturday. Village Bottle Shop & Tasting Room, Moku Kitchen and Bevy are teaming up for an aloha welcome with a three-bar bar crawl. Each bar will have a bunch of Firestone brews on tap, and Firestone co-founder David Walker will be there to talk story.
This is the first of what SALT says will be monthly bar crawls. Village Bottle Shop co-owner Tim Golden said the complex's layout makes it a cool place for coordinated events because you don't even have to cross the street to go between bars.
With 13 Firestone beers to try, we're guessing that's a good thing.
Where: SALT complex at Our Kaka'ako (691 Auahi St.)
When: Saturday, Jan. 14, 2017, 5 p.m. – closing
Cost: No cover, just pay as you go
Parking: Street parking or on-site garage at SALT, validated at all three locations
Live music performances by EMKE from 5-6:30 p.m. and Mike Izon from 7:30-9:30 p.m.
Each bar will have a variety of Firestone beers on tap:
At Village Bottle
Luponic Distortion
Unfiltered Double Barrel Ale
Anniversary XX
Bretta Weisse
Parabola
At Moku Kitchen
805
Easy Jack
Nitro Merlin Milk Stout
Helldorado
At Bevy
DBA (Double Barrel Ale – the flagship brew that first brought them fame)
Union Jack
Pivo Pils
Krieky Bones
– Photos courtesy of Firestone Walker and Village Bottle Shop & Tasting Room