Come celebrate our 2nd anniversary!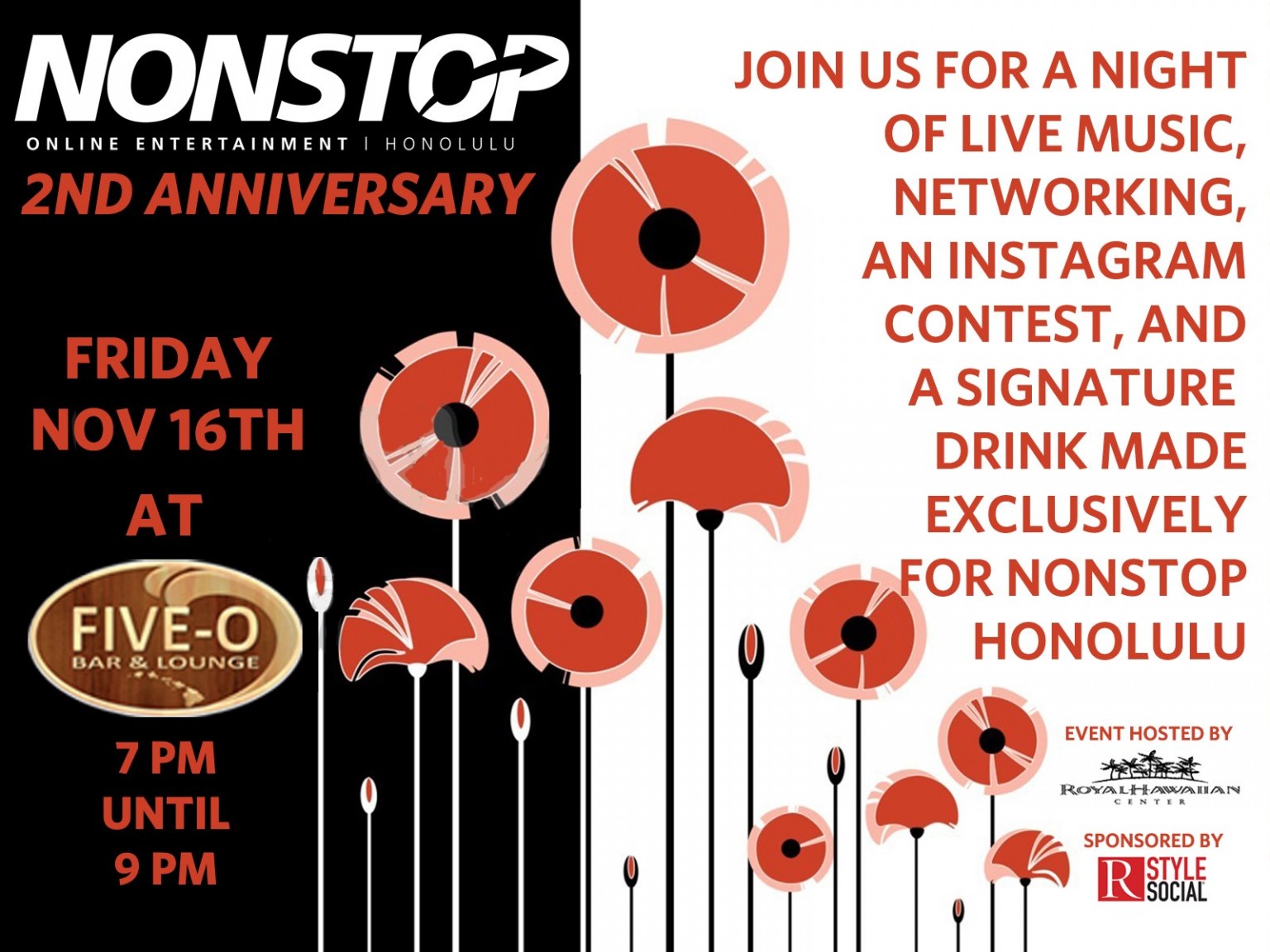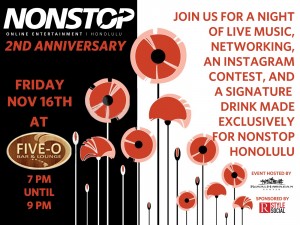 We're inviting our readers, supporters and friends to join us for our 2nd Anniversary Party at the Five-0 Bar at the Royal Hawaiian Center.
What: Nonstop Honolulu's 2nd Anniversary
Where: Five-0 Bar & Lounge at the Royal Hawaiian Center
Time: Friday, Nov. 16 from 7-9 p.m.
Entertainment: Live music, networking, a specially crafted Nonstop cocktail, food, Instagram contest
We've tried to incorporate many of the things you love about Nonstop into our little party:
-A cool, classy spot off the beaten path.-The chance to mingle with friends new and old who are passionate and knowledgeable about Honolulu's dining, nightlife and entertainment scenes.
-A custom, off-menu drink made especially for us.
-Delicious food catered by Panya Bistro.
-Creative social media! Use our official hashtag, #Nonstopbday (registered at http://twubs.com/Nonstopbday) on your Instagram photos, and we'll pick our favorites to showcase on the Nonstop site. We'll also be giving out a $100 Royal Hawaii Center gift card to the winner of our Instagram contest!
Get to the Royal Hawaiian Center early for our partner event, the R-Style Social, from 5:30 – 7:30 p.m. at various retailers at the Center. Be the first to preview holiday fashions straight from the pages of the Center's "R Magazine" and enter for a chance to win a $500 or $250 Royal Hawaiian Center gift card. For more info about the R-Style Social, visit www.RoyalHawaiianCenter.com or call Guest Services at (808) 922-2299.
A huge mahalo to all the support you've given Nonstop over the last couple years, and hope to see you there!
Here's the Facebook invite.