Chicago eats: In search of the world's best hot dogs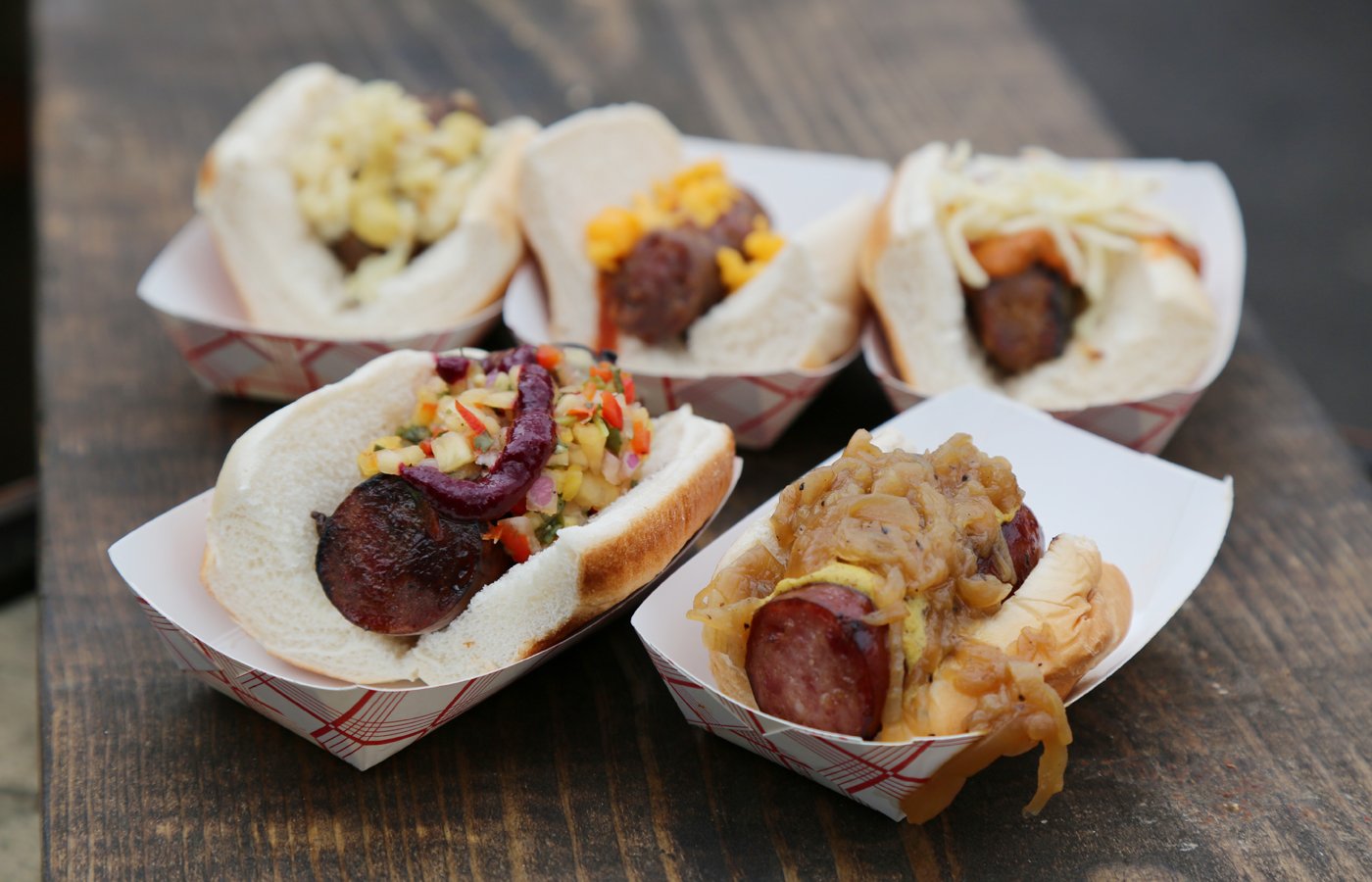 Last September Kyle Duke, one of my best friends from Chicago, sent me this photo with the caption, "9:00 a.m."
I knew exactly where he was and why he had texted at 4 a.m. Hawaii time. Kyle was in line at the world-famous Hot Doug's Sausage Superstore and Encased Meat Emporium. He and I had spent countless hours waiting patiently in this line in single-digit winters and triple-digit summers for Chicago's best gourmet sausages.
Those dogs were highlights of my college days. The snap. The creative flavors. The proteins you never expected, like elk, bear and alligator. There was the Brigitte Bardot (smoky andouille), the classic Chicago dog (never with ketchup!) and my favorite, the Thuringer with its big bold garlicky smokiness and sweet caramelized onions.
Hot Doug's owner Doug Sohn had announced the October 2014 closing of the iconic establishment, and locals and tourists were flocking to enjoy one last meal before they closed their doors for good. Kyle stood in that line for over three hours to savor the last of the sausages. It goes without saying, I was jealous that he would have one final taste without me.
Fast-forward to April of 2015: To the delight of loyal Doug's followers, two line cooks from Hot Doug's opened up Hot G Dog, a strikingly similar sausage shop in the city's Uptown neighborhood. Most importantly to fans like Kyle and me, they opened with Sohn's blessing.
A visit to Hot G Dog was at the top of my list when I visited my old stomping grounds a few days ago. I was pleased to see that the quality was the same as I remembered from Hot Doug's, with some improvements to certain dishes like the duck fat fries.
Hot G Dog lived up to the expectations of this Hot Doug's fanboy. I will definitely be back.
Now, is there anything that can make this story better? The story of a longing rewarded, of loss and resurrection, of knowing that what once was — the dogs, the decadence, the duck fat fries — graces the Windy City once again?
What could make my trip better? This: Doug Sohn, the man himself, announced that Hot Doug's sausages were returning for a hot dog and beer festival at the Goose Island Barrel Warehouse. For one weekend only. The weekend I was there. And it was all you can eat.
I was so ready for the Dog Dayz of Summer festival. But I was blown away when my good friend Tony Smith and I were greeted by the man himself, Doug Sohn.
Walking through the massive barrel warehouse, Tony and I were in awe of the carefully labeled and stored barrels of beer and spirits.
Outside, about a dozen gourmet dogs awaited. Everything from a spicy andouille sausage to a smoked Hungarian pork sausage was assembled to order for us hungry festival-goers.
Goose Island's beers were the perfect match for the gourmet dogs. We got started early with the 312 urban wheat and then moved to the Matilda and Sofie.
After thoroughly enjoying the brews of Goose Island Brewing with the world's best hot dogs, we left satiated and happy. The dogs of memory were still there. The man himself was too, and it was a thrill to see him. This trip to Chicago was turning out great.