Charcuterie on Oahu: Boards of Waikiki
Cured meat and cheese deals in the 96815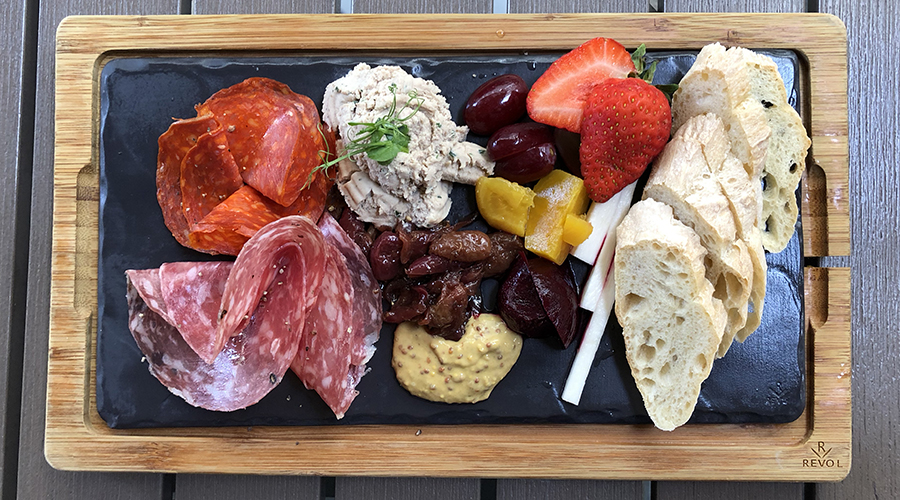 Note: In today's landscape, things are changing all the time. Call ahead to confirm hours and menu availability before you go.
The first charcuterie I ever tasted was at now-shuttered Grondin French-Latin Kitchen in Chinatown. It felt slightly bougie and upscale, and I had no idea what I was eating. All I knew was that the assortment of house-cured meats, pickles and cheeses was exhilarating, and I loved it.
Charcuterie now is trendier than ever. No two boards are alike, and when there's a chef's selection or rotating lineup of meats and cheeses, you never know what you're going to get.
So raise your glass. Here's part 1 of our meaty new series: Charcuterie boards in Waikiki.
See also: Where to park in Waikiki
Appetito Craft Pizza & Wine Bar
Wine flight with cheese and salami, $15
This is a happy hour steal. It's available daily from 11 a.m. to 6 p.m. with your choice of three wines (3-ounce pours) from a featured selection plus a tasting portion of the full-scale salami board available during dinner. All wine flights come with Italian salami, prosciutto, sliced Provolone, pickles and fruit.
150 Kaiulani Ave. • Waikiki • 922-1150
Basalt Waikiki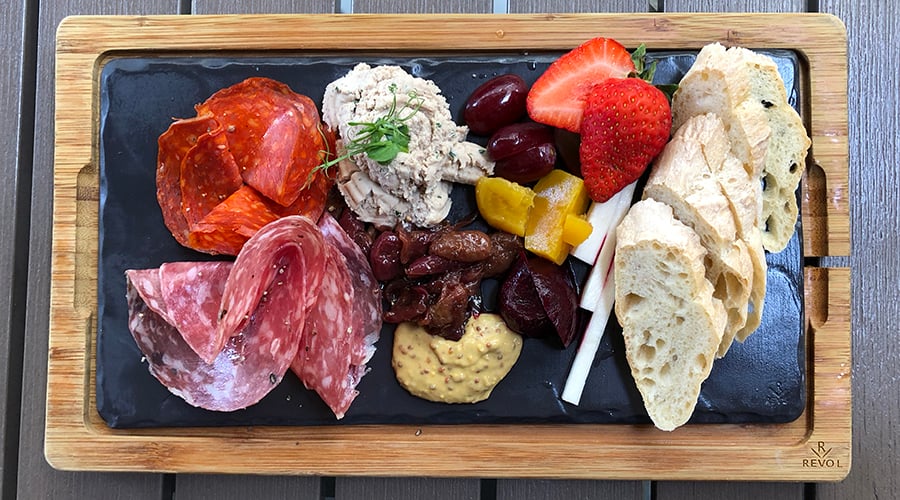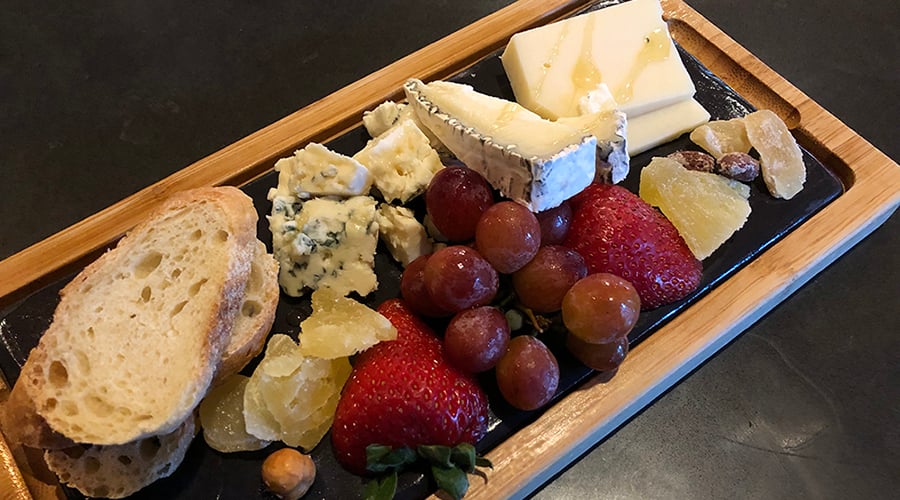 Charcuterie platter ($9 happy hour, $14 other times) and cheese platter ($8 happy hour, $13 other times)
Charcuterie and cheese at Basalt Waikiki are served on different platters — the first with duck liver pate, salumi, cured meat, pickles, mustard and sliced baguette and the cheese platter with an assortment of domestic and imported cheeses, candied fruits, fresh fruits, honey and baguette. During happy hour the charcuterie board has the same items in smaller portions for $9; the same is true for the $8 cheese platter at happy hour.
2255 Kuhio Ave. • Waikiki • ​ 923-5689
See also: $15 happy hour: Basalt Waikiki
Dean & Deluca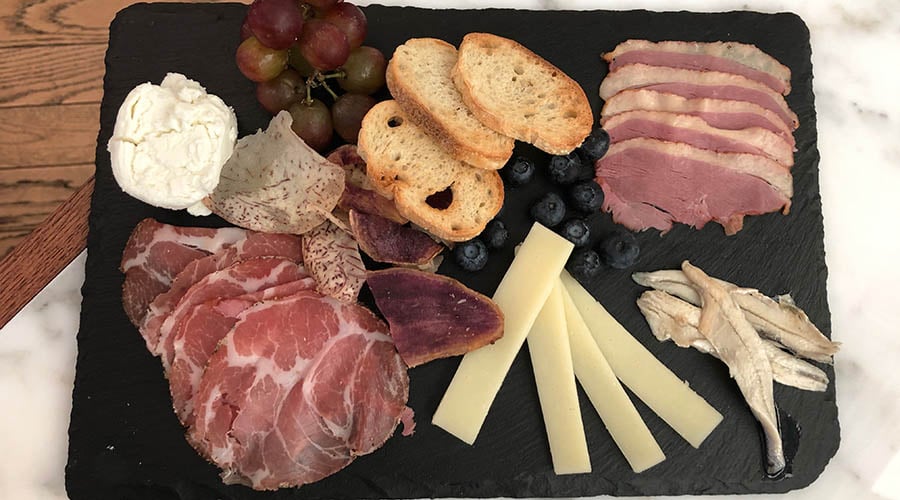 Cheese and charcuterie with wine pairing, $20
Upstairs at Dean & Deluca in The Ritz-Carlton Waikiki, the Artisan Lounge is a hidden gem. Happy hour is 3 to 6 p.m. daily, and $20 gets you this chef's selection of cheese and meat with a glass of wine. Meats often include salami and prosciutto but change daily to pair with the day's wine selection. The lounge also has a $40 charcuterie board that's double the size of this one and can be shared among four or five people.
383 Kalaimoku St. • Waikiki • 729-9720
See also: Dean & DeLuca improves luxe happy hour, adds daily brunch
Il Lupino Trattoria & Wine Bar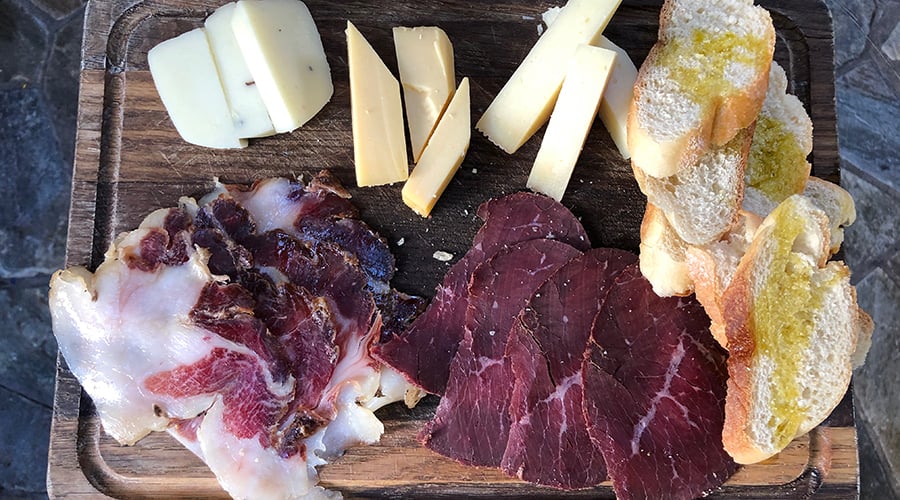 Salumi & Formaggi, $10
Part of Il Lupino's revamped happy hour, this is available daily from noon to 6:30 p.m. The board comes with three meats and a cheese that you pick from the selection on the dinner menu. If you prefer more cheese, you can also ask for your board to include more cheese and less meat. Servers will try to customize the boards to fit your preference.
Royal Hawaiian Center • 2233 Kalakaua Ave. • Waikiki • 922-3400
Island Vintage Wine Bar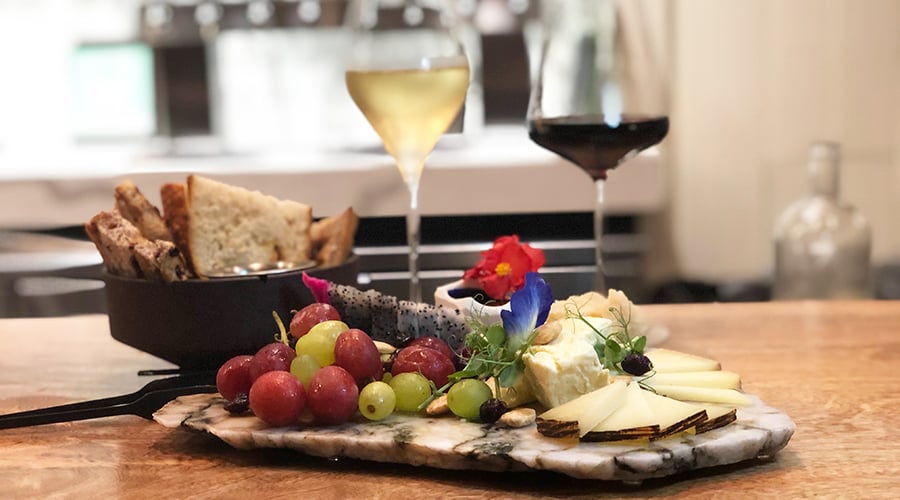 Cheese plates and charcuterie boards, each $24
This open-air spot serves brunch and dinner, with cheese boards available all day. These include three cheeses (usually triple creme Brie and two others), along with house bread, fruits and housemade pineapple honey. This board is gorgeous and comes with enough for two people. The pineapple honey stays on the brain; I spread it on everything, including the cheese.
Charcuterie boards feature a selection of five meats like rissola and prosciutto. Wine pairings aren't a problem: A double-sided case holds 300-plus bottles. At happy hour from 3 to 6 p.m., you can get smaller cheese and charcuterie options for $14 each.
Royal Hawaiian Center • 2301 Kalakaua Ave. • Waikiki • 799-9463
See also: Oahu's new self-serve wine bar takes you from brunch to dinner