Chad Owens' Power-Up Menu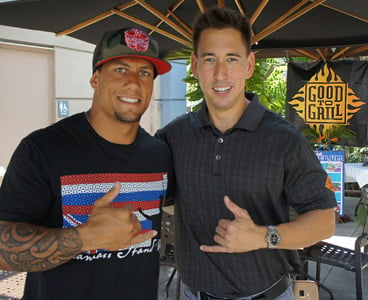 How often do you get the chance to have a restaurant customize their menu to what you like to eat? That's what happened for pro football player Chad Owens, who developed a special menu to fuel his workouts (and yours) at Good to Grill. The menu launches today.
Owens, a longtime customer at Good To Grill, eats there almost every day because their grilled fish and healthy sides were ideal for his strict low-carb, lowfat, high-protein diet. At one point, he suggested a variety of menu items that were even more customized to match his diet, and owner Jason Kim (who is also into working out) agreed. They worked with Good To Grill's Operations Manager Pat Comer to quickly come up with a Power-Up Menu, filled with lean proteins for sustained energy and "good" carbohydrates for fast-acting energy.
"Some say training on an empty stomach burns more fat, but the fact is, you burn through your stored glycogen in about an hour, and then your body turns to fat stores for energy. This will soon start to burn muscle tissue as well. To avoid this, eat a simple, yet smart meal beforehand," said the former University of Hawaii football star.
We met Owens to talk about the new menu and taste the items. I'll admit, although I like to eat healthy sometimes, I wasn't sure if I would like most of these because they looked like they might be bland — in fact, I think many people in our group thought the same thing. We were pleasantly surprised to find that everything was tasty and well-spiced, and quite filling despite being so light. Personally, I love mashed cauliflower, so it was nice to see that on the menu (this one has the consistency of risotto).
Good to Grill power menu
From now until June 5, a portion of the Power-Up Menu sales will be donated to Hawaii Speed and Quickness, a nonprofit organization founded by Rich Miano, that helps student athletes improve performance through innovative training.
Good To Grill
888 Kapahulu Ave.
808-734-7345