#CatTravels: Skywalking the Grand Canyon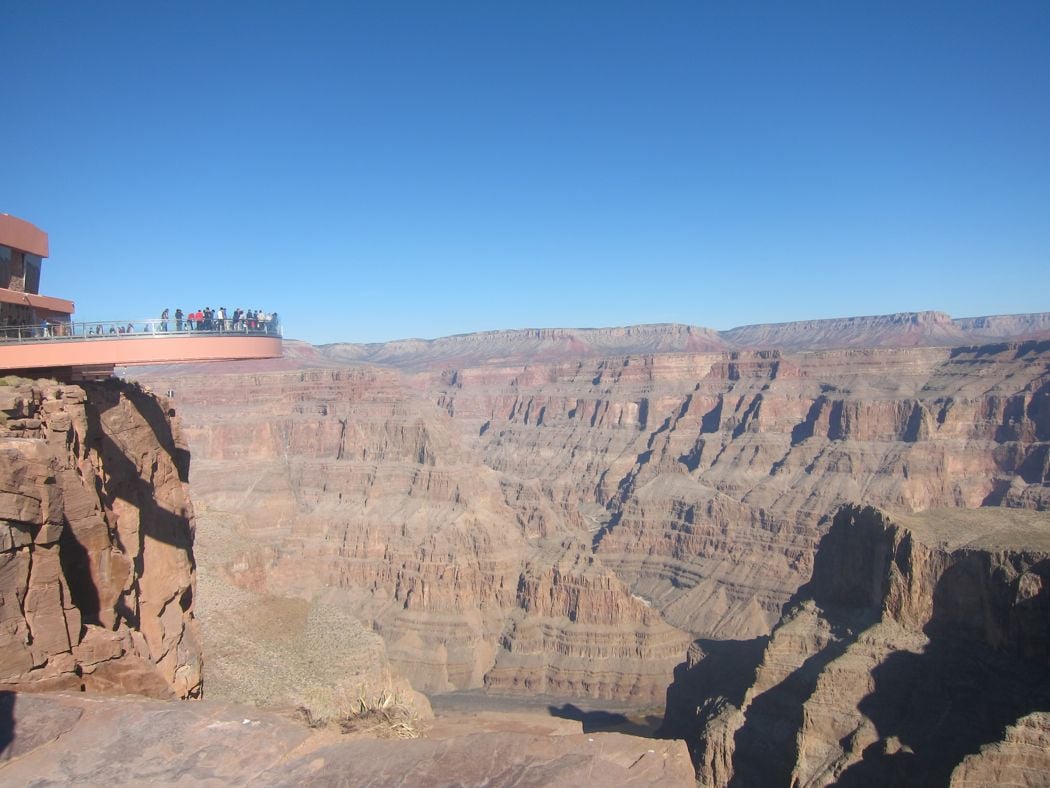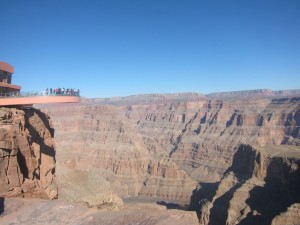 I have a list.
And I'm sure you have one, too.
It's a list of all the things I want to see and do before I get to an age where I just want people to push me around in a wheelchair.
Seeing the Northern Lights is on the list. So is visiting Stonehenge and surfing the waves at Malibu.
Another stop on the list was walking on the glass-floored Skywalk over the west rim of the Grand Canyon.
I had read about this engineering feat in Time a few years ago when it had been recently opened to the public.
Back in 1996, entrepreneur David Jin of Las Vegas had an idea to build a glass walkway that extended over the canyon. He approached the Hualapai Tribe with the idea and, seven years later, he got their blessing. Four years after that, the Skywalk was opened to the public.
Some facts about the attraction: It's located 4,000 feet about the Colorado River. It consists of more than 1 million pounds of steel and 64,000 pounds of strengthened glass, imported from Germany. Its foundation is strong enough to support about 71 million pounds, or the equivalent of 71 fully loaded 747 airplanes (though I'm sure no one tested this theory).
But here's the real deal: The floor isn't entirely made of glass; the edges are solid metal, and you could — people do — just walk on that part if you're scared. The walls are about 5 1/2-feet tall with very sturdy railings; if you don't look down, you feel like you're at a lookout. Less than 120 people are allowed on the Skywalk at a time, so it doesn't feel crowded. And everything you heard about cameras is true: you can't bring 'em. There are staff photographers on the Skywalk who take your photo — as many as you want — and you can purchase them for $30 each inside.
Hey, it's clever if you want to make money!
And it's a long day. You need to give the entire tour about four hours from start to finish. You don't just go to Eagle Point, where the Skywalk is located. You also visit Guano Point — best views of the canyon — and Hualapai Ranch.
Here's what our day looked like:
Leaving the Cal
Grand Canyon Skywalk. Cost is $29.95, but you have to purchase a West Rim entrance pass to get in, which cost, at the least, another $29.95 plus tax and fees. (888) 868-9378, (928) 769-2636, www.hualapaitourism.com.
See more photos at my blog, The Cat Dish. Follow my adventures on Twitter (@thedailydish) and Facebook. Powered by Oceanic Mobile.