Catch up with Quinn Kelsey & win tickets to HOT's 'Rigoletto'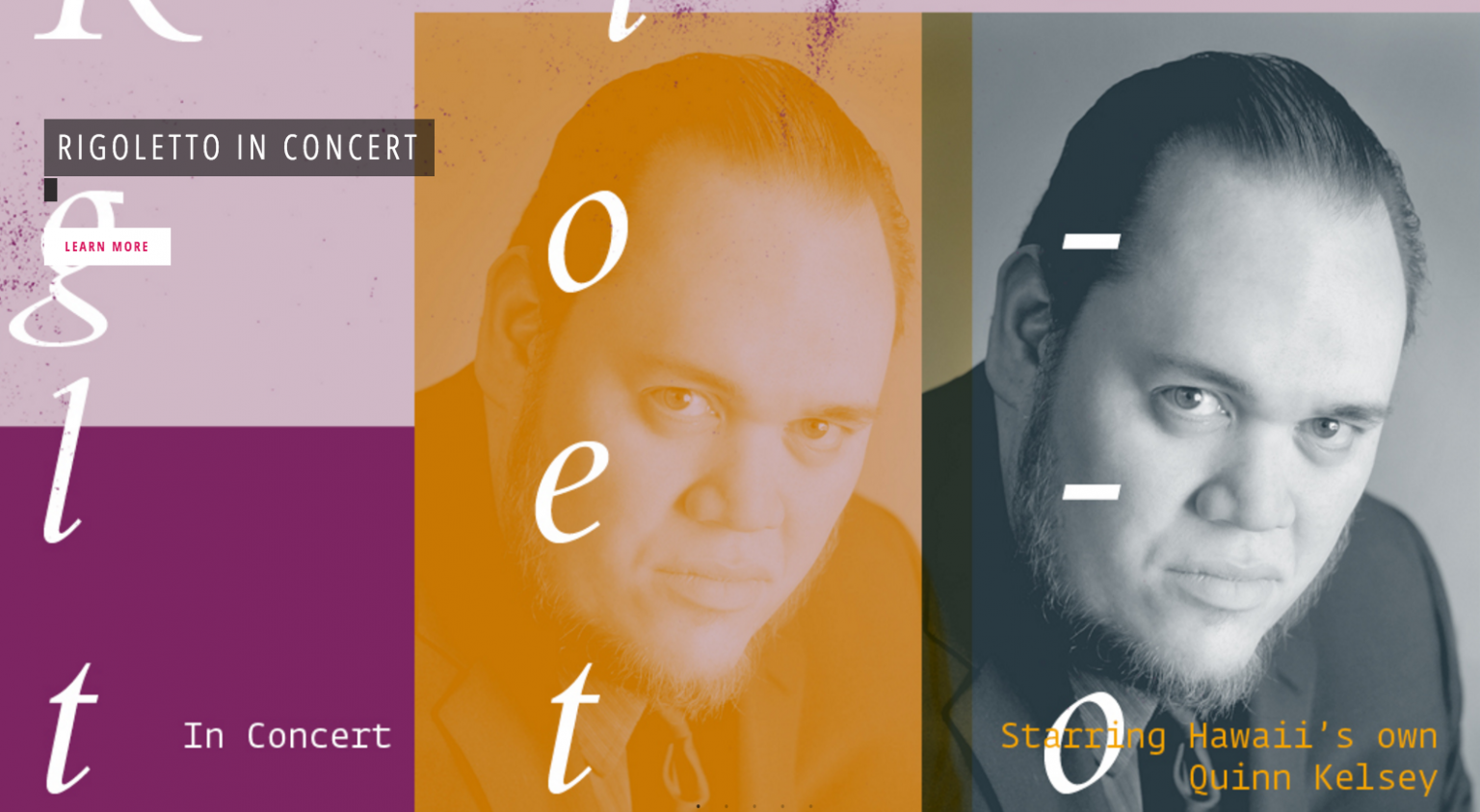 Sponsored Post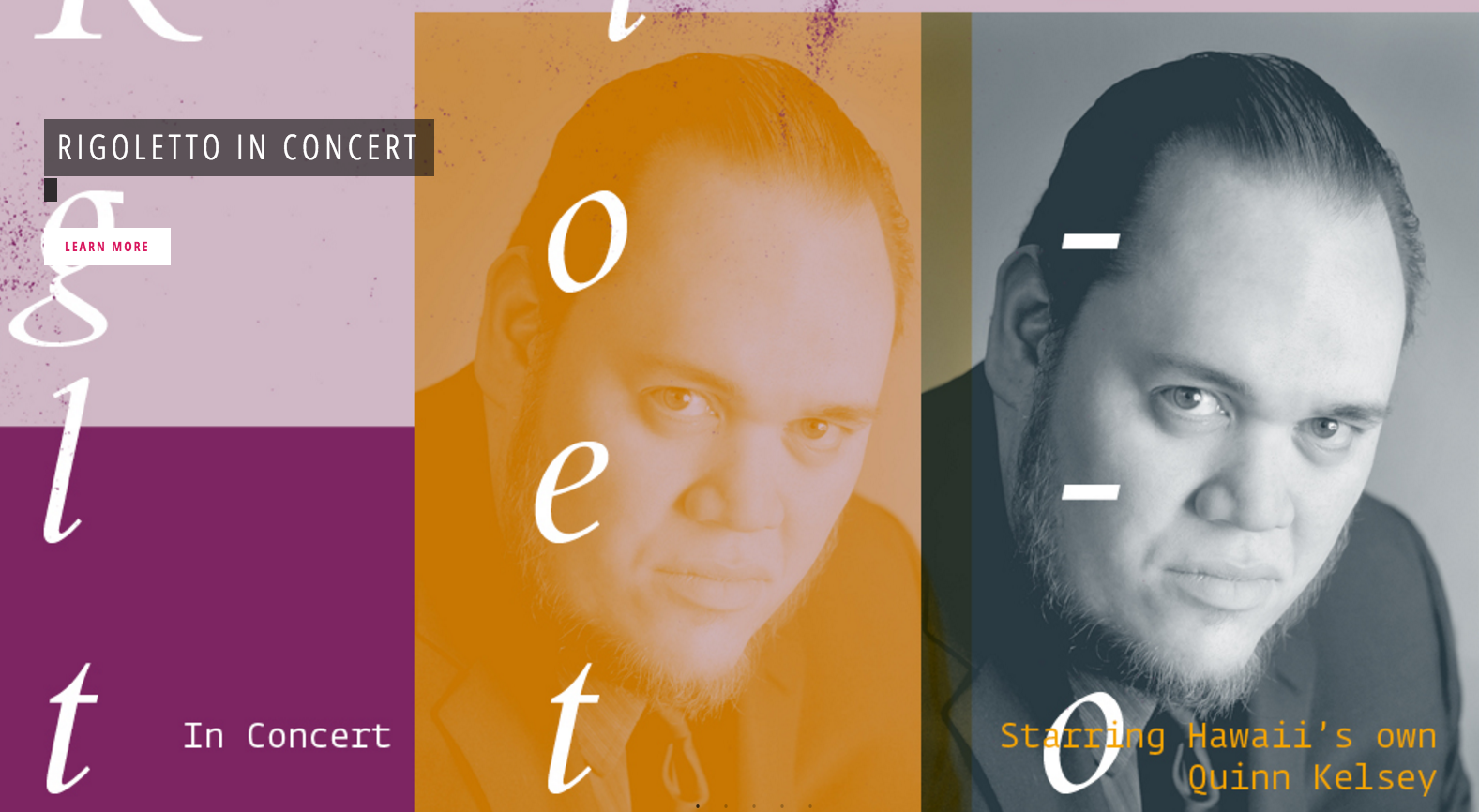 Quinn Kelsey, Hawaii's own homegrown opera star, started out in 1991 as a member of Hawaii Opera Theatre's chorus before moving on to tours of study at Chautauqua Institute in New York and Merola Opera Program in San Francisco. Then he landed roles with the Lyric Opera of Chicago, New York's Metropolitan Opera and dozens of other international venues and now, he travels the world performing roles that allow his rich baritone voice to come alive.
This week Kelsey's in town to sing the leading role in HOT's production of Verdi's "Rigoletto" – a role he's very familiar with.
What would you tell someone who has never experienced opera before?
Give it a chance. Opera's an art form that can seem complex because it's in a different language and there's a lot going on. (But) today many of the companies around the world project titles in English for the audience to follow along, so it's actually approachable.
Come with an open mind and allow the music and performance to transport you … let it take you away from everyday life. Just being open and comfortable about opera when you go in will make a difference and break down those walls about how serious some performances can be.
What other kinds of music do you listen to?
I grew up with music. My mother was classically trained and my parents actually met while they were in school at University of Hawaii Manoa because they were paired to perform a duet, so music has always been part of my life.
My music taste is eclectic. If you scroll through my iPod, you'll find everything. Classical and opera music are the last things I want to listen to in my limited downtime, but I can appreciate them. I really enjoy classic rock and old school hip hop, but a lot of what I'm listening to at any given time reflects what mood I'm in.
At Frolic Hawaii, we love to cover the food scene. What local dishes do you miss the most when you're away?
Do you have time for me to answer this question?
Haha! Yes! Just tell us what you must have the moment you step off the plane.
As I was gearing up in Chicago to fly back home to Hawaii, I thought long about what I wanted to eat first. Was it gonna be Korean barbecue plate lunch … or regular plate lunch? Am I going to raid Foodland for some poke and poi?
It's always a challenge for me to explain what Hawaii's food culture is about. Food in Hawaii functions in its own way, so that's probably why it's hard for me to say what I really want. But if there is one thing I crave while I'm away, it's either a good plate lunch or some Hawaiian food.
What are the best introductory operas you would suggest our readers see?
There are shows that can be seriously out there, then there are others that are more lighthearted and have tons of humor. For first-timers, I would suggest they see something like Giacomo Puccini's "La Boheme." It's a collection of vignettes about four starving artist types romanticizing the bohemian lifestyle. It's very humorous and lighthearted, nothing too serious – a great opera to start with.
Another I would recommend is the "Marriage of Figaro" by Wolfgang Amadeus Mozart, which is a lighthearted romantic show about two servants, Figaro and Susanna, getting married to teach their promiscuous employer a lesson in fidelity. Mozart did a bunch of operas and another that comes to mind is "Don Giovanni," which is based on Don Juan, the ultimate playboy and his black book of conquests told through Leporello, his servant. It's fun. It's easy to get into and the music great.
Much of the stuff from Verdi is quite serious, but if you go in with an open mind and don't get wrapped up into knowing everything, you'll be fine. An opera my wife is performing in right now, which is why she isn't out here with me, is "Ariadne auf Naxos" by Richard Strauss. It's an approachable and humorous show that depicts two music companies – a burlesque troupe and an opera company – that compete for attention and the right to perform first before. They end up collaborating for one show that's really great and full of comedy.
Tell us about your journey from local boy to an international star performing at some of the most famous venues around the world?
Growing up in a musical family, it's like I was born with music in my blood. My mother is classically trained and she is how my sister and I got involved with music. Everything we were involved in was because Mom did it first. My father just had a natural talent for singing. He didn't sing anything that stressed his voice and he just was natural, no training at all.
We started performing in our mother's choirs and by the mid-90s, we were performing as a family in the Hawaii Opera Theatre choirs. Music has always been the way our family has bonded. It has enabled us to function as a strong family unit.
With opera it's so difficult to get into. There isn't one single defined way to make it in opera or music. It's not like working for a company where there is a formula for success. The path isn't the same for everyone. The most important thing for a young singer to know is who you are. Know your place. Know your style and repertoire. It's also important to exercise patience and that is one thing agents and coaches will tell you – be patient.
Once you've discovered yourself, it's about maintaining your level. Constantly training your voice to fill a hall like Blaisdell or even bigger. By being patient you're able to develop and practice the works you should be performing at your age. In opera, you don't have the luxury of amplification or technology to carry your voice, so it's about training your voice to handle large venues and maintaining the level of performance.
"Rigoletto" in Concert
Closing out the 2015-16 opera season, Hawaii Opera Theatre brings home Hawaii's own internationally acclaimed baritone Quinn Kelsey to perform live in concert in "Rigoletto" for one night only.
This live concert performance of Verdi's iconic masterpiece will be led by Maestro Hal France, who opened this season with "The Magic Flute." Maestro leads a talented cast of singers making their HOT debuts: Nadine Sierra, Barry Banks, Matthew Treviño and Cynthia Hanna.
Completing the cast is none other than HOT favorite and Quinn's sister, Blythe I. Kelsey, who mesmerized audiences as the Third Lady in "The Magic Flute."
Enter to win a pair of tickets to "Rigoletto" for Sunday, June 26, at 4:00 p.m. at Blaisdell Concert Hall.
Contest ends Friday, June 24, 2016 at Noon.