Caffeine fix: Kailua has a new coffee truck
Seaglass Coffee is vegan and guess what? They have ube lattes and charcoal drinks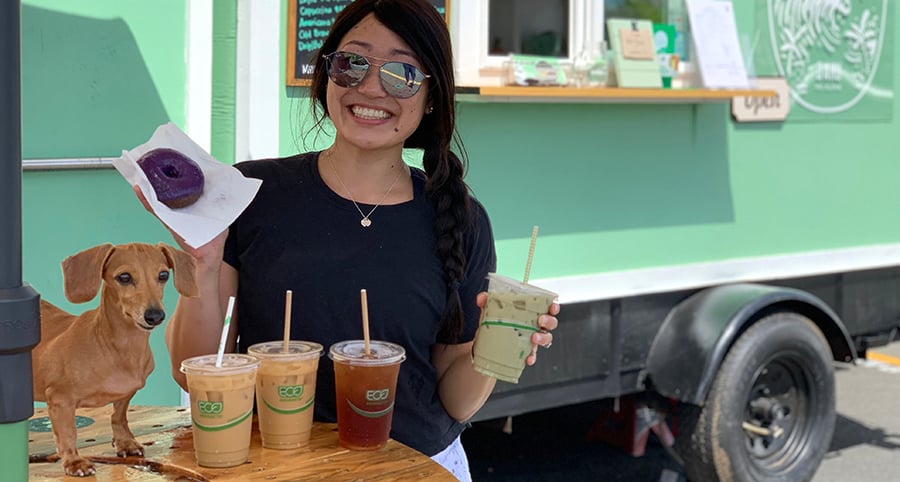 I love starting my day with coffee, so much that I often order Americano or espresso for the caffeine content even though I don't enjoy the bitter taste. What I really love are Frappuccinos, but the high sugar content means I don't drink those daily.
So when I found out about the ube lattes at Seaglass Coffee, a truck on the other side of the island from where I live in Pearl City, I had to check it out.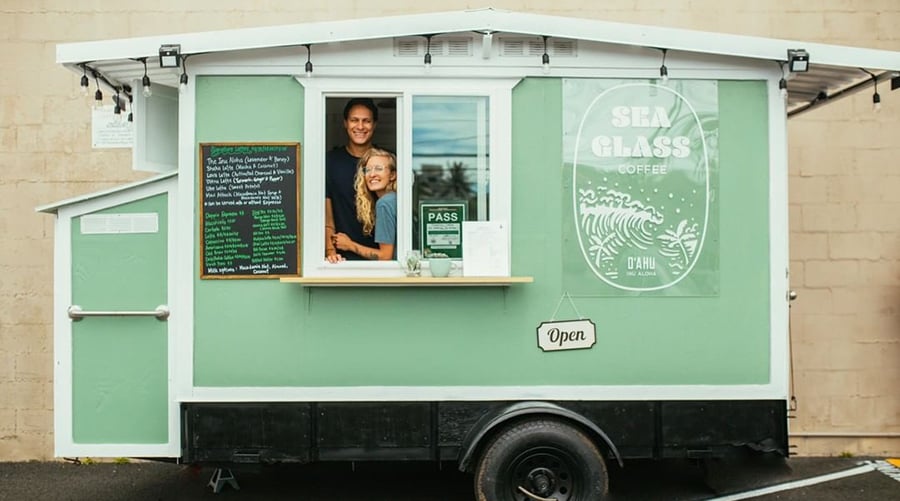 Seaglass is actually a coffee trailer, not a cafe or storefront. It's easy to miss because it's in the back of a parking lot and not visible from the road. Just set your GPS to the address on Oneawa Street (at the bottom of this post) and it'll take you to the right parking lot by Frost Kailua.
Hannah Selby started Seaglass in May. Having worked at a coffee shop, she loved how coffee brought people together and dreamed of opening her own place. When she found the seaglass-green trailer, the name was a natural — plus it alluded to beach cleanups and Selby's other eco-friendly pursuits. And in keeping with her lifestyle, Seaglass specializes in plant-based coffee drinks.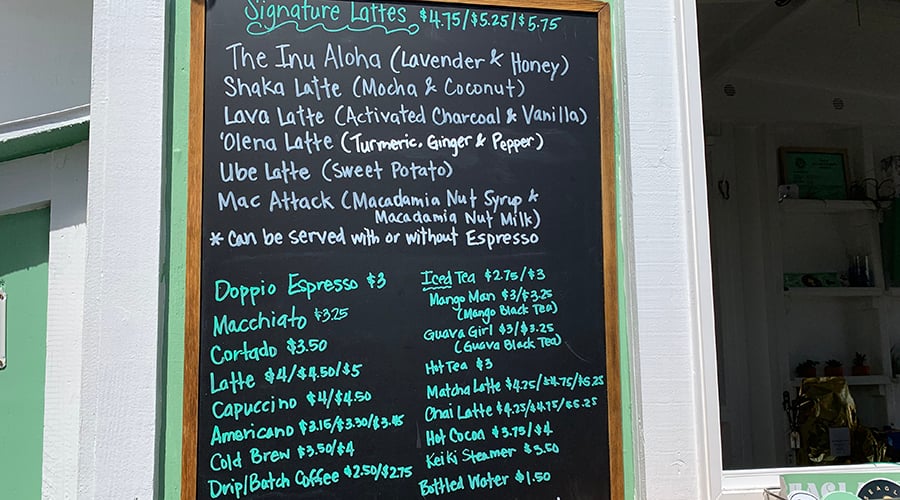 Seaglass' menu of Hawaiian-themed lattes ls led by the best-selling ube (purple sweet potato) latte and the Mac Attack, made with macadamia nut syrup and macadamia nut milk. Mac nut milk, super smooth and creamy, is one of the options for the dairy-sensitive, along with almond and coconut milks. I like to take my time drinking lattes, and while those made with regular milk spoil faster, lattes with nut milks stay delicious for longer.
I knew I wanted to try the ube latte as soon as I saw it on Seaglass' Instagram. I recently started getting into ube but sometimes find the taste too strong or sweet. Seaglass' ube latte is perfect – the ube flavor is there, it's not overly sweet and I can still taste the coffee.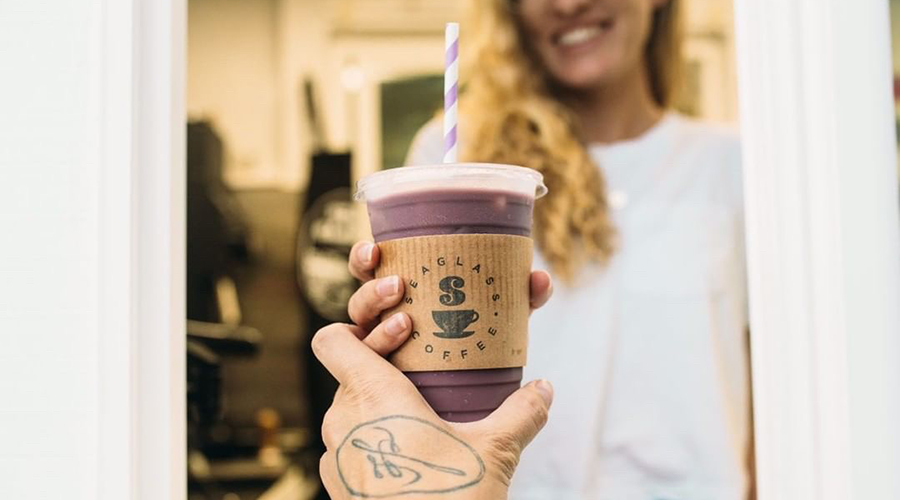 I couldn't wait to go back to the trailer and on my next visit ordered four drinks. After a 12-hour night shift as a nurse, I needed caffeine!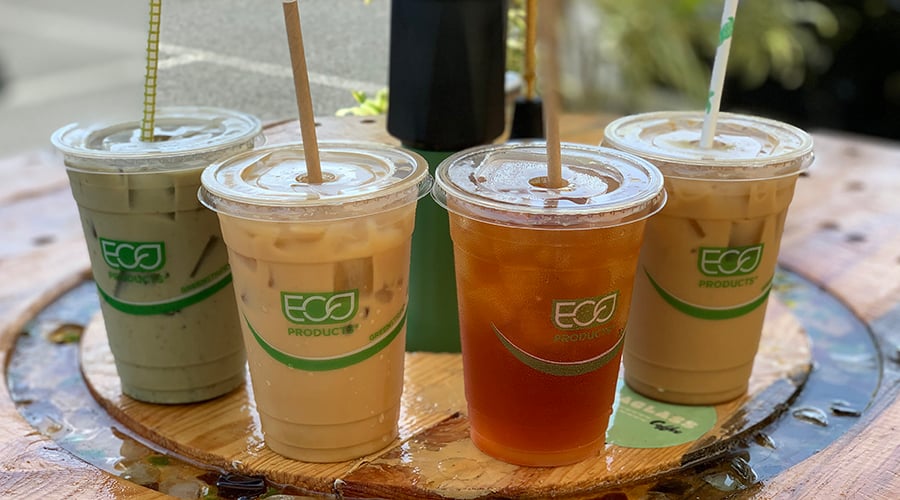 My current favorite is Inu Aloha. I love the lavender aroma and the honey really complements the lavender flavor. The addition of macnut milk really made it so flavorful. Mac Attack ($4.75) has a nice nutty flavor from the mac nut syrup and mac nut milk, with a creamy texture and a strong mac nut flavor.
Mango Man is a mango black tea; it's super refreshing with a sweet mango taste and the perfect drink to cool down with on a hot summer day. If you want a drink without a strong coffee taste, the matcha latte ($4.25) is a great option, unsweetened or with simple syrups, agave, or honey. There's also chai latte, hot chocolate and other drinks available for non-coffee drinkers, plus other teas.
Pastries are available daily from Shortcakes Hawaii, a local company specializing in vegan pastries with organic ingredients. I got the vegan ube cake donut ($3.50) with ube glaze. Talk about purple!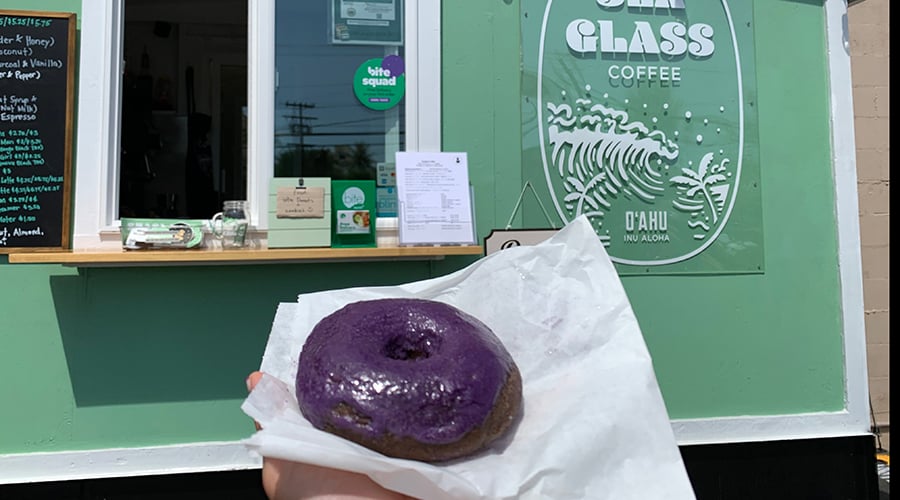 The ube donut is ultra dense, super sweet and satisfying. The ube flavor is very strong, but I still enjoyed it. If you love ube, I recommend getting it.
All the lattes and teas I've tried so far are amazing, super flavorful and not too sweet. I have yet to try the Lava Latte made with activated charcoal, a great detox, and the Olena Latte with turmeric, ginger and pepper that aid in digestion. I'm looking forward to trying everything!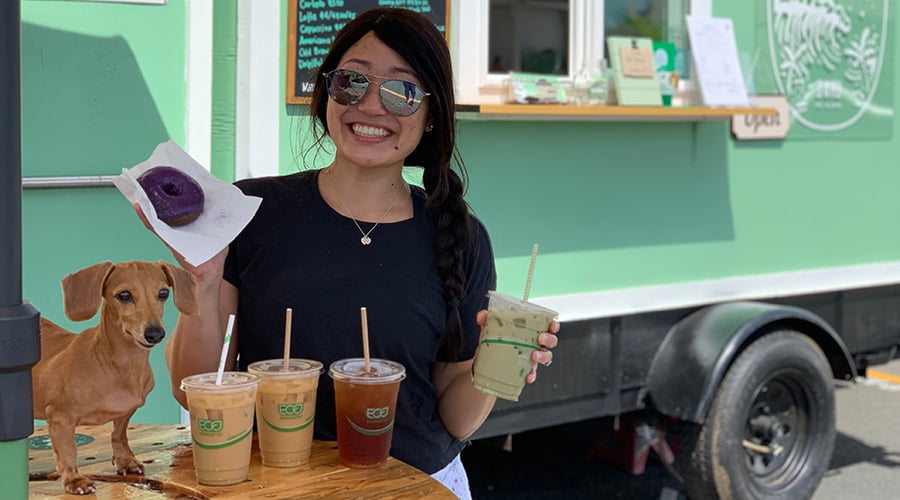 Seaglass Coffee
33 Oneawa St.
Kailua
https://www.seaglass-coffee.com/
Mon-Fri 7 a.m.-1 p.m., Sat-Sun 8 a.m.-1 p.m.