Buttery garlic shrimp stay inside one burger now
Mahaloha's garlic butter shrimp burger stay big on taste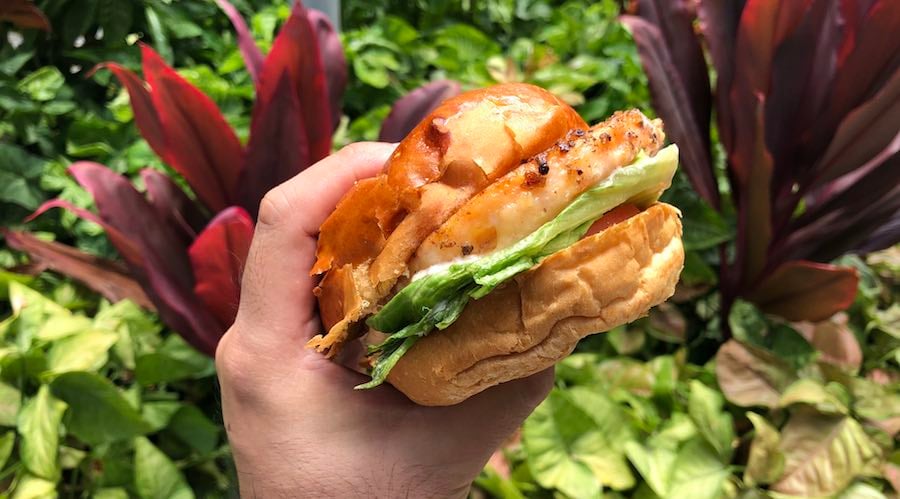 I used to associate garlic butter shrimp with tourists, cuz they da ones who drive all da way to da North Shore for stop at da shrimp trucks for get 'em. But then one funny thing wen happen. Da ting wen catch on with locals too. Like da kine local people I know. Like I get friends who make da around-da-island trip SPECIAL for go grab some Romy's or Giovanni's!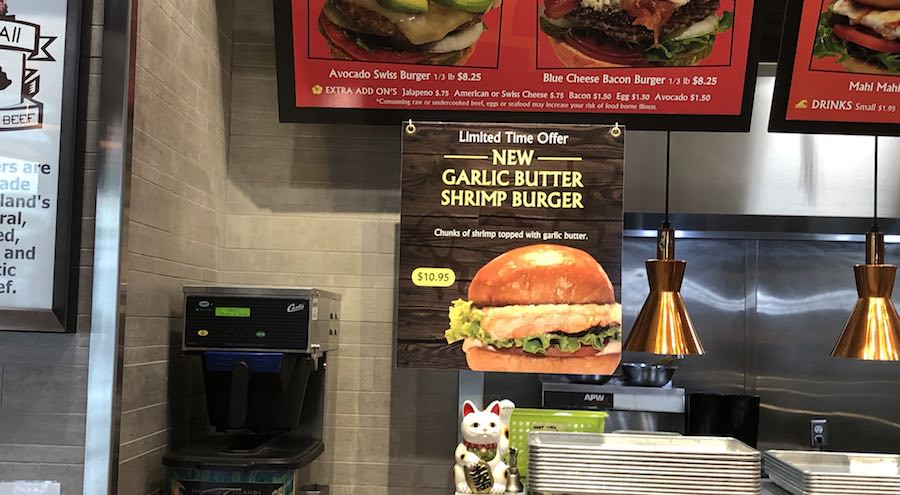 So gradually, my view on garlic butter shrimp has changed. And me, I get excited whenever I find new spins on local foods. Das why when I saw da sign for Mahaloha's garlic butter shrimp burger couple few weeks ago, I RAN to da counter only for be disappointed when da girl said they RAN out of garlic! She said, "I think the cook can still make it, just without the garlic." "Uh, das kind of one of da main in-gre-da-ments, no?" I said and decided for wait till next time.
The next time when I went, da first thing I asked wuz, "You guys get garlic?" Had one different girl so I think she thought I wuz weird. And probably even weirder when I asked, "What about butter … and shrimp … and buns?" Had to make sure, right? I wanted da full experience.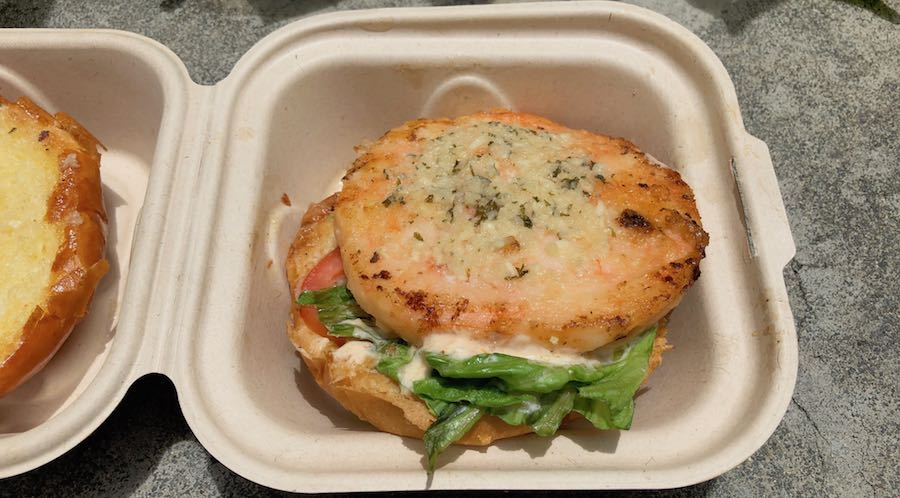 Priced at $10.95 it wuz one of their pricier burgers, but I definitely wuzn't disappointed. I thought it might be like da shrimp burger they used to get at Byron's. I get fond memories of da Byron's one. But this one's different and waaaaay mo' bettah.
This Mahaloha one isn't panko-crusted. It's not just shrimp tempura in between two buns. I dunno what kine sorcery they use, but Mahaloha somehow managed for smoosh a whole bunch of shrimp together for form one patty where da ting's not all falling apart, and it somehow still has da same texture as if you eating regular shrimp. And no shells or tails. It's pretty amazing.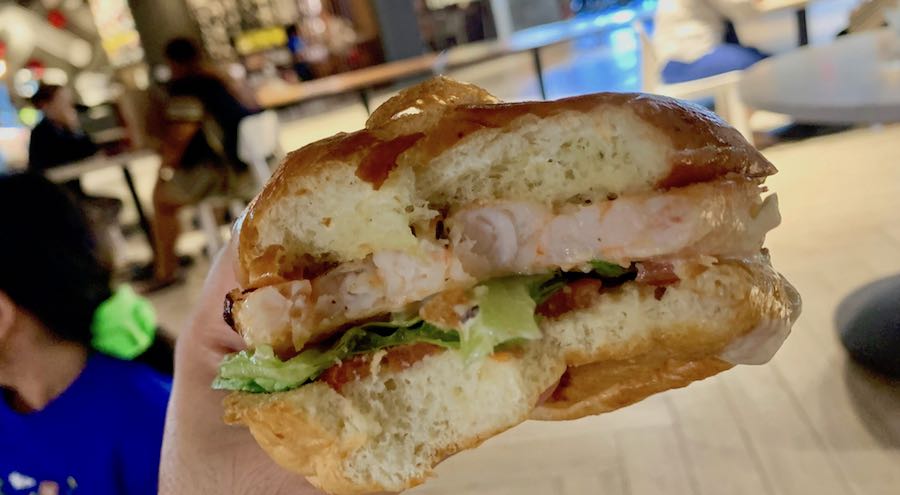 Taste-wise, you can satisfy your garlic butter shrimp craving, but you just get it between buns. Da burger comes with lettuce, tomato and their garlic butter sauce. It also has some kinda creamy mayo-based sauce. I thought I detected some sriracha in da sauce, but da girl told me it wuzn't spicy. So I not sure if get or no more. If get, it's only real little bit sukoshi kine hot.
Da sign warns that da garlic butter shrimp burger only going around for one limited time. I asked da girl how long is that. She said she thinks until da end of summer. But I hoping it's going prove popular enough for make 'em on top their regular menu.
Ironic observation: Cuz Mahaloha get locations where get lotta tourists, they wuz probably hoping their garlic butter shrimp burger wuz going be popular with da visitors. But due to da pandemic, it's probably more locals who are eating this right now. So while it wuz tourists who made shrimp truck garlic butter shrimp popular with locals, it's going take locals to make this garlic shrimp burger stick around for tourists to get da chance for eat this later.
So to me, garlic butter shrimp is local. But no get me started about pancakes and acai bowls. Lol.
Mahaloha Burger
Ala Moana Center Lanai food court
1450 Ala Moana Blvd.
Mon-Sat 9:30 a.m.-9 p.m.
Sun 10 a.m.-7 p.m.
Kailua Town
143 Hekili St.
Sun-Thurs 11 a.m.-8 p.m.
Fri-Sat 11 a.m.-9 p.m.
Royal Hawaiian Shopping Center location currently closed