Build Your Own Fresh Pasta Bowls at New Mio Pastalogy
Freshly made pastas, sauces and breads are all to-go in McCully.
We're seeing a huge shift in our dining scene as high-end restaurants come up with ways to reach a more budget-conscious crowd. Takeout specials have replaced white tablecloths at M by Chef Mavro, 53 by the Sea and Dean & DeLuca have weekly farmers market stalls, and MW Restaurant's all-takeout format features bentos and fresh produce alongside tomahawk steaks and pricey wines. In McCully, the chef of Kakaako's Vein restaurant opened Mio Pastalogy on Nov. 14 with Japanese-leaning pasta and baked goods to go.
Located in the former Aunty's Ramen space, Mio Pastalogy continues Aunty's build-your-own format, except with pasta. Think of it as Angelo Pietro's meets Chipotle: You can choose your pasta shape, sauce, proteins, vegetables and cheese topping to craft your own bowl. If decision paralysis grips you, there are pre-configured pasta bowls for $11.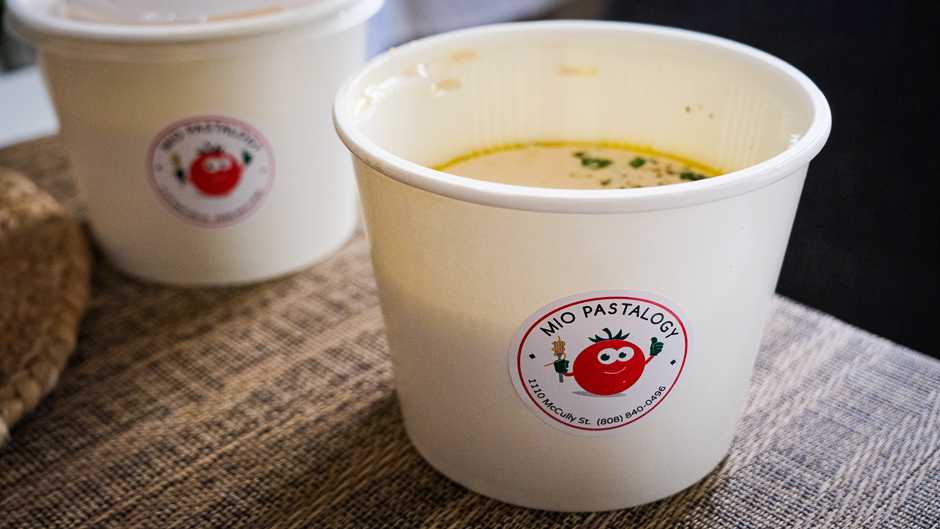 The pasta, made in-house daily, is cooked al dente for each order. Shapes include spaghetti, pappardelle, linguine, rigatoni, casarecce and tagliatelle ($4). Mix and match them with one of six sauces: pomodoro, a classic tomato sauce; bolognese, a tomato-based meat sauce; panna, a cream sauce akin to alfredo; Aurora, a marbled mix of the pomodoro and panna sauces; pesto, an herbaceous basil-macadamia nut sauce; and aglio y olio, a classic Italian sauce made with garlic and olive oil ($3 to $4 each). From there, you can add on proteins like chicken, Italian sausage, arabiki or mentaiko ($2 each) and vegetables ($1.25 each). The last step, adding parmesan or ricotta cheese, is optional ($1 each).
---
SEE ALSO: Mad Bene's legit East Coast Italian is the best thing in Kapolei
---
In the future, Mio plans to sell its fresh raw pasta so you can prepare your own creations at home.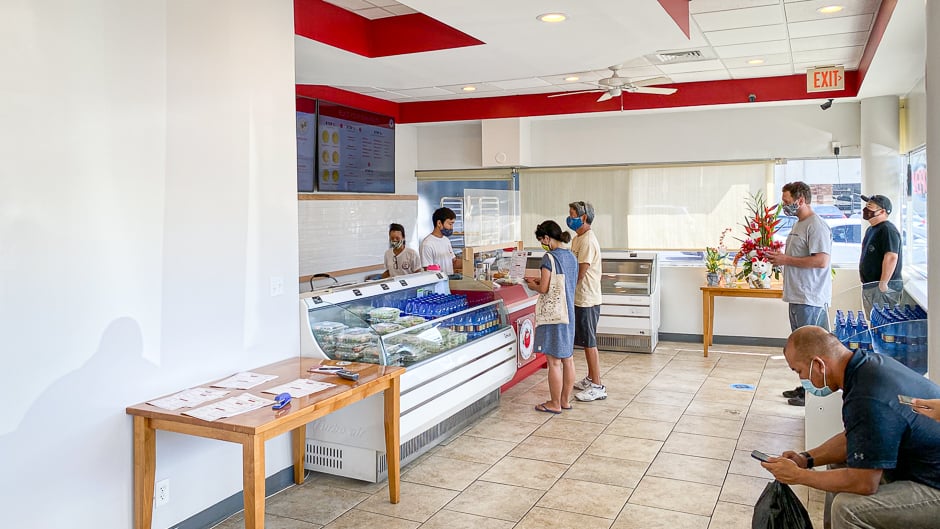 For now, all meals are packed to go. The pasta and proteins are separated from the sauce with a tray that sits on the bowl's rim. This preserves the pasta's al dente texture and keeps the sauce contained until you're ready to mix the two. It's also convenient if you choose to warm your pasta in the pan to marry the sauce and noodles.
On my first visit, I try the eggplant bolognese that Mio pairs with pappardelle ($11). By the time I get home, a seven-minute drive away, the wide ribbons of pasta have clumped together, so I transfer them to a bigger bowl to mix in the meat sauce. Unfortunately, the pasta doesn't mix well, and I cut it up to distribute the sauce better. Texture-wise, the noodles have a lovely elastic bite, and the smooth meat sauce with sauteed eggplant is savory if a bit acidic from the tomatoes. I imagine this combo could benefit from a dollop of fresh, milky ricotta.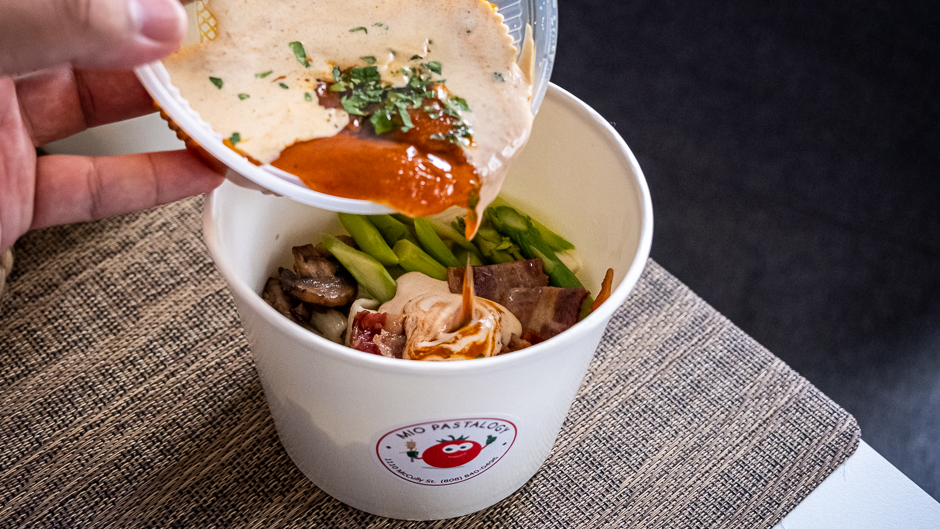 I also order a custom bowl of the casarecce, a Sicilian pasta shape derived from the word meaning "homemade," with Aurora sauce, Italian sausage and mushrooms ($11.50). Because these noodles are shorter and thinner, I have an easier time mixing them. Pouring the red and white Aurora sauce over the pasta, it's evident where its name comes from. The heavier, red pomodoro blends with the panna cream sauce in a marble-like fashion, spreading like a delicious aurora. I prefer this combo over the bolognese pappardelle for its better eating experience and balanced flavor.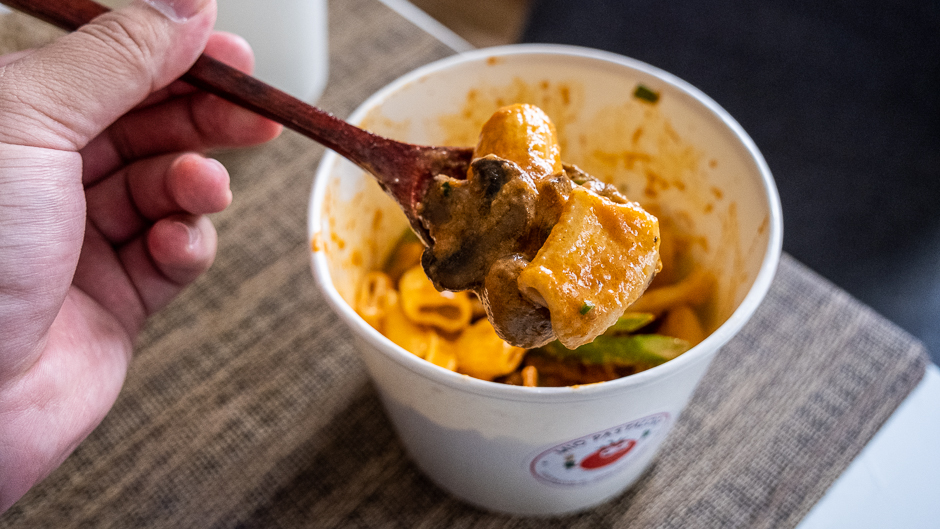 If the rack of bread next to the counter isn't tempting enough for you, allow me to nudge you a bit. The rosemary focaccia (3 pieces for $2.50) is pillowy soft with flecks of sea salt and rosemary scattered over the top. The baguette and ciabatta ($2.50 each) are similar, with an airy crumb and pliable crust – pop them into the oven to toast up and dip into olive oil with balsamic vinegar, or load it up with Mio's extra strength garlic butter ($1.50). I'm told the pastry team is from the Japanese-style bakehouse Bakery & Table, which explains why the bread is top-notch.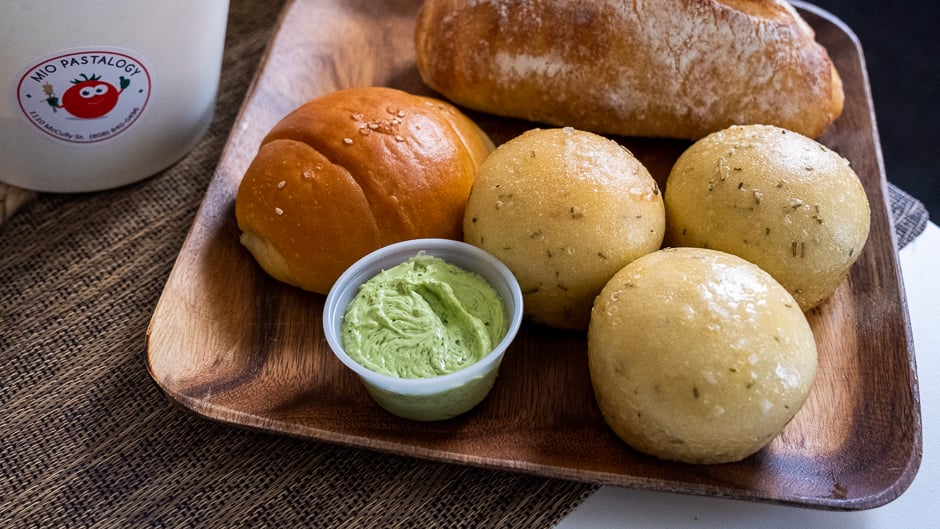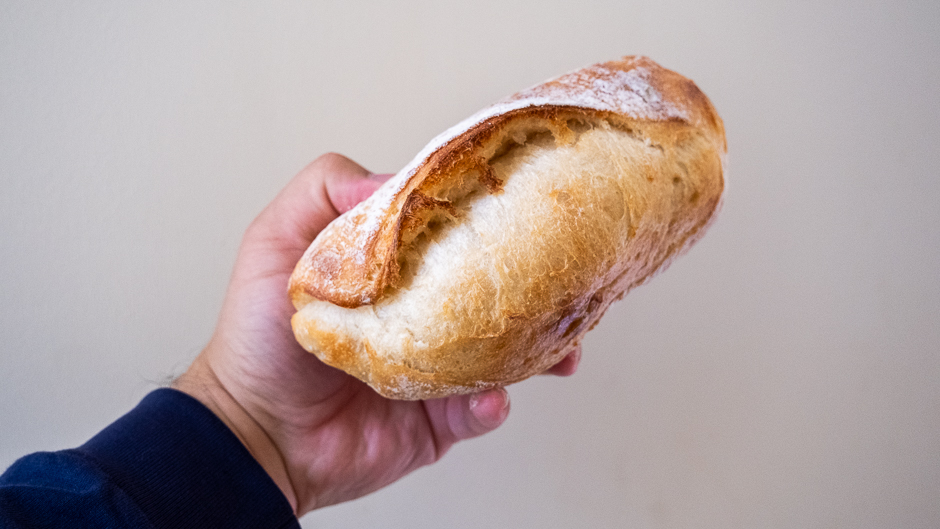 I go back a few days later to try more and end up with the panna chicken signature pasta ($11) that's akin to a fettuccine alfredo with herbed chicken thigh. On its own, the panna sauce is one-dimensional – it's neither too rich nor flavorful, and in my opinion, does better when it's part of the Aurora sauce. I wouldn't order this combo again and would rather build my own bowl. Popular options include mentaiko, bacon, asparagus and mushrooms.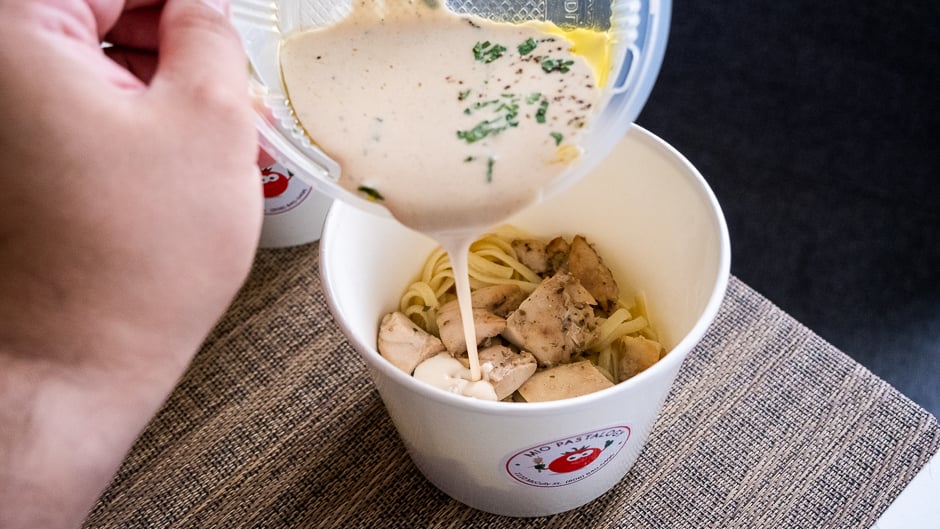 Mio Pastalogy is the brainchild of Dell Valdez, the chef at Vein Kakaako and pop-up Izakaya Kawagoe, but it's only the first part of this story. Come December, Dell's Kitchen and Bakery will open in the adjacent dining room with a menu of Japanese-local comfort. A preliminary version lists loco moco, hayashi beef rice, nori chicken, miso salmon and more, including vegetarian alternatives. All plates, I'm told, will be served with Japanese-style potato salad, white rice and a daily tsukemono. It feels very Pioneer Saloon, and honestly, we could use more of those. If dine-in becomes an option, these will make for homey teishoku sets a la Yajima-ya and I don't know what's more comforting than that.
---
SEE ALSO: Chef Mavro is now the less pricey M by Chef Mavro
---
I love the shift from fancy dine-in to casual takeout. For me, Mio's affordable price point for good pasta and its convenient location in town slots easily into my takeout rotation when I'm looking for a solid meal to bring home.
Mio Pastalogy
1110 McCully St.
McCully
Daily 10:30 a.m.-8 p.m.
miopastalogy.com