Bruce Aidells and Ryan Farr come to Honolulu for The Great Meat Dinner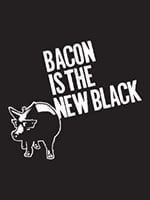 Two champions of whole animal cooking and butchery are coming to town: Bruce Aidells, founder of Aidells Sausage Company and author of The Great Meat Cookbook (who came to Honolulu two years ago to teach a charcuterie class) and Ryan Farr, chef and butcher of 4505 Meats, author of Whole Beast Butchery and darling of San Francisco's meat-obsessed (his chicharrones are the lightest I've ever had, like clouds of porky perfume). If Aidell paved the way for meat cookery and charcuterie in America, then Farr represents the new guard: the butcher as celebrity, pork as fetish. Both advocate for knowing your meat producer and head-to-tail cooking.
Their headlining event: a collaborative dinner with Town chefs Ed Kenney and Dave Caldiero. The dinner includes a Shinsato Hog Farm charcuterie board, Lanai venison tartare, Kuahiwi Ranch braised beef neck with hand-cut egg noodles, Pu'uwai Ranch lamb three ways—"Lambchetta," merguez sausage and grilled leg of lamb—and a guava-fromage pie with a lard crust. The dinner ($165) is a benefit for the Hawaii Culinary Education Foundation.
While in town, Aidell and Farr will also lead workshops for culinary professionals and students.
The Great Meat Dinner at Town, $165, Saturday April 27, seatings at 5:30, 6:30, 7:30 and 8:30. Tickets must be purchased in advance at www.eventbrite.com/event/5798578705/affiliate1
Professional workshop at KCC, Sunday April 28, 3:30 p.m. To register: library.constantcontact.com/download/get/file/1101294877941-349/Chef+Invite.pdf
Culinary student workshop at KCC, Monday April 29, noon.