Broke da mouth: Da one that got away
After one day on Kauai, da famous ahi dip from Mark's Place was in my hands! But den ...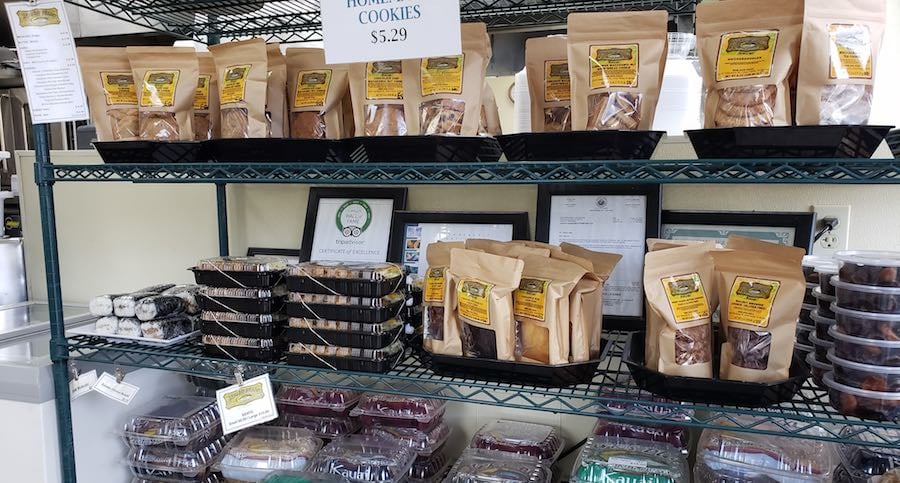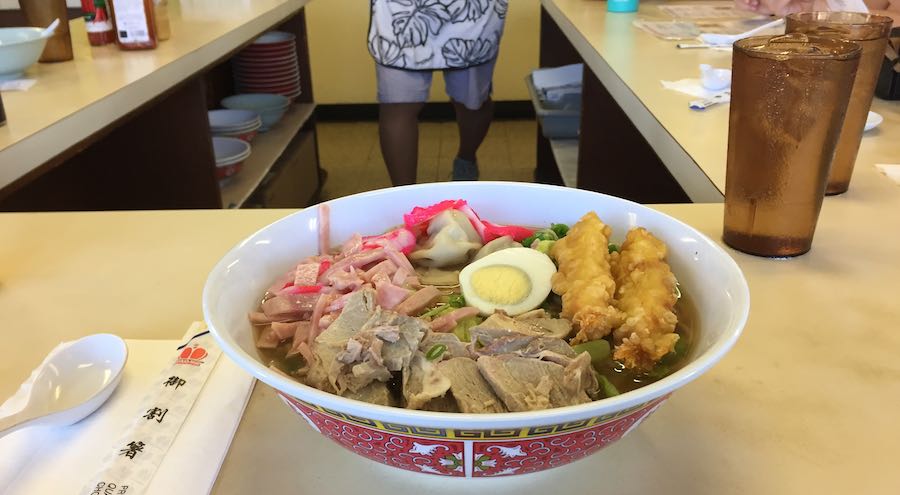 My go-to omiyage for bring back from Kauai had always been Hamura Saimin noodles. Whenever we went Kauai we always made sure for eat Hamura Saimin at least couple few times, then on our last day we would always stop at their noodle factory for buy some boxes of noddles for bring back home to Oahu. But it had been several years since I been to Kauai. And tings change.
Recently I had for go Kauai for give do one pidgin reading at Kauai Community College. Even though I wuz only going be there for couple few hours, I still had to look for omiyage for bring back home. I tink das one rule of being local. Might even be one law. I wuz so happy that my Kauai CC tour guide Christina Mar said we had time for eat at Hamura's then go look for my extra noodles.
Hamura's wuz just as I remembered it. But I saw something that wuz new to me, so I decided to go with that. I no tink had da Sumo da last time I went. Da Sumo Saimin Special ($18) wuz supposed to be more bigger than da X-tra Large, but I figured I'd chance 'em!
Wuz funny cuz when I ordered 'em, da waitress squinted her eyes at me, sized me up, went away, then came back with da empty bowl that da Sumo would come in and she said, "You shua?" So I laughed and said, "Yeah! Why, you tink I no can handle?" I laughed, but da waitress just shook her head. Christina looked doubtful too, but I told her back home, I can almost finish Shiro's Dodonpa, da ultimate saimin, so I thought maybe get chance.
No more chance. I wuz soundly defeated. Especially since I wanted for save room for one slice of Lilikoi Chiffon Pie for dessert. Aftah we wuz pau, Christina asked da waitress where their factory wuz. I guess she never know cuz Kauai locals no need buy noodles, they can just go Hamura's whenever they want. Come for find out da waitress said they no sell their noodles anymore. Now I wuz stuck. Little time and no clue what for get for omiyage. Christina nevah know too so she texted her food savvy colleague Jeff Mexia. He said, "No worry, I take 'em go Mark's place."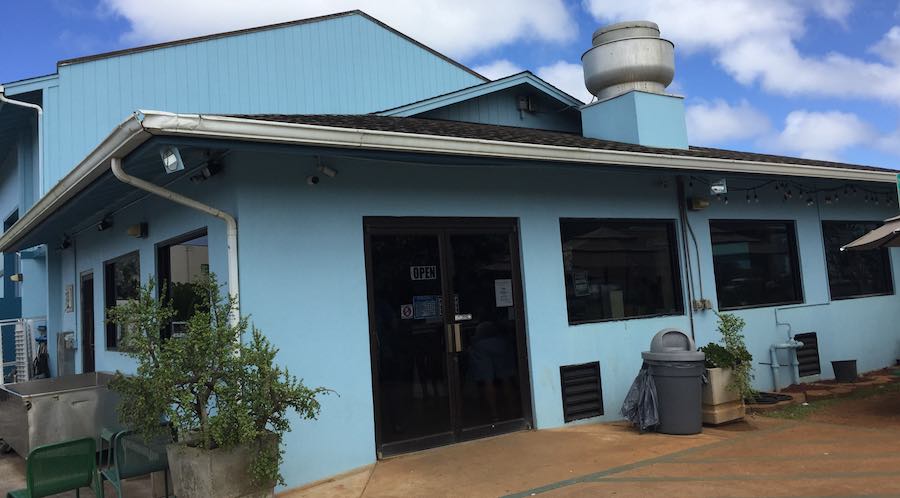 Mark's Place stay hidden away in da Puhi industrial area in da town of Lihue. No more any signage on da front of da building itself. Get one small sign on da back, but you kinda gotta know it's dea. Jeff told me they known for their plate lunches, but he explained that Christina never suggest bringing me dea for lunch cuz no more place for sit down. Jeff said Mark's is also known for their baked goods, which would make da perfect omiyage and their dried fish stay good too he said. Honestly, so many tings sounded good. I got da cinnamon macadamia nut shortbread cookies, tropical chocolate bars, white chocolate granola bars, strawberry butter mochi, dried ahi, sakura boshi.
I wuz worried that I might choose junk, but Jeff reassured me, "Really, no matter what you choose, no can go wrong."
By chance, it turned out my reading wuz going be in da Kauai Community College cafeteria. One unusual venue, but as fate would have it, that wuz da room they could get. It turned out to be fortuitous, cuz right next door to my reading wuz da classroom of da head of their culinary program, Mark Oyama, da Mark of Mark's Place!
Noticing that I wuz all star struck, Jeff asked, "Why, you like meet Mark?" Naturally I said, "Shooooots."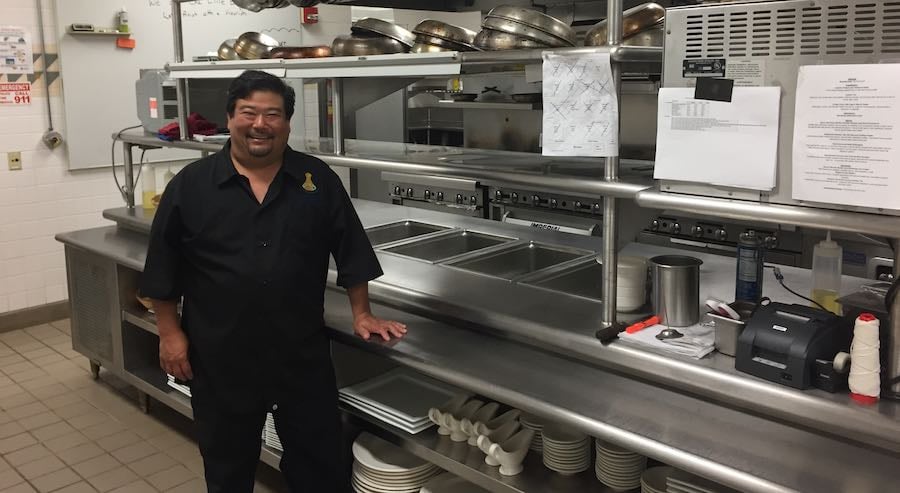 So Jeff just called up Mark. "Eh Mark, I with Lee Tonouchi, one pidgin writer. He like meet you." And das all it took. I would've just been happy for shake Mark's hand, but ho, he gave me one full on tour of his kitchen at da college and told me about their culinary program and what wuz going be on top his students' final cooking exam. Lol. He even told me for go stop by his place again after my reading and he wuz going hook me up with some of his famous ahi dip for bring back.
So after my reading Jeff took me back to Mark's Place where had his special dip waiting for me. I asked da girl, did Chef Mark make this himself for me? She said no, but he put it in da bag himself and wrote my name on top. Lol.
When we got to da airport, I wuz on cloud nine, cuz everyting went great and looked like my return trip wuz going be smooth sailing cuz da TSA line wuz way shorter than it wuz earlier that day. I wuz feeling so much love, cuz everybody I met on Kauai wuz so nice. Unfortunately I encountered quite possibly da only man on Kauai who wuzn't nice.
Da Kauai TSA man wouldn't let me bring my dip, brah. I wuz all like, I ended up full on name dropping and everyting, doing all I could to keep 'em. I told da TSA guy, "Brah, chef Mark made that special for me you know!" (And I wuzn't lying cuz chef Mark did put 'em in da package personally).
Sigh, I had to surrender it. Das why hard. Bye ahi dip.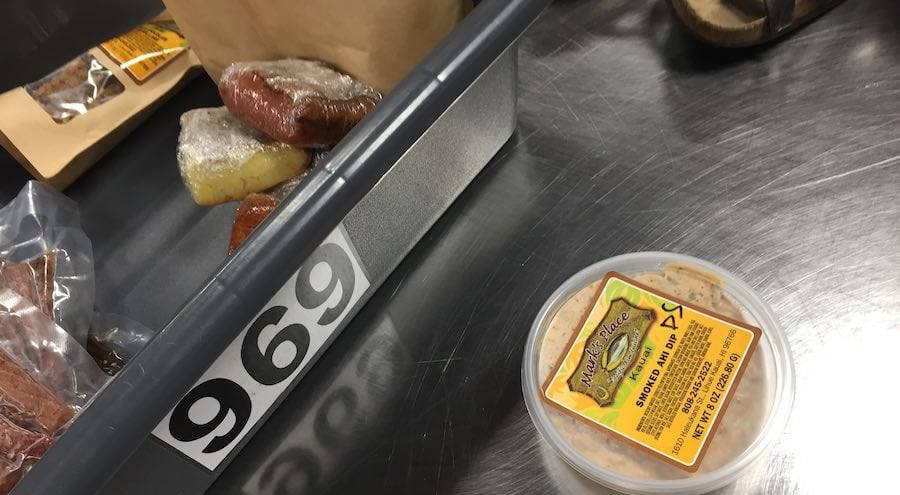 I never try everyting I brought back, cuz I had to give 'em away, but people tell me they full on loved it all. Of da ones I did try, da strawberry buttter mochi wuz really good. I never had that flavor before. And da sakura boshi wuz da perfect pupu.
I no can wait for go Kauai again. But I tink next time I go, I going buy at least buy at least two of everyting from Mark's Place. Cuz I like eat some too, right. And I going make sure I bring suitcase. Ahi dip, next time you will be mine.