Brewers' tips and picks for the Honolulu on Tap Beer Festival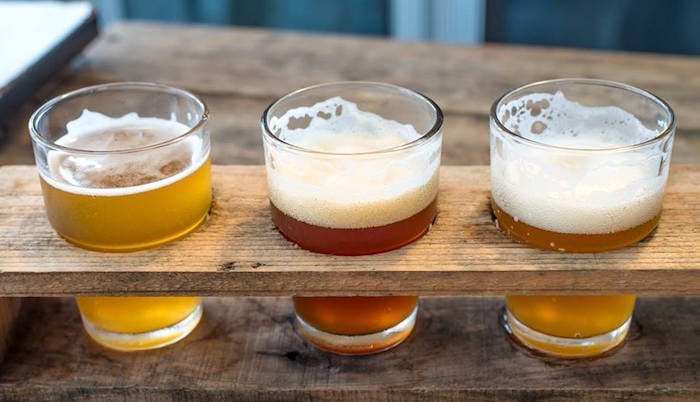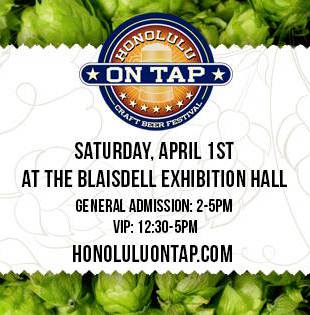 By Will McGough
Special to Frolic Hawaii
We've all felt the excitement over the past few months as Oahu's craft beer scene has welcomed new pubs and launched new beers. I suppose it's fitting, then, that we kick off the spring drinking season with the Honolulu On Tap Craft Beer Festival this Saturday, April 1 at the Blaisdell Exhibition Hall.
Amid the 130-plus beers from 65 U.S. breweries, I'm looking forward to seeing a bunch of our Oahu brewers in one place, including Lanikai Brewing, Home of the Brave, Waikiki Brewing, Stewbum & Stonewall and Honolulu Beerworks. It's cool to show off our growing scene to out-of-town brewers, who may have visited in previous years when our representation was not as strong.
I'm also excited to check out what's pouring at Big Island Brewhaus' booth. I was able to visit their brewpub in Waimea a few weeks ago (you should go when you're on Big Island) and I am pumped to dive into more of their stuff on Saturday.
The event is sold out, so if you're one of the lucky ones who got your tickets early, here's a guide from those who know the beer scene best. We got in touch with a few Oahu brewers to see what they're looking forward to, what they're pouring and what advice they have for attendees.
Me? Well, I've already started hydrating ….
Steve Haumschild, Lanikai Brewing
Looking forward to: For me, it's always what's local first, as it's the freshest option and the team I root for the hardest. That said, I always check out Breakside, Gigantic, Cascade, Midnight Sun, and Almanac to see what's new with them. They always put out quality craft.
Advice: 1) I suggest to all attendees to be able to explore out of your comfort zone for beers and broaden your beer knowledge. It's easy to always reach for your IPA, imperial stout or blonde ale as a safe play, but beer festivals allow you to explore new and exciting flavors that you would otherwise pass by.
2) Be fully prepared for "palate fatigue." Even the pros get it. If you sample 10 IPAs in a row, there is no way you will be able to remember the distinct nuances in each one. Try to drink some water, eat a snack or swap to another style to keep your palate fresh.
3) Speak to the brewers about their beers! As a brewer, I love to talk to participants. At the brewery, we are usually slammed with production and not able to spend time with people like we can at festivals. Participants should ask brewers about their beers, what their intent is and what the brewer is drinking.
What he's pouring: Twin Island Double American Wheat, Forever Summer POG

Glen Tomlinson, Home of the Brave Brewing
Looking forward to: Big Island Brewhaus coming over from the Big Island.
Advice: Get there as early as possible. The line to get in last year stretched completely around the building. The people who paid the premium (VIP) got to drink and sample a lot more beer. The food lines were crazy, so eat before you come in. If you do want to eat, team up and have someone stand in line while you wait in the beer lines.
What he's pouring: Pilot Pale Ale, Charlie Brown Ale

Darren Garvey, Stewbum & Stonewall Brewing Co.
Looking forward to: Pele's Breath from Waikiki Brewing Co. They smoked their own grain with kiawe wood for this beer and I can't wait to taste the goodness. Also, High Voltage Winter IPA by Gigantic Brewing Co. to celebrate "winter" being officially over … not that it matters much here in Hawaii!
Advice: Have a game plan to sample your top 10 beers within the first 90 minutes or so … after that it usually goes downhill fast. And absolutely drink water between samples.
What he's pouring: The Smoking Cannon Imperial Stout, Batch 518 Pale Ale

Joe Lorenzen, Waikiki Brewing Co.
Looking forward to: Dia De Los Serranos from Green Flash. I've always been a sucker for chili beers. Honolulu Beerworks' Smokey McSmokerson is also on the short list. I've been wanting to try it since I first heard about it. With a name like that, how can you not?
Advice: As a general rule, two of my recommendations for tasting at beer fests are to make sure you try things that are unique, that you might not have access to if not for the festival, and to start with lighter beers before working into stronger, more robust and/or hoppy beers that will be heavier on the palate.
What he's pouring: Pele's Breath: Kiawe Smoked Imperial Red; Ala Moana Amber