Bonchon chicken is open. But read this first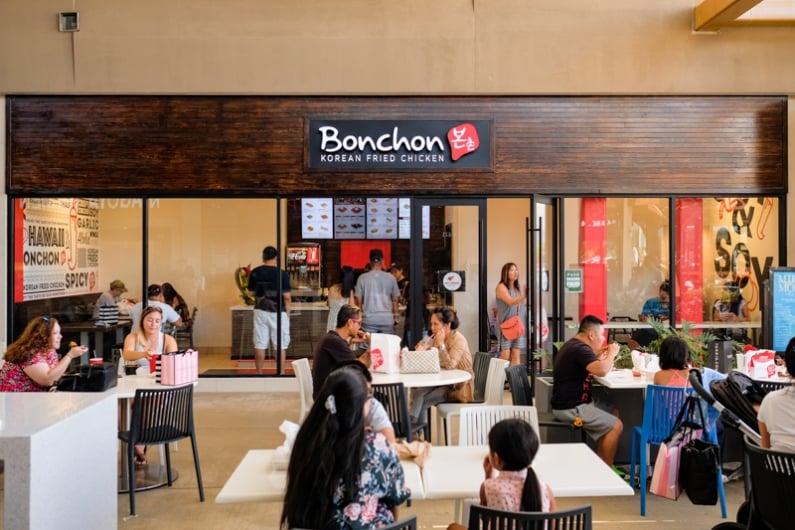 Consider this Part 1 of our look at the launch of Bonchon Kapolei. If you just want to read about the food, scroll to "the food," but be warned that you're missing a big part of the story saga: my full experience. Part 2 will follow my next visit at a later date. Stay tuned.

The experience
Bonchon Korean Fried Chicken opening their first location in Hawaii is a big clucking deal. For nearly a year, we drooled over mentions of this chain coming to Ka Makana Alii in Kapolei, especially us westsiders. When Bonchon started posting teasers on Facebook in mid-June, the excitement began to build.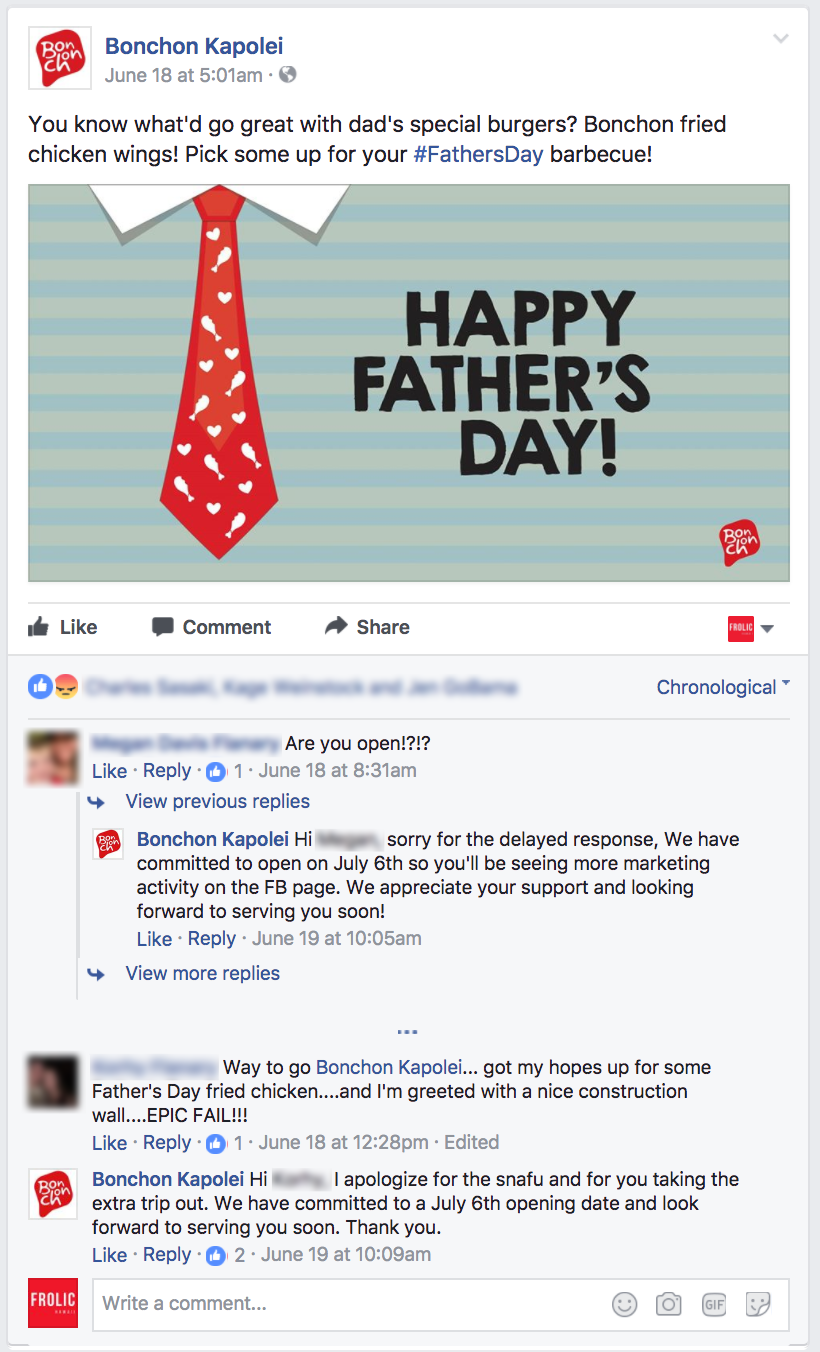 I hung on every Facebook post, as did others who inquired when they were opening. One post in particular told followers to come in and pick some wings up for Father's Day. Those who did were met with utter disappointment: not a tasty, open-for-business Bonchon, but a construction wall. I should have known this would be a precursor.
On July 6, Bonchon's opening day and coincidentally National Fried Chicken Day, I left the office early for a pau hana feast of chicken wings and pickled radish with some westside friends. I sent an invite out on Facebook to meet up at 6:15 p.m.
As I sat in traffic, pings on my post came in saying Bonchon was closing for the day. It turns out that during soft opening they were only open between 2 and 6 p.m. How did my friends know? There was a sign on their door. WHAT THE CLUCK? I wish I knew that before making plans, Bonchon.
Then, as if to rub salt in the gaping wound, my sister who works at the mall FaceTimed me to tell me that she was enjoying a soy garlic chicken wing – Bonchon employees dropped off samples to nearby store employees after they closed for the day. I went home tired and hungry. Not the way I had planned to spend National Fried Chicken Day.
Sunday comes and I'm finally able to get my taste! By now, I have been consumed with lust for fried chicken, anger for being denied the chance, and envy of my own sister who had a taste before me. It goes without saying that I've been through huli-huli hell and fire to get myself some Bonchon fried chicken. But this saga is not over.
Before I go any further, let me stress that I understand what a soft opening is. It's a time when restaurants ease into operations and work out kinks before announcing to the masses, "Hey, come and get it!" But usually soft openings are quiet and restaurants are discovered organically. Bonchon had been drumming up buzz via social media. And from an international chain with 223 locations spanning Bangkok to New York City, I expected a lot more coordination.
The food
Before ordering, I was quoted a wait time of 50 minutes to one hour before I would receive my food. I'd come this far, so there was no going back now. Luckily, the wait was just 40 minutes. They did forget my order of spicy and soy garlic wings, so I asked for a refund and was promptly assisted.
As of right now, there's only one reason I'm going back to Bonchon and it's the chicken. I mean, thank goodness the chicken actually lived up to all the hype. It's tender, twice-fried and coated in your choice of sweet soy garlic, spicy sauce or nothing at all. You can have boneless strips, drumettes or wings and even a mix of it all. As for Von's or Sam's Delicatessen, let's just say those aren't budging from my list of top 5 fried chicken. But for an option out west, I'm happy that Bonchon is less than 10 minutes from my house.
The popcorn chicken was hardly any meat and all batter. We either received the dregs of the bag or were duped by a very pretty menu photo. I think it's a combination of both.
The slider buns tasted as if they were previously frozen and defrosted in a microwave (read: not fresh). The chicken strip was cold to the bite and could have used a hit of spicy mayo. I would try these again to see if they improve, as they have potential.
I don't know what I expected from the shumai, but it totally tastes like the kind you get from the Walmart frozen section. Sorry, my dad wanted them.
Unless you order wings, drums or strips, you have to order pickled radish separately. Kimchi and other sides are also on the menu, but not worth the price for the size or quality. I'm spoiled with free banchan at other spots.
My only gripe with the bibimbap is that there's no gochujang sauce to mix into the rice bowl. Otherwise, for $16 it's a decent entree and has more substance than the $18 bulgogi plate.
For $18, I don't think I've felt more ripped off by a plate of food in my life. I expected a large plate full of bulgogi beef steaming with mushrooms, onions and tangy-sweet bulgogi sauce – you know, just like the menu photo. Instead, I got about 3 ounces of meat, a few steamed vegetables and two scoops of rice. I'm sorry Bonchon, but stick to chicken and lose the steamed veggies. Give us free kimchi and radish instead!
The bottom line is my high expectations were met with subpar results. The experience and food at Bonchon right now need improvement; they need time to get their groove going. I posted one photo about the long lines at Bonchon's soft opening on Sunday afternoon. It blew up with comments from readers who were just as excited or more excited than me, but I'm giving it to you honestly: Wait it out before you go. Don't spend over $100 on take-out food like me. Not yet.
I'm going to wait a while before I go in again for a fair assessment. I want to give this bird a chance to fly. But for now, that's the way the wing flaps.
PS: I just snuck a cold drumette from fridge. It's still crispy.
Bonchon Korean Fried Chicken
Ka Makana Alii
91-5431 Kapolei Pkwy
Kapolei
Soft open hours: 2 – 6 p.m. daily. Hours may change
www.bonchon.com
670-2611