Beyond kalbi & mandoo: Night at Duck Butt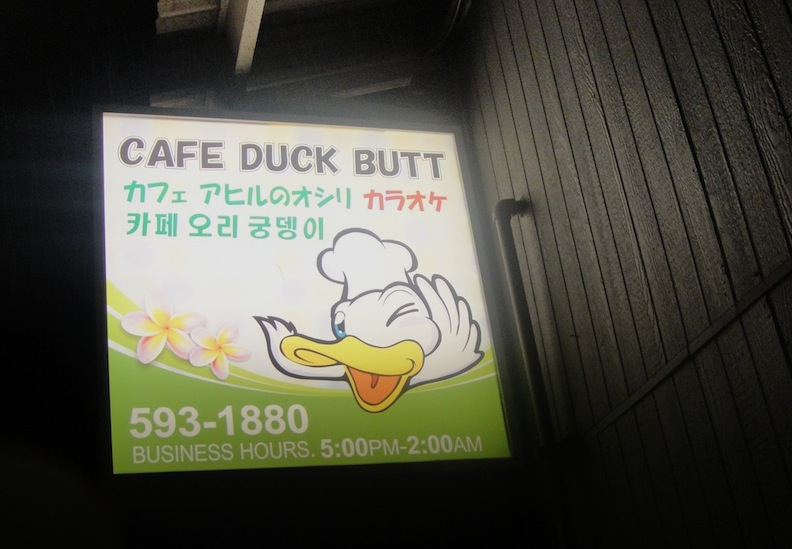 I remember the time I talked Anna, my hairstylist, into telling me what hard-core Korean dishes she orders when she goes out. She didn't want to tell me.
"Oh come on, Anna, Hawaii people know kalbi and mandoo, meat jun, fish jun, bibimbap, soft tofu chige. Tell me what Korean people like so I can try!"
"Not same, Mari. Local taste different from Korean taste."
"I know! That's why I want to know. Don't worry, I can handle."
A few days later, sitting in front of her recommended mix of fish skin, backbone and bean sprouts stir-fried with sea squirts, I realized how wise she was. For respite I hit the kimchee, which was the whole-cabbage kind. There were fermenting raw mussels hiding in the leaves.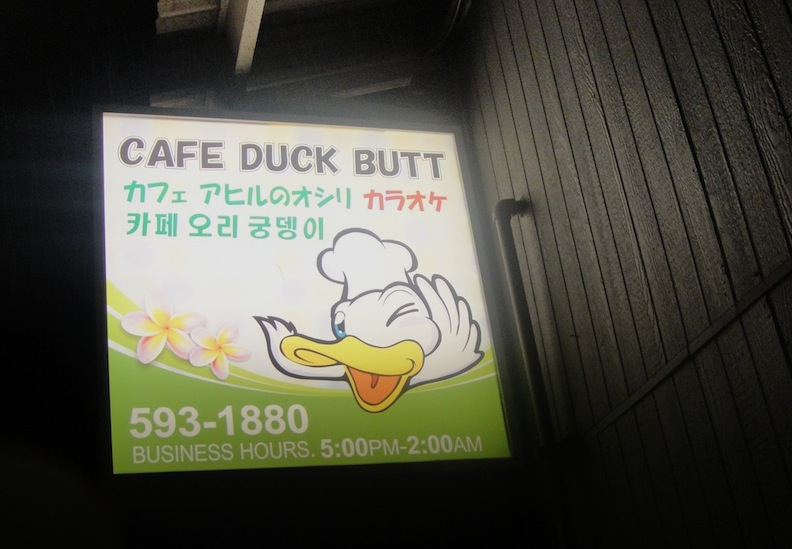 So I learned to rein it in a little. But since my amazing January eatfest through Seoul, I'm back to wanting more. Culinary Korea, beyond what most locals know. What Koreans really like. With food guides who can help bridge the gap.
Why Cafe Duck Butt? Lots of buzz, especially since new owners took over and introduced Korean tacos and other local-friendly grinds to the karaoke bar's menu last year. And what better way to go hard-core than with soju and Duck Butt's flavored sojus?
Besides, I remembered that on the night of Nonstop's launch party last September, my friend Myong Choi ordered a tableful of food at Duck Butt, remembered our party, ran over to Ka to help us celebrate, then back to Duck Butt for his soju and gizzards.
I wanted that. I wanted his guidance through all the oddly named red dishes on the Korean menu. And I wanted to find out what was on the other side when Michael Chong told me, "When we come here with local people, we order fried chicken and tacos. When we come here with Koreans, we order spicy squid and rabbokki."
It's only a start, but it's a delicious start. Here are my discoveries from two nights at Duck Butt.
Night at Duck Butt
Picture 1 of 20
Food guide Myong Choi and Nonstop's John Garcia, on board for my beyond-kalbi quest. Myong travels with lists of food quests and knows the K-restaurant scene as vice president of the Korean Chamber of Commerce. John loves kalbi so much, he wants it as his last meal before he dies. No kalbi tonight!
Cafe Duck Butt
901 Kawaiahao St.
808-593-1880