Best Takeout We Got This Month
Three burgers! Plus sushi, noodles and a bit of luxe headlined our favorite November takeout meals.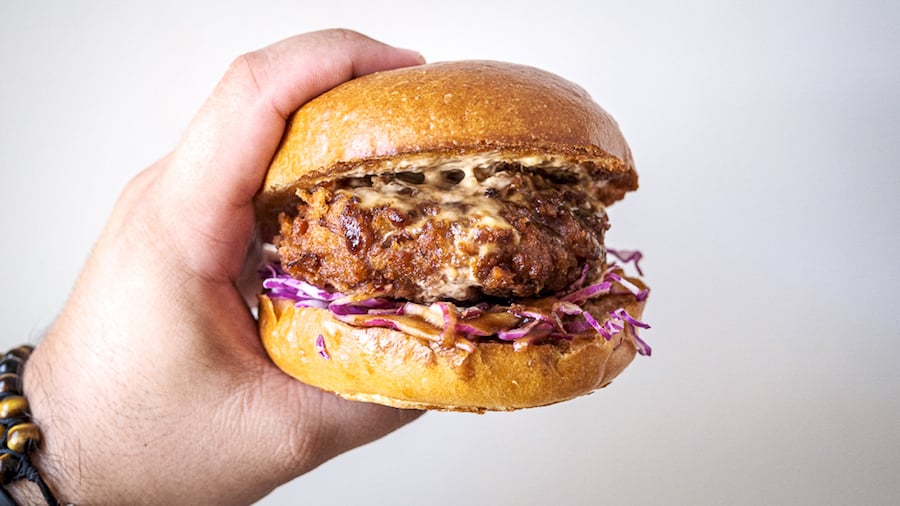 Ah, the joys of eating in—without cooking! Here are the most memorable meals we ate out of takeout containers in November.
'Ahi & Vegetable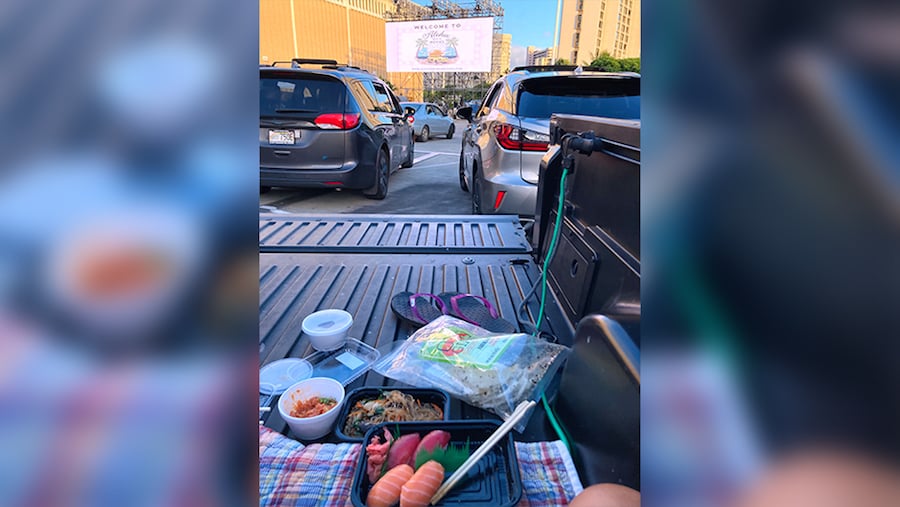 The best takeout experience I had this month was thanks to Hawai'i International Film Festival and 'Ahi & Vegetable. Only in Hawai'i could you be tailgating while watching a drive-in movie and eating 'Ahi & Vegetable's always auction-fresh, local 'ahi nigiri. We also ordered a side of spicy 'ahi, which was a pretty sizeable portion for $4, to eat with Ono Giant Shrimp Chips—another fabulous pairing. —Martha Cheng
Kapālama and Ala Moana Center, ahiandvegetable.com, @ahiandvegetable
C4 Table
It's interesting to see how this pandemic has caused all of us to kick into survival mode, exposing our weaknesses and our strengths.
Colin Hazama has really shown us the latter with the creation of his takeout business, C4 Table. I finally ordered from him recently, getting the 10-ounce lavender kiawe smoked prime rib with wild mushrooms and caramelized onions, roasted veggies, and cheesy lemon herb Yukon mash for $24. What a deal! The prime rib was juicy and super tasty, with an addicting savory flavor and texture. I was so excited to tear into it that I forgot to pour myself a glass of wine—and this fancy meal does deserve a glass. It's a good excuse for me to order it again! —Melissa Chang
Coco Bloom
A meal that combines two of my favorite foods is easily going to be one of my favorites. I've been going to Coco Bloom not only for my weekly salads and smoothies, but also for the monstrous menchi katsu burger ($13.50). It's worth the splurge with its thick, fried minced pork patty packed with diced onions and a hint of ginger, drizzled with secret sauce and crunchy red cabbage. The soft La Tour brioche bun is the perfect vessel for holding it all together. For a healthy little cafe like Coco Bloom, they sure know how to lure in the meatlovers like me. —Thomas Obungen
3221 Waialae Ave. Suite A-3, Kaimukī, cafe.coco-bloom.com, @cocobloomkitchen
Fête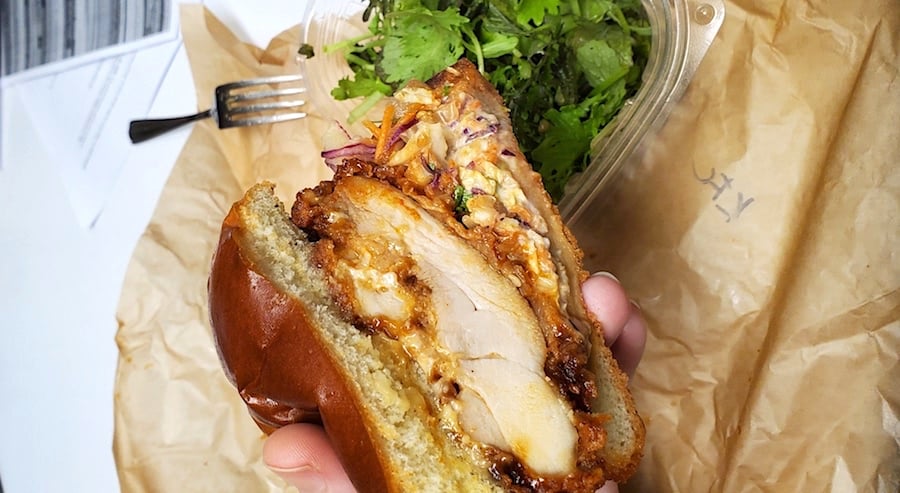 I hardly make it downtown these days (months, really) so when I had to go into the office a few weeks ago there was a lot of pressure to make my one lunch decision worth it—who knew when I would be back again? Fête's Korean fried chicken sandwich ($11) called out to me with its tender, moist meat, crunchy Asian pear slaw and spicy gochujang sure to drip down my wrists. I'm not much of a salad person but the side of field greens ($4) added a nice kick. I was starving and polished off the whole thing without a crumb to spare. —Katrina Valcourt
2 N. Hotel St., Chinatown, (808) 369-1390, fetehawaii.com, @fetehawaii
Hank's Haute Dogs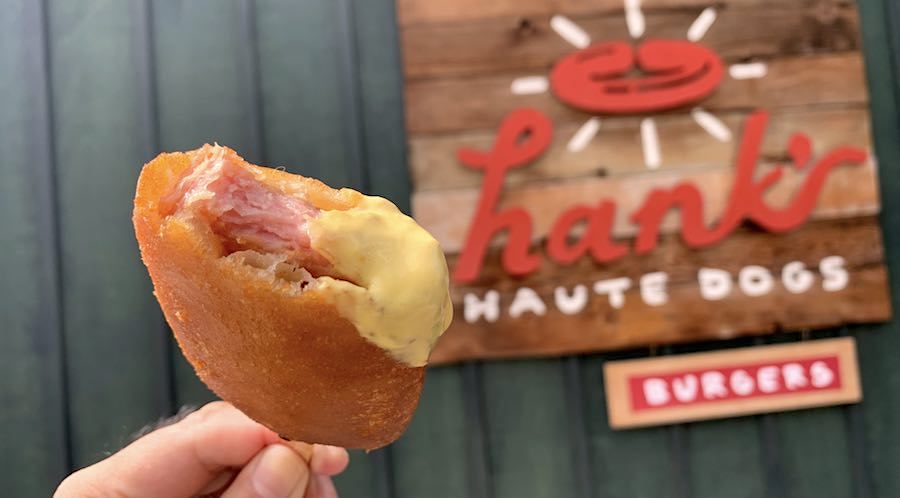 Spam andadog! Earlier this month when Hank Adaniya of Hank's Haute Dogs participated in Okinawan Feastival week featuring twists on Okinawan favorites, I thought wuz ironicals that da man famous for hot dog chose not for use hot dog. For those not familiar, one of da food favorites at da Okinawan Festival is da andadog, which is kinda like one corn dog fried up in Okinawan andagi batter. For Hank's version, he ditched da dog and went with Spam. When I saw one picture I thought ah, da Spam too tick and wassup with da sauce. But I got major wop yo jaws, cuz da Spam wuz perfectly portioned and da honey mustard sauce went pretty good with 'em. Feastival organizer Shari Tamashiro said da secret is Hank sears da Spam first. And da andagi batter wuz fried to crispy perfection. Without da sauce wuz already awesome. With da sauce, even mo' awesome-er. Nevah I going doubt Hank again. —Lee Tonouchi
324 Coral St., Kaka'ako, (808) 532-4265, hankshautedogs.com, @hankshautedogs
The Pig & the Lady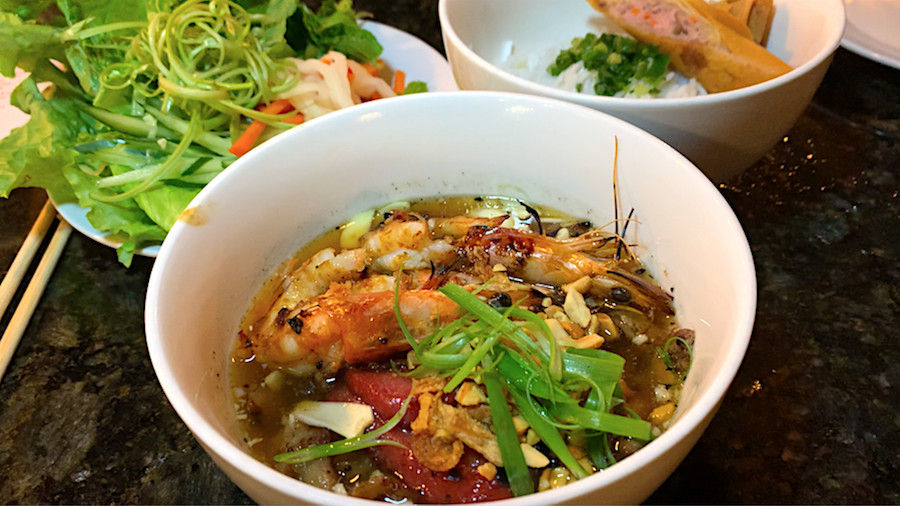 At the end of an insane Tuesday I needed a break and then some. Bun cha was the first thing I ate the first time I landed in Vietnam. The airport shuttle bus dropped me in the middle of Hanoi, a friend put me on a bicycle for a harrowing ride through death-defying traffic and we came to a makeshift stall cobbled together on a sidewalk. Bun cha—a riotous bewilderment of separate bowls of fresh vermicelli rice noodles, fresh herbs and greens and a warm, tangy-sweet broth loaded with morsels of pork and shrimp thrown in off the grill, all topped with slivers of pickled green mango—was a revelation then, but hard to come by in Hawai'i, where most Vietnamese restaurants have roots in south Vietnam. Except for Pig and the Lady, whose dishes span North, South and Central Vietnam. Here, bun cha Hanoi comes in a four-portion family pack ($41) with all of the above. It was vibrant, restorative, perfect. —Mari Taketa
83 N. King St., Chinatown, (808) 585-8255, thepigandthelady.com, @pigandthelady
Savage Steaks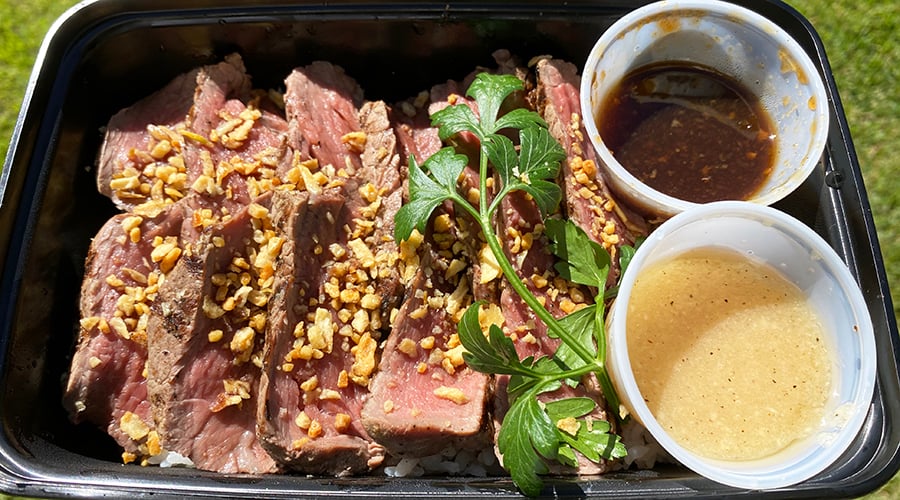 November was a chaotic blur, so convenient-yet-tasty takeout that I could pick up in between meetings was the name of the game.
Savage Steaks' Ali'i Bowl ($22.99) came with 8 ounces of tenderloin, rice, garlic chips and your choice of two dipping sauces. My medium-rare steak was ultra tender and flavorful. I loved the sweet, tangy Savage barbecue sauce and intense, zesty garlic sauce.
Another plus: Savage Steaks is 100% takeout/delivery with curbside pickup. You order online, select a pickup time, and pull up in front of Taormina Sicilian Cuisine on Lewers Street. I'd get it again in a heartbeat. —Kelli Shiroma Braiotta
227 Lewers St., Waikīkī, (808) 926-5050, savagesteakswaikiki.com, @savagesteaks_waikiki 
The Daley
I am a big-time rice eater. Almost all my meals involve a generous portion of white rice. Every once in a while, however, the urge for a juicy and meaty cheeseburger hits me hard. When the feeling hit me the other week, I headed straight to The Daley. With a straightforward and well-seasoned smash burger patty, oozing with cheese, and slathered with their special sauce, this unapologetic sandwich satisfies my craving thoroughly. —Gregg Hoshida
1110 Nu'uanu Ave., Chinatown, thedaleyburger.com, @thedaleyburger